Donald Trump Shakes Saudi Prince's Hand in Leaders' G20 Photo While Everyone Else Waves
In what looked like a cementing of ties between Washington and Riyadh, President Donald Trump looked particularly friendly with the Saudi Crown Prince Mohammad bin Salman.
The "family photo" of the world leaders is a renowned fixture of the G20 summit and this year's tableau of global political power had Trump and Salman in the front row, shaking hands and conversing.
Behind them was the outgoing British prime minister Theresa May looking subdued, as was the French president Emmanuel Macron to Trump's right.
But as Trump and the prince shook hands, the other leaders, including Indian prime minister Narendra Modi, Russian President Vladimir Putin and even Turkish strongman president Recepp Tayyip Erdogan, all waved and grinned.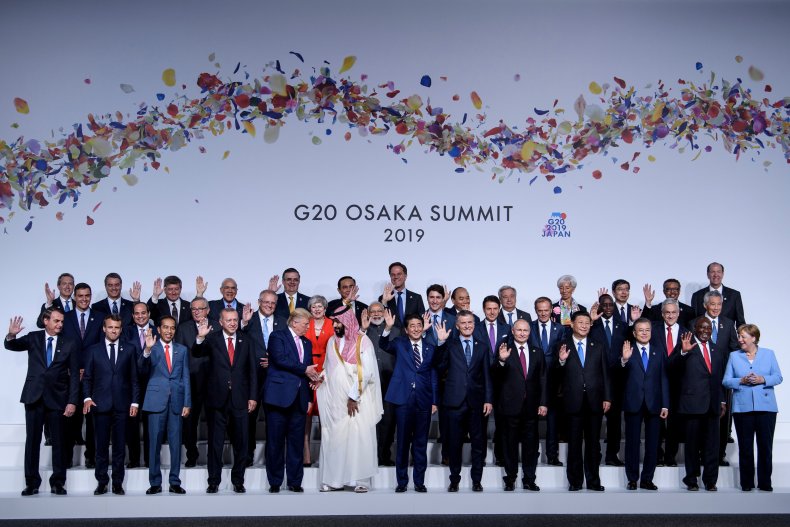 The Hill noted that Trump did not choose where he stood for the photo but suggested it created an "odd dynamic" especially as congressional lawmakers have applied pressure on the president and the Senate voted to block his Saudi arms deal.
Trump is scheduled to meet the Saudi crown prince on Saturday morning at the summit in Osaka. It comes at a time when U.S. lawmakers have expressed outrage over the killing of journalist Jamal Khashoggi. They accuse the prince of being behind the Washington Post journalist'sbrutal murder.
The choreography of the photo has been pored over by media. During the photo session, Trump had a conversation with Putin, after a series of frosty encounters, Bloomberg reported, noting that he only greeted Chinese president Xi Jinping with a brief handshake.
Meanwhile, Russian state television said that Xi chose to stand next to Putin for the photo, having initially been assigned a different spot, according to BBC monitoring.
The agency also pointed out that the handshake between South Korean president Moon Jae-in and the event's host, Japanese prime minister Abe Shinzo, was "frosty." Ties between the countries have been under strain since Seoul demanded Japan compensate wartime labor cases, The Japan Times reported.
Spanish media have also made much of Trump's apparent snubbing of their prime minister Pedro Sanchez, apparently cutting him off and gesturing that he take a seat. El Pais described it as a "mocking gesture."
The group photo of the world leaders' spouses was taken on the step's of Kyoto's Tofukuji Temple on June 28, 2019, and included one man, the British prime minister's husband, Philip May. However, notable by her absence was the U.S. first lady Melania Trump.