In G20 Photo, Trump Couldn't Shove His Way to the Front and Center of World Leaders
We all know that President Donald Trump likes to get prime position in any photo opportunity. On his first visit to Europe in May, he appeared to shove the prime minister of Montenegro aside to get to the front of the pack of world leaders, providing yet another viral sensation for the internet.
Related: Trump's America is 'no friend' says Germany's Angela Merkel ahead of 'thorny' G20 summit
Unfortunately for Trump, he was unable to use the same tactics Friday in Hamburg, Germany, as he posed for his first G20 photo. Instead, Trump was left on the outside looking in, to the far right of the group, only prevented from being on the very outer limits by French President Emmanuel Macron, who made a late move to stand next to the American leader.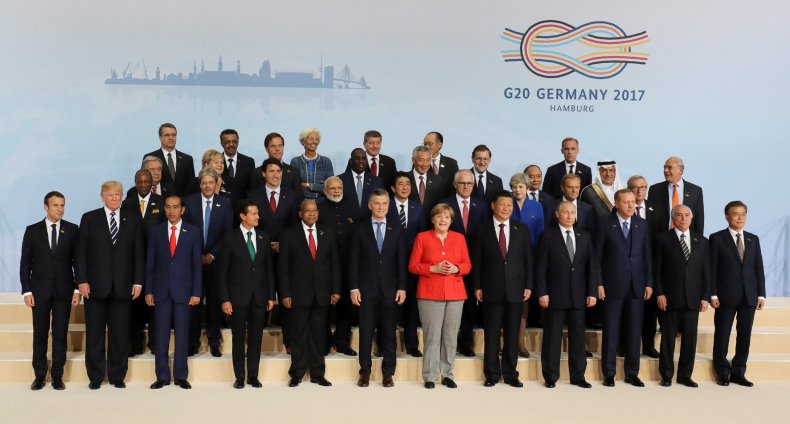 While they certainly would have been interesting, any attempts by Trump to ensure a better position in the shot likely would have proved futile. There are complex protocols that affect the positioning of the world leaders in the official photo, but it primarily comes down to how long they have been in office.
Thus, Trump, who entered the White House only in January, was on the outskirts, with Macron, who became the French president in May, to the outside of him. On the other side of the shot was South Korea's newly elected leader, Moon Jae-in.
Meanwhile, taking up prime position in the center of the photo was Germany's Angela Merkel, who has held power in Germany since 2005.
The protocol involved didn't stop many from attaching plenty of symbolism to the U.S. president being on the outer reaches of world leaders, particularly when a year ago President Barack Obama was front and center next to Merkel.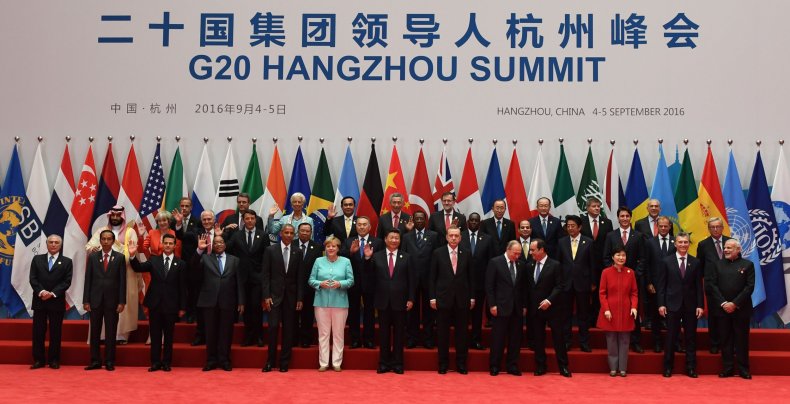 Trump has embraced a set of "America first" policies that put the values of international cooperation firmly to the backburner. Most notably, he pulled the United States out of the Paris climate accord, making the U.S. only the third country not signed up to the historic agreement to tackle climate change. In his speech announcing the decision, Trump encapsulated his approach by plainly stating that he represents the people of "Pittsburgh, not Paris."
Predictably, the decision was met by widespread condemnation around the world, notably by Macron and Merkel. Following Trump's first visit to Europe, during which he failed to pledge the United States' commitment to NATO's Article 5, the principle of common defense, Merkel said that the era of Europe being able to fully rely on the U.S. was over under Trump's leadership.