G7 Calls Out China in Final Communique After Urging From Biden
After urging from U.S. President Joe Biden, the Group of Seven (G7) leaders released the final communique that contains a call to China to respect human rights, along with plans to compete with China through the "Build Back Better World" program.
The communique detailed plans for addressing COVID-19 concerns worldwide, including an investigation into the origins of the virus in China, in compliance with International Health Regulations 2005.
"This includes investigating, reporting and responding to outbreaks of unknown origin. We also call for a timely, transparent, expert-led, and science-based WHO-convened Phase 2 COVID-19 Origins study including, as recommended by the experts' report, in China," the G7 said.
Biden has repeatedly spoke out against China's "economic abuses" and human rights violations, and urged other G7 members to take a similar stance.
According to two senior Biden administration officials, Canada, the U.K. and France were largely supportive. Germany, Italy and the European Union were more hesitant during the first session of the Group of Seven summit on Saturday, the Associated Press reported.
China has repeatedly been criticized for human rights abuses of Uyghurs Muslims and other ethnic minority groups in Xinjiang, accusations which China has repeatedly denied.
"We are concerned by the use of all forms of forced labour in global supply chains, including state-sponsored forced labour of vulnerable groups and minorities, including in the agricultural, solar, and garment sectors," the G7 said.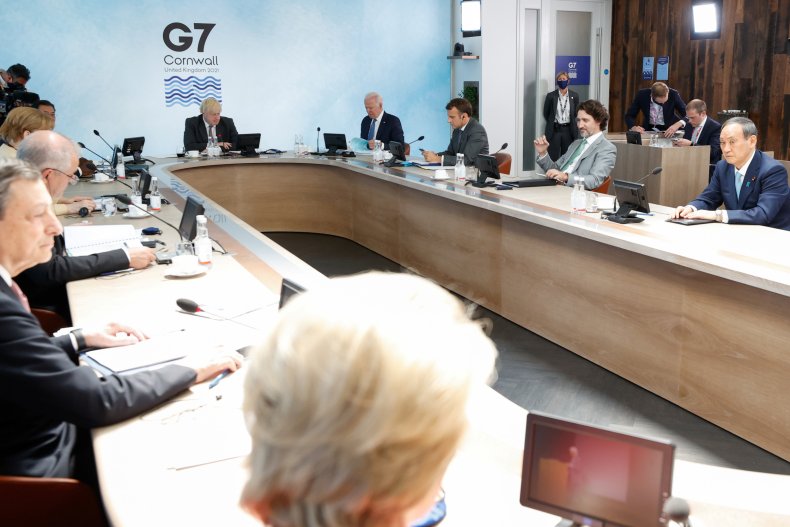 The G7 similarly addressed issues in Hong Kong, where its citizens have fought for the region's independence from China.
"We will promote our values, including by calling on China to respect human rights and fundamental freedoms, especially in relation to Xinjiang and those rights, freedoms and high degree of autonomy for Hong Kong enshrined in the Sino-British Joint Declaration and the Basic Law," the G7 said.
The communique also mentioned plans for the "Build Back Better World" (B3W) program to "help narrow the $40+ trillion infrastructure need in the developing world, which has been exacerbated by the COVID-19 pandemic."
B3W was proposed by Biden as a strategic competition with China's global infrastructure "Belt and Road Initiative" and described as a "values-driven, high-standard, and transparent infrastructure partnership led by major democracies"—although the details of how the program will be funded have not been released.
A spokesman for the Chinese embassy in London spoke out about the G7's decisions, saying that world affairs should be handled by more than just a few countries, NBC News reported.
"The days when global decisions were dictated by a small group of countries are long gone," the spokesman said.
"We always believe that countries, big or small, strong or weak, poor or rich, are equals, and that world affairs should be handled through consultation by all countries."