G7 Leaders Should Capitalize on Public Support to Rebuild Western Alliance | Opinion
As American and European leaders head to the G7 summit in Germany this week, they appear to have a political mandate to both tighten the economic measures in place against Russia's aggression, and to explore greater levels of cooperation to restrict Russian President Vladimir Putin of his resources to continue the war in Ukraine.
On both sides of the Atlantic, there seems to be an understanding—and acceptance—among voters that they will pay an economic price for the defense of Ukraine's sovereignty and the broader international rules-based order. But three months into the conflict, and with the costs of their policies still to bite, political leaders should be prepared for this mandate to weaken.
For the G7, then, this offers a unique, and potentially short, window of opportunity to breathe new life into the Western alliance. Vladimir Putin's calculation, that he could push NATO back from its eastern borders and drive a wedge between its member countries, has, so far, spectacularly failed. Instead of creating division in the West, he has sown unity. His actions have reinvigorated cooperation among NATO allies, led to the imposition of unprecedented sanctions and reinstated a sense of purpose in the transatlantic alliance not seen since the early 2000s. The assault on Ukraine has also, paradoxically, strengthened Europe's defenses, by prompting both Sweden and Finland to submit NATO applications, which will ultimately bring the alliance closer to Russia's borders. Far from being "brain dead," NATO now looks fit for purpose.
New polling, commissioned by the Chicago Council on Global Affairs in the U.S. and the European Council on Foreign Relations (ECFR), showed there are many similarities in the way that Europeans and Americans see the conflict in Ukraine and the measures that they are willing to countenance in response to it.
One key takeaway, from both polls, is the enormous public backing for Ukraine and the belief that it is intrinsically a part of the West. Despite the high stakes, and potential for escalation, we found that half of Europeans, and three quarters of Americans, support the idea of Ukraine being admitted to NATO. Among Europeans alone, a clear majority were also in favor of Ukraine's bid to join the European Union (EU).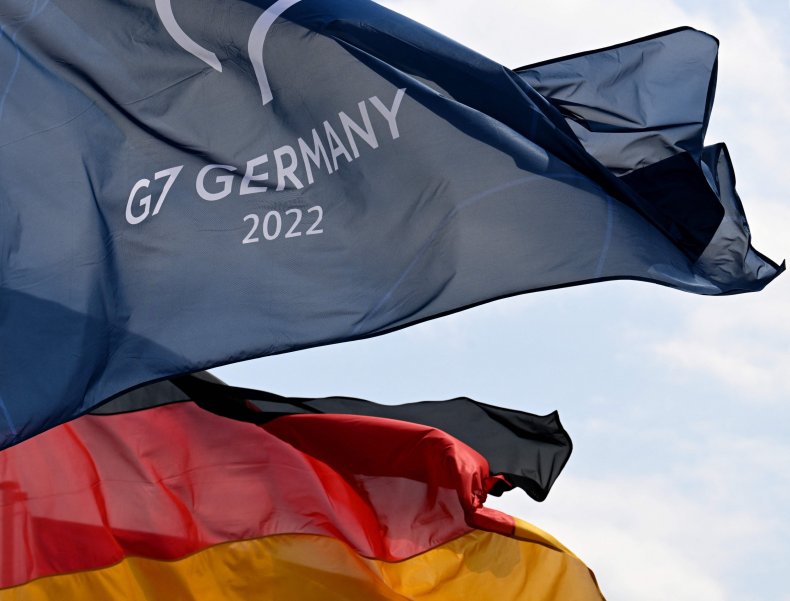 Americans and Europeans also seem willing to bear a financial cost from their country's support for Ukraine. Strong majorities in every European country surveyed expressed the view that increasing economic and diplomatic sanctions on Russia (77 percent in the U.S. and 70 percent across Europe) are justified, as is sending economic and military aid to Ukraine. Thirty-six percent of those surveyed in the U.S., and an average of 30 percent in Europe, also back the idea of sending troops to fight in Ukraine's defense.
This should hearten the political leadership in Ukraine and its citizens. Yet, it's a mood that's unlikely to hold if the war drags on and the economic costs from the sanctions continue to bite.
In ECFR's poll, 35 percent of those surveyed—the largest grouping—already fall within a ''peace camp'' of voters who want the war to end as quickly as possible, even if it means concessions to Putin. And in the United States, a recent poll found that Americans are increasingly likely to prioritize limiting damage to the U.S. economy over sanctioning Russia as effectively as possible for the invasion of Ukraine.
This week's G7 meeting should be seen as a one-off opportunity to put in place measures to further raise the stakes for Putin in pursuing a protracted conflict. To honor the fierce fight that Ukraine is waging, and to build on the economic pressure that the international sanctions have put in place, the G7 needs now to step up the military support and tighten the sanctions package. A solid transatlantic alliance alone will not be enough to mobilize the international system to hold Russia to account for its actions over Ukraine—but it can form a strong basis from which to push other global partners to come on board and keep alive the possibility of peace with some justice.
Susi Dennison is the director of the European Power program of the European Council on Foreign Relations (ECFR).
Dina Smeltz is a senior fellow of public opinion and foreign policy at The Chicago Council on Global Affairs.
The views expressed in this article are the writers' own.