Ga. County Won by Biden, Clinton Registers Nearly 10,000 New Voters Before Senate Runoffs
Nearly 10,000 residents of one of Georgia's Democratic-leaning counties have registered to vote since Election Day and ahead of the Georgia Senate runoff elections next month, new voter registration records show.
The outcome of the two Senate runoffs on January 5 will determine whether Democrats or Republicans control the Senate after President-elect Joe Biden takes office.
The Civics Center obtained voter registration data from Fulton County and shared the documents on its website on Tuesday. The county's registration records show that 9,769 new voters registered between November 3 and last week's registration deadline for participation in the runoffs.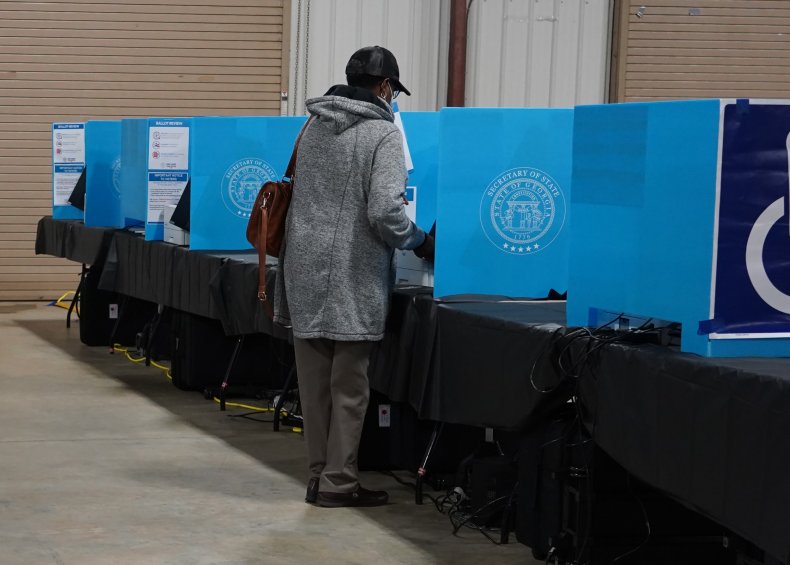 Biden's win in Georgia marked the first time a Democratic presidential candidate has won the state since 1992. But Fulton County—the most populous in the red state—tends to lean Democratic. Former Secretary of State Hillary Clinton received more than double the votes cast in 2016 for President Donald Trump in the county, and the county again went to the Democratic candidate last month when Biden received more than 72 percent of the votes cast.
This year's Democratic Senate candidates also performed well in the general election in Fulton County. Jon Ossoff, who seeks to unseat Republican Senator David Perdue, received nearly 70 percent of the county's votes, according to county election data. Raphael Warnock, the Democrat who is running against GOP Senator Kelly Loeffler in next month's runoffs, received nearly 51 percent of the county's votes, compared with Loeffler's 16.14 percent, in last month's race, which included several other candidates.
The new voter registration documents include information on race and gender but do not specify voters' chosen party affiliations. During a Fulton County Board of Registration and Elections meeting on December 10, election officials said they received more than 28,700 voter registration applications last month.
"That was the most applications we've ever processed for November, at least since 2012—and I'm sure that would hold the record going back in the previous century for November," Fulton County Elections Director Richard Barron said during the meeting.
Republicans currently control the Senate, with 50 seats to Democrats' 48. If Ossoff and Warnock both pull out wins in the runoffs, Democrats would also have 50 seats and Vice President-elect Kamala Harris would cast any tiebreaking votes.
In the wake of the November 3 election, Republicans and Democrats rallied to encourage voter participation ahead of the January 5 runoffs. Trump and Vice President Mike Pence have both stumped for Loeffler and Perdue in Georgia in recent weeks, and Biden visited Atlanta on Tuesday in support of Ossoff and Warnock.
Newsweek reached out to Fulton County election officials for comment but did not receive a response in time for publication.