Gab Users Blast Jews, Twitter Within Minutes Of Social Media App Re-Launch
A barrage of anti-Semitic comments immediately dominated the "free speech" social media website, Gab, just minutes after it came back online with the help of a new domain name registrar.
Gab.com, the Twitter alternative touting itself as a "defender of free expression online," returned to the internet Sunday after their previous domain platform, GoDaddy, dropped them for ties to Pittsburgh synagogue shooting suspect, Robert Bowers. "Can't stop us, won't stop us. Free Speech LIVES!" But within minutes of Gab's re-launch, dozens of comments blamed Jews for shutting down the site, clearly showing the company still "can't stop" it from being a platform for bigoted and hateful commentary.
"Well looks like I'll have to park the car for a while now that Gab is up. Thanks jews," wrote user Toonces, adding middle finger and OK hand signal emojis. "Twitter jews are the scum of the earth and they will never believe in free speech and cant [sic] wait to take it away from all of us."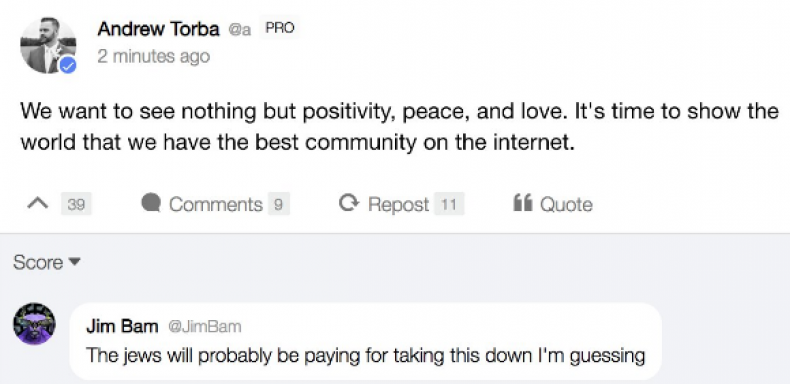 "We want to see nothing but positivity, peace, and love. It's time to show the world that we have the best community on the internet," founder Andrew Torba wrote Sunday, announcing the platform's return.
In response to Torba's comment, several Gab users directly contradicted his seemingly hopeful and positive outlook for the platform moving forward. "The jews will probably be paying for taking this down I'm guessing," wrote user Jim Bam. "It was the jews," wrote another user.
Gab was able to return Sunday after a Sammamish, Washington-based domain registrar, Epik.com, offered to serve as Gab's domain registrar, although not its hosting company, KUOW-TV first reported. In a brief interview with the Seattle Times, Epik founder and CEO Rob Monster said he thinks the Gab staff is effectively curating its content in the wake of the synagogue attack and anti-Jewish posts by the shooter just hours before the October 27 massacre.
"I do believe the guys that are on the site are vigilant," Monster told the newspaper. After being informed of several hateful posts on the platform, Monster said he does agree with free speech but he does not support those posts, adding, "I'm not going to define the red line" of acceptable content. He claimed he would inquire what plans Gab has to curate the site in the future.
Gab's aggressive Twitter account posts dozens of messages every day assailing its much larger competitor, Twitter. In an attempt to point out hypocrisy between criticism of the two platforms, the Gab account retweets and calls out "vile hate speech" and anti-Jewish commentary on Twitter.
"Do people blame whites, men, and Christians for their problems every single day on Twitter? (Including the entire Buzzfeed and NYT staff) Yes," Gab tweeted Monday. "In comparison, here's some edgy and offensive content you can find on Twitter any particular day. Will be waiting for you to call on their DNS to stop providing for them."
On Sunday evening, one of Gab's highlighted "popular posts" asked about the benefits of a Jewish "absence" and another user demanded someone "name the Jews who are trying to shut us down."