Gabb Watch Review: Safe, Fun, Wearable First Phone for Tweens
When you eventually succumb to your preteen's persistent pleas for a cellphone, handing them an iPhone—even an older model—is akin to forking over the keys to a motorcycle. For a couple of years now, Gabb Wireless has been offering a bicycle-with-training-wheels version with its safe and affordable smartphones. And this summer it released—to continue the metaphor—the tricycle version: a watch phone.
The Gabb Watch has been a great way to introduce my 8-year old to the world of texting and calling without having to worry about her getting distracted by the likes of TikTok. And obviously there's a big peace of mind factor for us parents. Gabb was kind enough to send a watch to test out, but I believe in the product enough actually to—gasp—continue to pay for the service moving forward.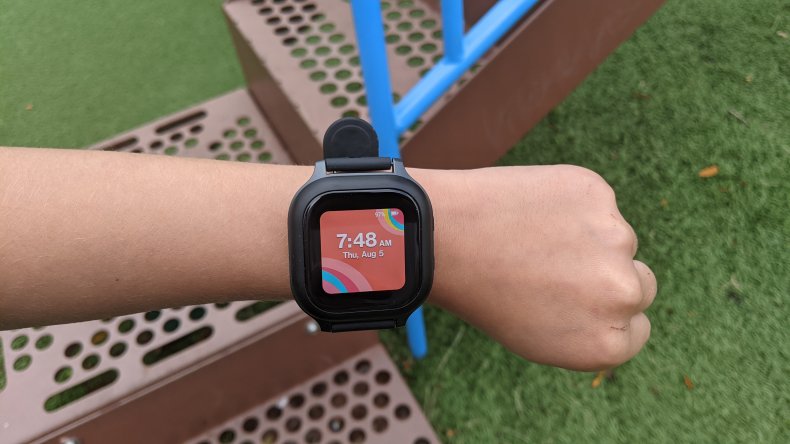 No Stranger Danger
One of the first big differences between an unbridled cellphone experience and this safety-minded watch phone is that my daughter can only send and receive calls and texts among the 10 contacts whom I've approved in the companion MyGabb app on my phone. I'm set up as a guardian and her SOS contact, so she can quickly get in touch with me in an emergency. If anyone not listed in her contacts calls her number, it just won't go through. And when known contacts send a message, their name and (if we've loaded one) image appear. Although 10 contacts may not seem like a lot, it's been plenty.
No Typing Necessary
Texting is in the form of either preset messages or audio. A bunch of preset messages come preloaded ("Yes," "No," "OK," "I will call soon," etc.) on the watch. Those can be tweaked and new ones can be created in the app on my phone, for a total of up to 20 messages of 25 or fewer characters each. Having these canned texts means my daughter doesn't have to fuss with typing, autocorrect and all that garbage. And if she wants to communicate a sentiment not covered by a preset text—or her beloved emojis—she can record a short voice clip and send that. We've found the messaging to be simple, effective and frustration-free.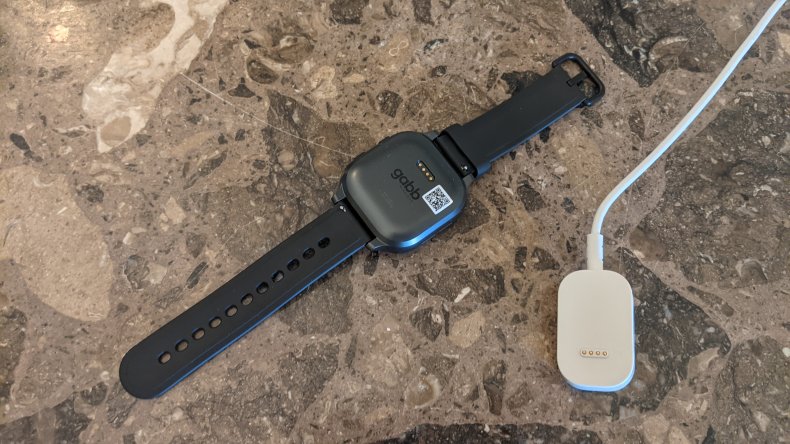 Location, Location, Location
Many of the watch's safety features play off GPS. For instance, I can receive automatic location updates at a chosen frequency (every 15 minutes) throughout specified times (e.g., 8 a.m. to 2:30 p.m.); establish safe zones based on particular addresses (home and school); see where the watch is on a map; and even tap a button to get driving directions to its location. Of course this could be helpful in retrieving the watch should it go missing. But more importantly, this active tracking helps me know my not-so-little-anymore kid is where she's supposed to be.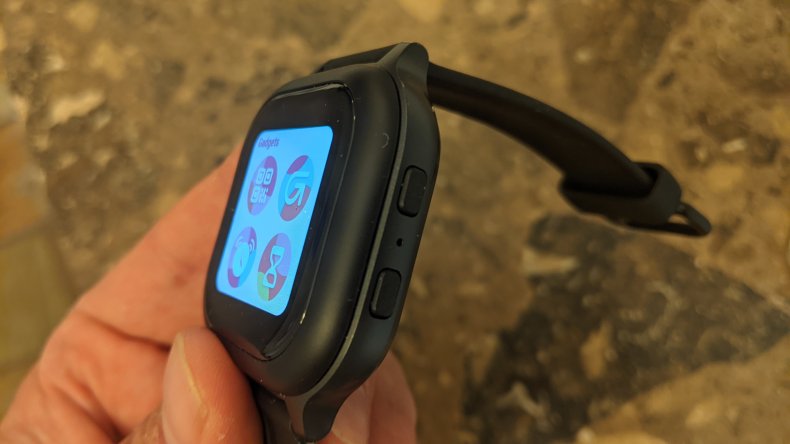 Tasks and Rewards
Back in my day (in the previous millennium), having an alarm, stopwatch and timer were pretty cool features. Naturally, this watch has those, along with a couple of different background themes. But my daughter's favorite feature is definitely the virtual pet. Within the watch's exclusive Gabb Go app (which doesn't appear on Gabb's phones or anywhere else), kids can choose between a cat, dog, penguin, monster, dinosaur or unicorn. Each day they can tap stuff to feed, wash and play with their chosen creature. In doing so, they earn tokens that they can exchange for tricks or other pets. For instance, my daughter invested 100 coins in the ability to make her cat do backflips.
Though this may seem frivolous, there's a greater purpose in mind. We can establish tasks for rewards of one to three coins. In doing so, we encourage particular actions, behaviors and chores to be done in a way that also means something to our daughter (even more than the greater good of the family). And another way she can earn coins is by meeting or exceeding her established step count goal, which goes along with Gabb's philosophy of keeping kids active and connected rather than slaves to screens. Also to that end, I can schedule lock mode for when she's in school, so she can contact me in an emergency but not get otherwise distracted with the above-mentioned somersaulting digital feline.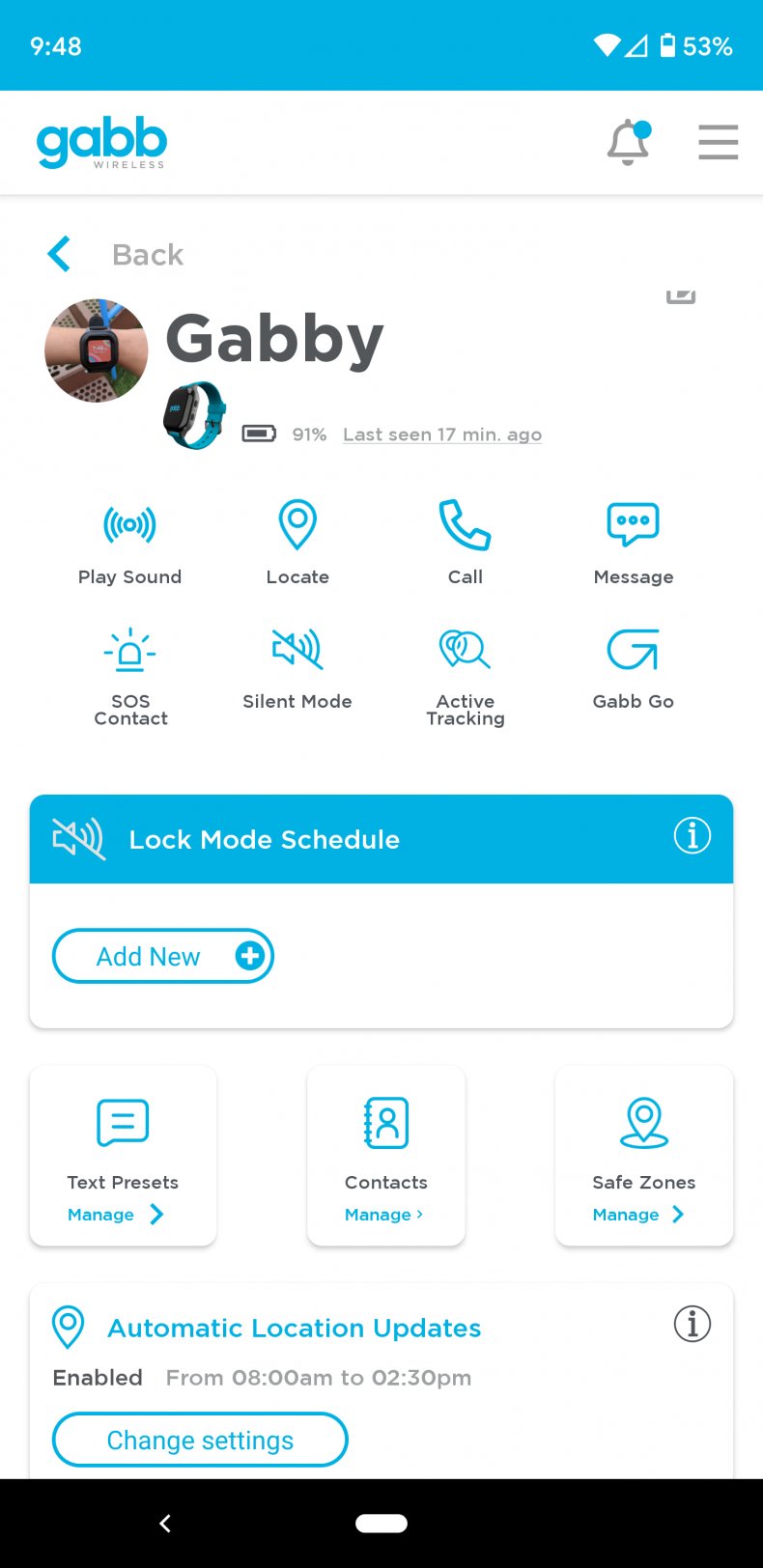 What It Doesn't Do
Like Gabb's phones, the Gabb Watch is not made to download additional apps. It's meant to be a standalone device that can't and doesn't need to connect to a phone. It also doesn't capture photo, video or voice files. And that's fine, too (again: crawling before running). All that recording opens up a can of worms my 8-year old doesn't need to get into. Given all the phone does, it doesn't seem quite right to call it a "basic" phone watch. But it sure does a good job of putting the essentials of a phone (and watch) right on your kid's wrist.
Should You Buy the Gabb Watch?
Yes, it's a great product, both in terms of its intentions and functionality. But whether it's right for your kid depends on several factors. Based on my experience, the target age range seems to be 8 to 12 years old. But maybe your kid is mature for 6 or 7 and could handle the responsibility. Another way to look at when this would start to make sense is whether and/or how often you drop your child off at activities or events. At the upper end of the age range, would you worry that they'd lose or break a phone not attached to their wrist?
In short, if you want to be able to communicate with your kid but feel they aren't quite ready for a smartphone, this watch is a great solution. The device and service (either with or without a contract) are both affordable. And it will save you a heap of worrying.
Buy at Gabb Wireless.
Newsweek may earn a commission from links on this page, but we only recommend products we back. We participate in various affiliate marketing programs, which means we may get paid commissions on editorially chosen products purchased through our links to retailer sites.