Fighting for Gun Reform Is 'Like Recovering From Being Shot,' Gabby Giffords Says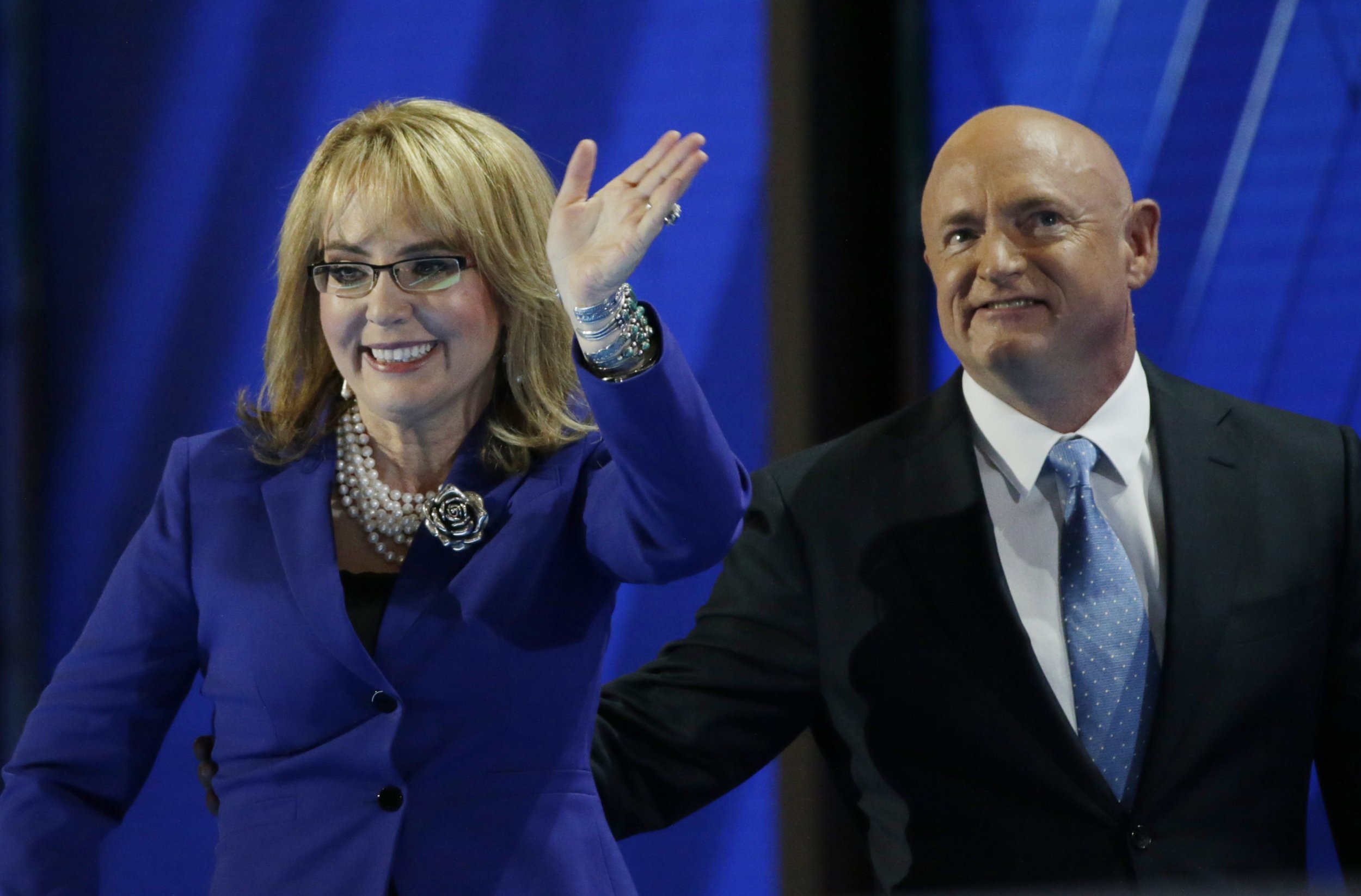 Gabby Giffords is still an optimist.
The former Arizona congresswoman had a cloak room named after her this week for her bravery in fighting gun violence—the same week a school in her neighboring state California faced a mass shooting that killed five people and injured several more. One week after a mass shooting in a Texas church killed 4 percent of a town's population. One month after the worst mass shooting in modern U.S. history left Las Vegas concertgoers reeling.
It's been six years since Giffords survived an assassination attempt at a grocery store in Tucson, where a gunman killed six people and shot Giffords in the head, leaving her with a serious brain injury. She's recovered considerably, and regained her speech and her ability to walk, ride her bike and do yoga, but it's a slow trajectory—one that she compares directly to the fight for gun reform.
"At first, the focus is working extremely hard for small improvements," Giffords told Newsweek. "One word, then another. And then learning how to walk again. Each step took a tremendous amount of work and support.…The same is true for the movement to fight gun violence and make our communities safer. The small victories are beginning to build up to bigger ones."
It's been a big victory, indeed—her regaining her ability to do some of her favorite activities puts her in the top five percent of those who have suffered that kind of brain injury.
"People meet with her, see her giving speeches, up on stage, they see her walking around Congress, riding her bike.… What they might not realize is that underlying every word that she speaks, every step she takes, are hours and hours of hard, frustrating work with physical therapists and speech therapists," said Peter Ambler, who started working for Giffords one week before she was shot and now runs her nonprofit organization, Giffords, which was renamed from Americans for Responsible Solutions this year.
The organization is quick to send out a press release after every mass shooting, capitalizing on the moment people are most likely to care. But gun regulation is stalling. Even the fight for a seemingly common-sense bipartisan ban on bump stocks (which even the NRA seemed to support for a while) petered out as opponents, including the president himself, argued that mass shootings are not "a guns situation." All the while, the nation grows exhausted of hearing the same conversation move in circles after each mass shooting.
When asked if America had become desensitized to gun violence (with some 14,000 shooting deaths and counting this year alone), Giffords said, "I would say the opposite."
She cited the Newtown, Connecticut, shooting of 2012, when 20 small children and six adults were killed in an elementary school. Before then, she said the nationwide conversation was virtually non-existent. After Newtown, and the many mass shootings since then, she and her organization have seized on moments of tragedy to push for change. And, slowly, the "it's too soon"-ers have ceased their calls to wait to talk politics until those events have calmed down.
During her years in public office and since then, Giffords reached milestones early—becoming the youngest woman to join the state Senate and the first Jewish congresswoman from Arizona, winning over a staunch Republican district several times, and beating a serious brain injury—but she recognizes gun laws won't work quite the same way.
Gun reform, she said, is "going to be a marathon, not a sprint—but I'm not much of a sprinter anyways."