Gabby Giffords Says 3 U.S. Workplace Shootings In 24 Hours Becoming 'Everyday Occurrence'
Former Democratic U.S. congresswoman Gabrielle Giffords released a statement Thursday decrying gun violence after three workplace shootings occurred across the country in less than 24 hours.
Giffords, who served as Arizona's 8th District U.S. representative from 2007–2012, was one of 18 people wounded during the 2011 Tuscon parking lot shooting that killed six people. The gun control proponent and frequent critic of U.S. firearm policies took to Twitter Thursday after shootings occurred in Wisconsin, Pennsylvania and Maryland.
Giffords said Americans "have a right to feel safe" one day after a Wisconsin software company employee opened fire on coworkers, a Harford County, Maryland Rite Aid employee killed at least three people and gunman opened fire in a Masontown, Pennsylvania, courthouse.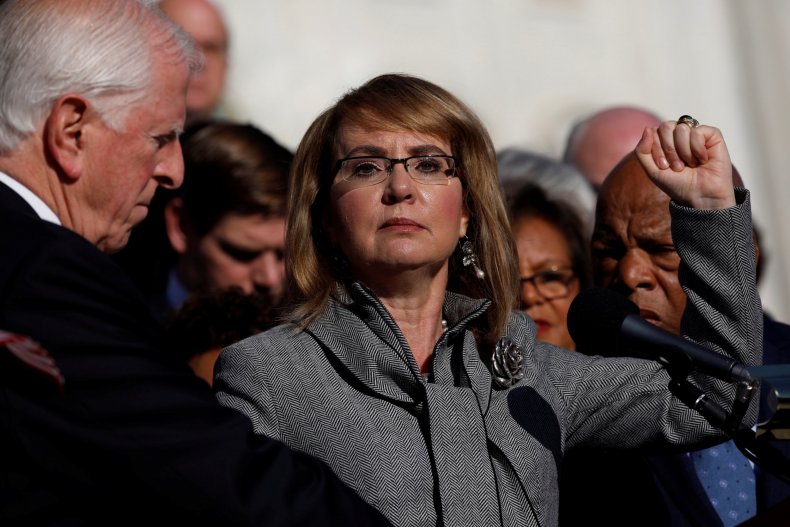 "Three workplace active shooting attacks in just the last 24 hours should spark outrage in every American. No matter where you work, learn, play, or live—you have a right to feel safe, and I'm horrified that that's no longer the reality in America," Giffords wrote Thursday.
"If gun violence feels like it's become an everyday occurrence, that's because it is," Giffords continued. "Every single day, nearly 100 lives are lost because of guns. But every time you hear news of another shooting, remind yourself that this level of gun violence is not normal."
Giffords and her husband Mark Kelly became national figures after she was shot in the head by gunman Jared Lee Loughner outside a Safeway grocery store in Casas Adobes, Arizona in 2011. The bullet passed through the front of Giffords' head and exited through the back of her skull, doctors told news outlets after the mass shooting.
This is a problem we can solve, but first we need leaders who will fight for solutions. That's why I'm doing everything I can to elect a new Congress with the courage to pass stronger gun laws. I urge every voter to stand with me. When we vote together, we will save lives.
The Gun Violence Archive, a nonprofit dedicated to analyzing U.S. firearm incidents, noted Thursday there have been only been 263 days in 2018, but 262 mass shootings.
Gabby Giffords Says 3 U.S. Workplace Shootings In 24 Hours Becoming 'Everyday Occurrence' | U.S.