'Vote Them Out': Gabby Giffords Headlines Gun Control Rally Outside NRA Headquarters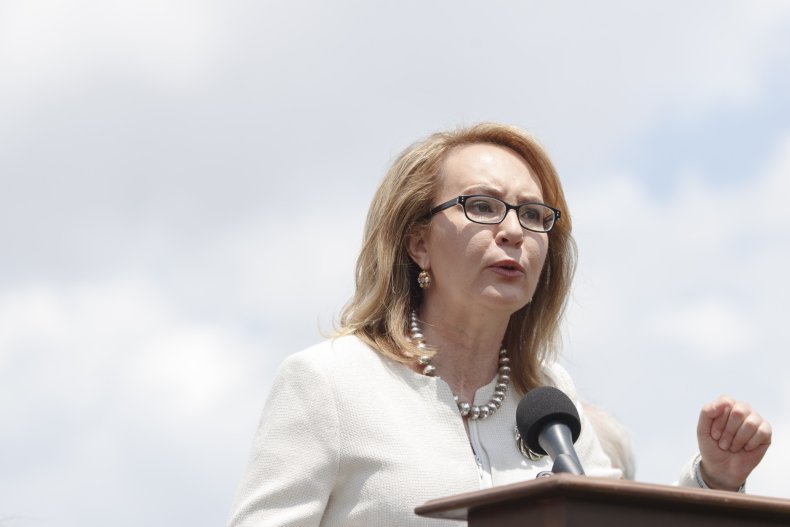 Chants of "vote them out" reverberated outside the National Rifle Association's headquarters in Fairfax, Virginia, on Friday as a raft of Democrats running for the state's General Assembly on a platform of gun violence prevention spoke before a crowd of activists.
The event was organized by Giffords, a gun control organization founded by former Congresswoman Gabrielle Giffords, who was permanently disabled following a shooting at a town hall event she held for voters in 2011.
Former Virginia Governor Terry McAuliffe also headlined Friday's event, and in a preamble he referenced several pieces of gun control legislation that failed to advance out of committee earlier this year when the current Virginia governor, Ralph Northam, convened a special session to address gun violence.
Giffords and McAuliffe attended the event to promote Democratic candidates running on a platform of gun safety in the state's upcoming elections, where the entirety of the House of Delegates and Senate will be on the ballot in November.
The state's bicameral legislature is currently controlled by Republicans, who blocked multiple gun control bills' passage during a session called for after a mass shooting at a government building in Virginia Beach killed 12 people.
"Wayne LaPierre, listen to me," McAuliffe proclaimed, referring to the NRA's highest-ranking officer. "In January, we're going to pass these bills. If you don't like our new bills, you can move your headquarters somewhere else."
"These are scary times," Giffords said. "Stopping gun violence takes courage, the courage to do what's right. Now is the time to come together, [to] be responsible. Democrats, Republicans, everyone. We must never stop fighting. Fight, fight, fight. Be bold, be courageous. The nation's counting on you."
The NRA has been credited with helping, in part, to quash the gun control measures before they received any meaningful consideration. Lawmakers adjourned the special session in July less than two hours after it started.
Recently, the gun-rights group donated $200,000 to a political action committee affiliated with the state's House Majority Leader Todd Gilbert, the largest NRA donation ever to a Virginia political fund, according to the Virginia Public Access Project.
Among the measures under consideration during the special session were proposals to expand background checks and limit handgun purchases, which the NRA staunchly opposes. The American public overwhelmingly supports some, limited gun control measures, such as universal background checks, which polls have consistently documented.
"It is shameful and disappointing that Republicans in the General Assembly refuse to do their jobs and take immediate action to save lives," Northam said at the time. "I expected better of them. Virginians expect better of them."
The November elections on an otherwise off year for national races will be a bellwether for other gun control efforts moving forward. Traditionally, gun violence has not been a galvanizing factor for voters at the polls, where issues like health care and the economy often rank as the highest concerns. But gun control groups are hoping that recent mass shootings, including in Virginia, can help elevate the importance of gun violence prevention within the electorate.