Followers of the Gabby Petito case learned how she was killed on Tuesday, answering one of many questions in the case, but officials still don't know where Brian Laundrie, her fiance, and a person of interest in the case, is located.
Petito was reported missing at the beginning of September after her parents failed to hear from her for several days. She'd been on a cross-country trip with Laundrie and was documenting their travels on social media, prompting national interest in her disappearance, and while officials were searching for her, Laundrie's parents informed law enforcement they hadn't seen their son for days.
Officials have yet to locate Laundrie, sparking speculation that he may never be found, but Gabby's parents are convinced he was involved in her death in some way and want him brought to justice.
Below is a timeline of the 21-year-old's disappearance.
October 20: Some of Brian's belongings were found in the Myakkahatchee Creek Environmental Park. They were located after his parents went to the park to search for their son and were found on a trail he frequented. The medical examiner was called to the scene but information wasn't immediately available as to whether a body was found.
October 12: Dr. Brent Blue, the Teton County, Wyoming, coroner announced Gabby's cause of death was strangulation and the manner was homicide. He estimated that she was killed about three or four weeks before her body was found.
October 7: Brian's father, Chris Laundrie, is reportedly asked to join the search for his son, according to the family's attorney, Steven Bertolino. Law enforcement reportedly asked him to point out "any favorite trails or spots" that Brian used, Bertolino said.
September 28: Moab, Utah, Police Chief Bret Edge takes a leave of absence amid an investigation into the police department's handling of a potential domestic violence case involving Gabby and Brian.
September 23: An arrest warrant is issued for Brian on accusations that he committed fraud when he accessed two bank accounts he wasn't authorized to use.
September 21: The coroner confirms that the remains found in Wyoming belong to Gabby and initially rules her death is a homicide.
September 19: Remains are found in the Bridgerton National Forest in Wyoming. Law enforcement announces her death is initially ruled a homicide.
September 17: Brian's parents, Chris and Roberta Laundrie, call the police to report their son is missing, sparking a large-scale manhunt.
September 15: Brian is named a person of interest in Gabby's disappearance.
September 14: The Laundrie's initially tell police this is the last time they saw their son. He was reportedly leaving the house to camp in the Carlton Reserve and had a backpack with him.
September 13: Steven Bertolino, an attorney for the Laundrie's, later corrects their story to say that September 13 was the last time they saw Brian. He attributes the error to a mistake in their remembering of the dates.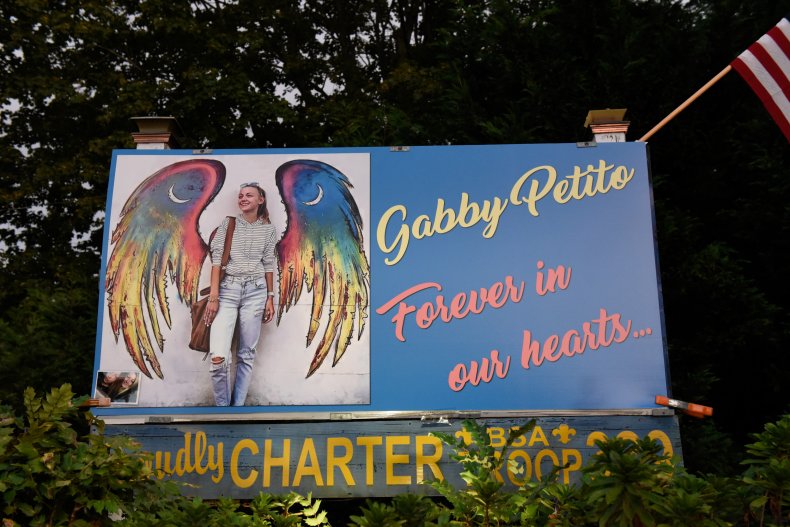 September 11: Gabby's family reports her as missing to police.
September 6-8: Brian, Chris and Roberta take a trip to the Fort De Soto campground. His sister, Cassie, says her family was there for only one day, on September 6. She remembers nothing being out of the ordinary and said the topic of Gabby didn't come up during the family trip.
September 1: Brain returns to his family's house in Florida in the van that he and Gabby traveled in, but without his fiance, according to police.
August 30: Brian allegedly uses a debit card and personal identification number to access the bank accounts. Gabby's mom, Nicole Schmidt, also receives a text from Gabby's phone but doesn't believe it was sent from her daughter.
August 27: Gabby sends text to Schmidt. It said, "Can you help Stan, I just keep getting his voicemails and missed calls." Stan is her grandfather's name, but her mother said it was odd for Gabby to refer to him by his first name.
August 25-August 29: Blue determined that Gabby was dead for about three or four weeks before she was found. Since she was found on September 19, that puts her time of death around the end of August, potentially sometime between August 25–the last time her mother spoke to her on the phone–and August 29, the three-week mark before she was found.
August 25: A post is made to Gabby's Instagram account for the last time. Their van is spotted at Grand Teton National Park. Gabby speaks with her mother on the phone for the last time.
August 23: Brian returns to Salt Lake City following a short trip to Florida.
August 21: Gabby has her last FaceTime call with her father, Joseph Petito, according to her dad. He said he helped her order food and they discussed issues with her website, but no "red flags" stood out to him.
August 17: Brian flies from Salt Lake City to Tampa to "obtain some items," according to Bertolino.
August 12: Moab, Utah, police stop Gabby and Brian's van after receiving reports of disorderly conduct. Footage of the interaction between the couple and police goes viral, sparking questions about whether her death could have been prevented.
July 2: Brian and Gabby leave Blue Point, New York, for a cross-country trip and begin documenting their travels under the Instagram name "Nomadic Statik."
Correction 10/13/21, 7:04 a.m. ET: This article was updated to correct the spelling of Gabby Petito.