Gabby Petito Family Says Justice Is Helping Others, Focuses on Domestic Violence Advocacy
Gabby Petito's family said on Tuesday that helping others combat domestic violence can serve as justice for their daughter following her death.
During an interview with J.B. Biunno of Florida TV station WLFA, family members were asked what justice for their daughter means to them.
Petito's stepmother, Tara Petito, replied, "If we can save just one person, that would be justice. Going forward, that's really what we would like to do."
Gabby's father, Joe Petito, made similar comments, saying, "Right now, the statistics show that one in three women are victims of domestic violence or have been victims of domestic violence."
He continued, "If we can extend those numbers from one in three to one in four, then one to five, then one to six, if we can extend that number, keep pushing that so it's not as prevalent in terms of domestic violence anymore, that would be justice for Gabby. Making that change to help others."
Gabby's mother, Nicole Schmidt, also said that justice for her daughter means "preventing this from happening to someone else."
"That's justice for me. Helping others," Schmidt added.
During the interview, the family also spoke at length about the Gabby Petito Foundation, which they created after their daughter's death. Its website says the mission is to "address the needs of organizations that support locating missing persons and to provide aid to organizations that assist victims of domestic violence situations, through education, awareness, and prevention strategies."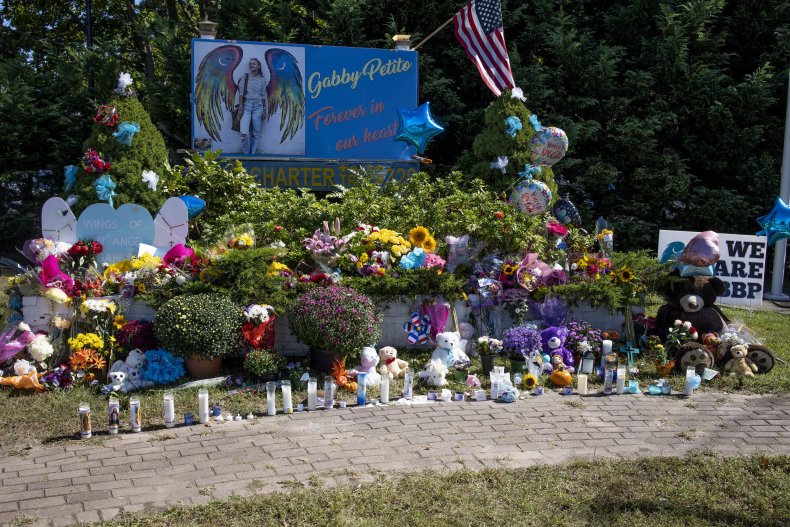 During the interview, Petito's mother and father said they were honored and humbled by the support their foundation has received over the past few months.
"What we're trying to do is fill the gaps and voids where we see fit," Joe Petito said. "We're going around talking to shelters, we're talking to police, we're talking with rescue teams, with professionals, with therapists that know the ins and outs of what's needed and where the resources are best needed. We're just trying to lead that charge in terms of change, to make things better."
Schmidt also said that the family has been discussing a new alert for missing persons aged 18 to 64. "There's nothing for that age group. It would be just like the Amber Alert or the Silver Alert except it's a different age group, and we hope to bring that kind of change to the missing persons."
The comments by Petito's family come nearly two months after officials confirmed that the human remains found in Wyoming's Grand Teton National Park belonged to Petito, 22. The Teton County coroner's office later said she died by manual strangulation.
Petito first went missing while on a cross-country road trip this past summer with her fiancé, Brian Laundrie, who later became the sole person of interest in her disappearance and death and the subject of a manhunt. Ten days before she was reported missing, Laundrie returned to his parents' home in North Port, Florida, in the white van the two had been traveling in.
Laundrie then went missing after telling his parents he was going for a hike in Florida's Carlton Reserve. Laundrie's remains, along with some of his belongings, were eventually found in the reserve.
An initial autopsy on Laundrie's remains came back inconclusive, and they were sent to a forensic anthropologist for further investigation. The autopsy's full results have yet to be released.