Twenty-two-year-old Gabby Petito was reported missing six days ago, and her family has not heard from her since late August while she was on a cross-country road trip with her fiancé, Brian Laundrie.
Petito and Laundrie departed from Long Island, New York (where Petitio is originally from) on July 2 to travel cross-country in her white 2012 Ford Transit van. Social media posts from Petito showed that the van was outfitted as a camper.
The couple was documenting their trip on social media, and her family has said that during her trip, Petito continued to communicate with them. However, that communication ceased toward the end of August.
August:
On August 12, the Moab City Police Department in Utah encountered the couple during a traffic stop after receiving reports of disorderly conduct. According to a police report, Petito and Laundrie were "engaged in some sort of altercation," when police stopped them.
Recently released body camera footage showed both Petito and Laundrie speaking with Moab City Police officers. The police report said that an argument between the two led to a physical fight. However, Petito and Laundrie told police that "they are in love and engaged to be married and desperately didn't wish to see anyone charged with a crime," the police report said.
The Moab City Police Department advised the couple to separate for the night and said that they didn't see a reason to file charges.
After the encounter with police in Utah, it is believed that the couple continued their cross-country journey and traveled into Wyoming. The North Port Police Department in Florida, which is investigating her disappearance, said that her family's last communicated with Petito "during the last week of August." Petito was living in North Port with Laundrie and his family before the road trip.
"Prior to the last communication, Petito is believed to have been in Grand Teton National Park in Wyoming," the North Port Police Department said.
A GoFundMe page set up to help aid in the search for Petito said that she was, "Last known to be in Grand Teton, Wyoming on 8/25/21 heading towards Yellowstone National Park after traveling and camping extensively over the last couple of months."
During a recent press conference, Petito family attorney Richard Stafford said that Petito's last communication with her family occurred on August 30, however, the family said that they do not believe the messages were from their daughter.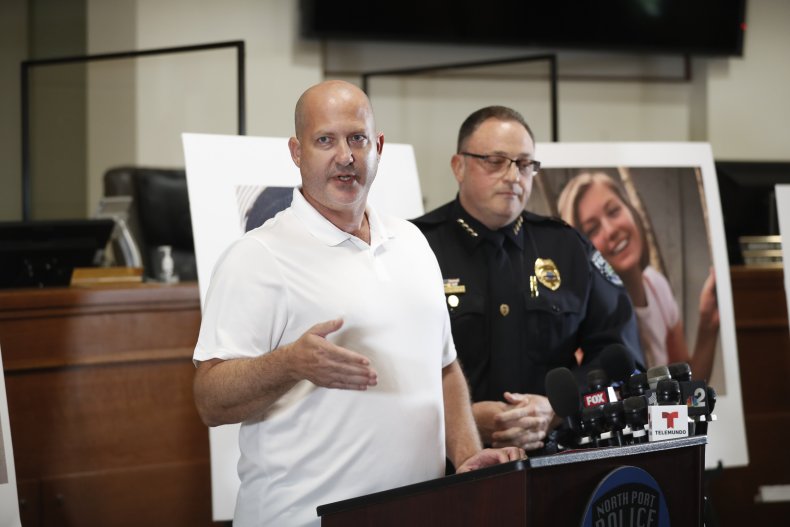 September:
According to the North Port Police Department, Laundrie returned to his parents' residence in North Port on September 1, in the van that he and Petito were traveling in.
On September 11, ten days after Laundrie returned home to Florida, Petito's family reported her missing to the Suffolk County Police Department on Long Island, New York.
According to the North Port Police Department, when officers attempted to speak with Laundrie after Petito was reported missing, his parents told officers to contact his lawyer.
"We don't know what Brian knows, that's the bottom line," Josh Taylor, a spokesperson for the North Port Police Department said. "We are hopeful to talk to him. He needs to talk to us. We need to know exactly where he was, where she was, their last locations, and the fact he was back here for 10 days. Again, the family reported her missing 10 days later. "
In a press release on September 15, the North Port Police Department said that while they have "no information that a crime occurred here in North Port," they named Laundrie a person of interest in Petito's disappearance.
Laundrie's attorney issued a statement regarding his silence on the matter, saying, "In my experience, intimate partners are often the first person law enforcement focuses their attention on in cases like this, and the warning that 'any statement made will be used against you' is true, regardless of whether my client had anything to with Ms. Petito's disappearance. As such, on the advice of counsel, Mr. Laundrie is not speaking on the matter."
Petito's family has expressed anger and disappointment over Laundrie's silence and they recently issued a statement criticizing him for abandoning their daughter "in the wilderness with grizzly bears and wolves while he sits in the comfort of his home. In his home!"
During a press conference on Thursday, the Petito's family attorney read another letter they wrote to Laundrie's parents, which said, "We are writing this letter to ask you to help find our beautiful daughter. We understand you are going through a difficult time and your instinct to protect your son is strong. We ask you to put yourselves in our shoes. We haven't been able to sleep or eat and our lives are falling apart."
"We believe you know the location where Brian left Gabby. We beg you to tell us," the letter continued. "As a parent how could you let us go through this pain and not help us. As a parent how could you put Gabby's younger brothers and sisters through this...All we want is Gabby to come home. Please help us make that happen."
Additionally, the Grand County Sheriff's Office in Utah is looking into any possible connection between Petito's case and a double homicide there.
According to the Grand County Sheriff's Office, on August 18, Crystal Turner, 38, and Kylen Schulte, 24, were found dead at a campsite in Moab. A police report obtained by Fox News said that Schulte was employed at the Moonflower co-op, which was the same store where Petito and Laundrie got into an argument on August 12.
On Thursday, the Grand County Sheriff's Office said that they were in contact with Florida authorities and were "actively looking into any connection between the Gabby Petito missing person case and the double homicide that occurred in Grand County."