Gabby Petito Timeline: What We Know So Far
The search continues for the boyfriend of Gabby Petito, the 22-year-old YouTube vlogger who went missing in late August. Petito and her boyfriend Brian Laundrie, 23, set off on a cross-country journey in July.
Laundrie returned home from the trip alone at the start of September and was last seen around mid-September.
The couple, who shared a home in North Port, Florida, were reported to be childhood sweethearts who met while growing up in Long Island, New York, before Laundrie's parents moved to North Port, just outside Sarasota.
On Monday, authorities searched Laundrie's North Port residence after the Federal Bureau of Investigation (FBI) discovered what is believed to be the body of Petito on the outskirts of a national park in Wyoming—eight days after she was reported missing.
On Tuesday, local news station WAFF 48 reported police began searching for Laundrie in Mobile, Alabama, after he was spotted eating at a restaurant.
Police were reported to be investigating claims online that allege Laundrie was also seen walking across a road and that someone had given him a ride and dropped him off at a nearby area close to a Wal-Mart.
Gabby Petito Case: Timeline of Key Events
Here we take a look at some of the key developments in the case so far.
July 2 - Couple Begin Trip Across Country
The pair left Long Island on July 2, embarking on a cross-country trip in a converted van to visit national parks in the western region of the U.S.
ABC 7 reported, according to an attorney for the Petito family, that the couple got engaged but postponed their wedding plans due to the COVID pandemic, opting to go on this trip instead.
The couple were reported to be traveling in Petito's white 2012 Ford Transit van, images of which were posted on Laundrie's Instagram account.
According to the Instagram posts of Laundrie and Petito, they visited several parts of the country, including Florida, Kansas, Colorado and Utah. They intended to reach Oregon by the end of October, according to their social media posts.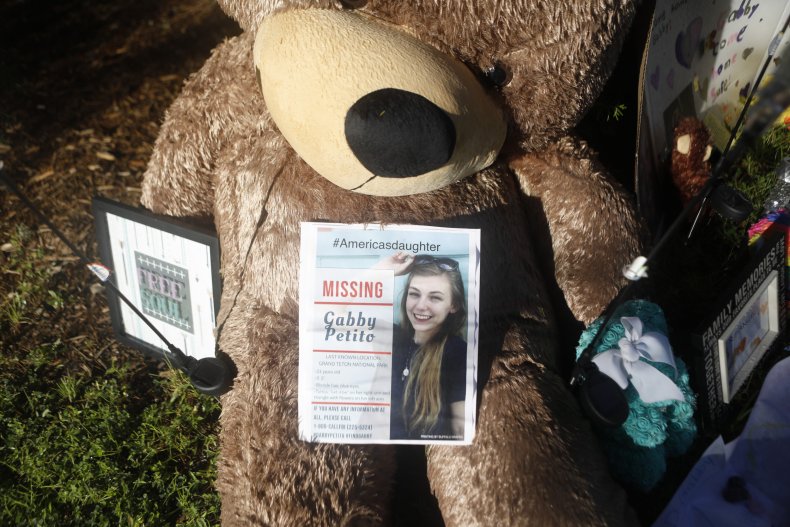 August 12 - Couple Allegedly Involved in Domestic Incident
Police in the southern Utah town of Moab were called to a possible domestic violence incident involving the couple on August 12, according to a recording of the call released by the Grand County Sheriff's Office.
The Associated Press reported that the caller claimed he saw Laundrie slap Petito while walking through the town and he proceeded to hit her before they got in their van and drove off.
Bodycam footage released by Moab police showed an officer had pulled them over on the same day after the van was seen speeding and hitting a curb near Arches National Park.
Argument Over Their Vehicle
The video showed Petito crying and discussing her mental health with officers. She told the officer that she and Laundrie had argued over her excessive cleaning of the vehicle. She was heard telling the officer she has OCD (obsessive compulsive disorder).
However, Petito's father said his daughter's statement about her OCD wasn't literally true in an interview Monday on the Dr. Phil talk show. He said she was just using the OCD term as slang, referring to how she likes to keep her living area orderly, according to AP.
Police separated the pair for the night, Petito remaining with the van while Laundrie checked into a motel.
August 24 - Petito Last Seen at a Hotel
Petito was last seen on August 24 checking out of a hotel. An image showing her in front of a butterfly mural was posted on her Instagram account two days later.
August 25 - Petito Was Allegedly in Wyoming
ABC7 reported that according to a verified GoFundMe page set up for Petito, she was allegedly last known to be in Grand Teton in northwest Wyoming on August 25 heading towards Yellowstone National Park.
September 11 - Petito Reported Missing By Family
Petito's family filed a missing persons report with police in Suffolk County, New York, on September 11 for their daughter.
Police said Laundrie returned to Florida alone when he drove the van back to his parents' place in North Port on September 1.
Laundrie was identified as a person of interest in the case by North Port Police. They said that Laundrie hadn't cooperated or spoken with officers during their investigation since he arrived back alone in Florida.
He was last seen on September 14 by family members who were told by Laundrie that he was going on a hike in Florida's Carlton Reserve that day.
September 19 - Human Remains Found in Wyoming
Human remains were discovered by the FBI during a search of Spread Creek Dispersed Camping Area in Wyoming's Bridger-Teton National Forest.
In a statement Sunday, Charles Jones, FBI Denver's supervisory senior resident agent, said: "Earlier today, human remains were discovered, consistent with a description of Gabrielle 'Gabby' Petito.
"Full forensic identification has not been completed to confirm 100 percent that we found Gabby, but her family has been notified of this discovery. The cause of death has not been determined at this time," the statement said.
Following the discovery of the body, the Laundrie family released a statement through their lawyer that read: "The news about Gabby Petito is heartbreaking. The Laundrie family prays for Gabby and her family," NewsNation Now reported at the time.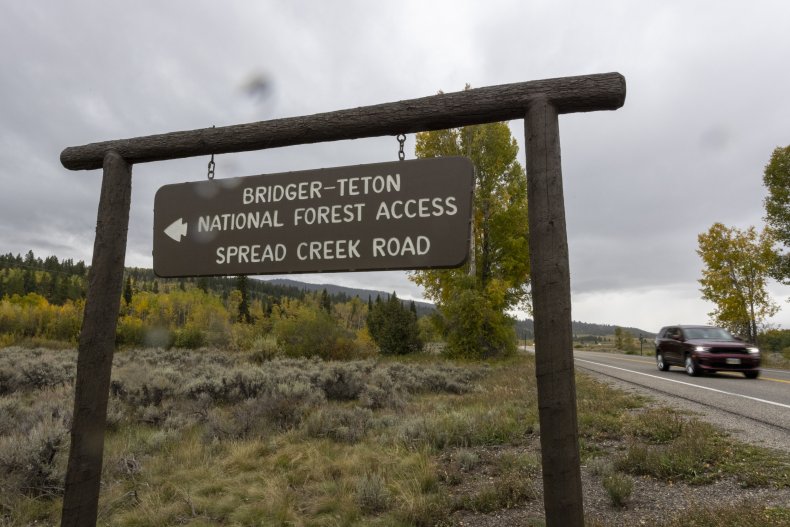 September 20 - FBI Search Home of Petito's Boyfriend
FBI and police searched Laundrie's home in Florida on September 20. No details about the search were revealed by the FBI, but agents were seen removing several boxes, while a car was also towed away.
AP reported that neighbors said the car that was towed was typically used by Laundrie's mother. Local media reported Laundrie's parents were seen getting into a police vehicle.
In a tweet on September 20, the FBI Tampa office wrote: "The #FBI search at the Laundrie residence in North Port has concluded," adding there were "no further details" to share as "this is an ongoing investigation."
Newsweek has contacted the lawyer for Laundrie's family, North Port Police and the FBI for comment.