Gabby Petito's Dad Calls On Public to Help Find Other Missing Persons
During the Petito family's first press conference since Gabby Petito's body was found, the late 22-year-old's father called on the public to help find other people who have gone missing in the same ways they have rallied behind his daughter in recent weeks.
"I don't want to dismiss the ridiculously hard work that the FBI and law enforcement all around did, but social media has been amazing and very influential," Joesph Petito said during a Tuesday news conference. "To be honest, it should continue for other people too. This same type of heightened awareness should be continued for everyone."
"I want to ask everyone to help all the people that are missing and need help. Like I said before, it's an all of you, everyone that's in this room to do that," he told a room of reporters. "If you don't do that for other people that are missing, that's a shame because it's not only Gabby that deserves that."
Petito, who went missing last month during a cross-country road trip with her fiancé Brian Laundrie, got a tremendous amount of attention from social media users who sought to bring attention to her case and find justice for the Long Island, New York native.
Last week, an autopsy of a body found in Wyoming's Grand Teton National Park confirmed that it was of Petito and that the manner of her death was a homicide.
Many social media users have also used Petito's case to renew searches for other missing people, specifically missing people of color whose cases have gained little traction online and in the media.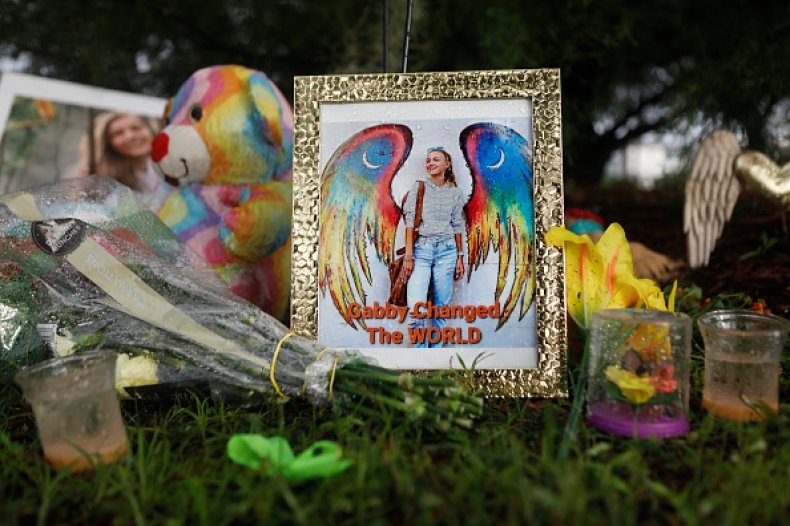 Although the FBI has yet to name Laundrie, 23, as a suspect in the case, he has been called a person of interest, and he has gone missing since he returned back to the couple's shared home in Florida without his fiancé.
Laundrie's parents have denied helping their son leave their home in Florida or helping him avoid arrest, saying they are "concerned" about him and do not know his whereabouts at this time.
Since the early days of the case, Petito's family has repeatedly called on the Laundrie family to help them locate their daughter.
"The Laundries did not help us find Gabby. They sure as not [are] going to help us find Brian," Petito's family attorney Richard Stafford said on Tuesday. "For Brian—we're asking you to turn yourself in to the FBI or the nearest law enforcement agency."
On Tuesday, the Petito family announced that they would be starting the Gabby Petito Foundation in hopes that "some good can come out of it, that we can help other people that may be in a similar situation."
"We need positive stuff to come from the tragedy that happened," her father said. "We can't let her name be taken in vain."
Her parents and stepparents also unveiled matching tattoos they received the night before of the words "let it be," the same tattoo Petito had, as well as a drawing Petito had made before her death.
Two days earlier, hundreds of people showed up to Petito's memorial on Long Island.
Speaking to the packed funeral home, her father sent a message to other "women in relationships."
"If there is a relationship that you're in that might not be the best thing for you, leave it now. Take care of yourself first," he told the room.