Gabby Petito's Family Sues Brian Laundrie's Parents, Claim They Helped Him
Gabby Petito's parents have sued Brian Laundrie's parents, accusing them of knowing Laundrie had killed their daughter and working to help him escape.
Petito's case dominated headlines last year, with her fiancé, Laundrie, confessing to killing her in a journal entry in a notebook found with his remains after his own death. The suit alleges Laundrie's parents were made aware of Petito's death as early as August 28, 2021.
The suit, filed by Petito's father, Joseph Petito, and mother, Nichole Schmidt, in Florida addresses the lingering question many have expressed concerning whether Laundrie's parents knew about Petito's death. It alleges they did and knowingly caused Petito's family "mental suffering and anguish" by not disclosing it.
The lawsuit states that between the days of August 27, when it says Petito was killed, to September 19, when her remains were found in Wyoming, her parents were "extremely distraught" while trying to locate their 22-year-old daughter. Petito had been traveling across the country with her fiancé in a van as they documented the journey. Laundrie returned home to Florida alone.
They believe the Laundries were aware of their son's actions as early as the day after she died. On August 28, the Laundries contacted attorney Steve Bertolino and sent him a retainer on September 2, the lawsuit said.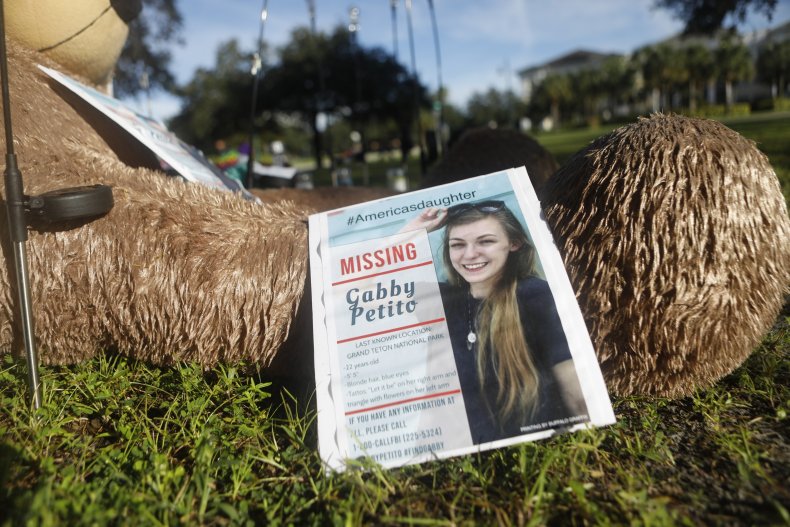 It also adds that Christopher and Roberta Laundrie, Brian Laundrie's parents, avoided messages from Petito's parents and that Roberta Laundrie allegedly blocked Schmidt's phone number.
On September 16, an attorney for Petito's family sent the Laundries a letter saying Petito's parents believed the Laundries know where their daughter's body is and asking them to disclose the location.
"We ask you to put yourselves in our shoes," the letter said. "We haven't been able to sleep or eat and our lives are falling apart."
"Please, if you or your family have any decency left, please tell us where Gabby is located," it continued.
Meanwhile, according to the lawsuit, the Laundries were allegedly "keeping the whereabouts of Brian Laundrie secret, and it is believed were making arrangements for him to leave the country."
The Laundries reported their son missing a day after that letter was reportedly sent. About a month later, his body was found in a Florida nature reserve. After a review of the notebook found with his body, an FBI agent in Denver, Colorado, confirmed Laundrie had claimed responsibility for Petito's death.
The lawsuit says that "as a direct and proximate result of" the Laundries' "willfulness and maliciousness," Petito's family has experienced "pain and suffering, mental anguish, inconvenience, loss of capacity for enjoyment of life experienced in the past and to be experienced in the future."
In a text message sent to Newsweek, Bertolino said the Laundries deny the allegations, adding that it is their legal right to not publicly comment on the situation.
"[This] lawsuit does not change the fact that the Laundries had no obligation to speak to Law Enforcement or any third party including the Petito family," Bertolino wrote. "This fundamental legal principle renders the Petitos' claims to be baseless under the law."
Newsweek reached out to the Gabby Petito Foundation and Patrick Reilly, who is representing Petito's parents, for comment.
Update 03/11/22, 5:08 p.m. ET: This article was updated with comment from Steve Bertolino.
Update 03/11/22, 3:35 p.m. ET: This article was updated with additional information.