Gabby Petito's Family Writes to Fiancé's Parents, 'How Can You Keep Her Location Hidden?'
The family of Gabby Petito has written a letter to her fiancé's parents, begging them to share information to help find their daughter.
The letter was read aloud by the family's attorney, Richard Stafford, during a press conference in New York on Thursday afternoon. Stafford told reporters that the family is "devastated" as the search for their daughter continues.
"We ask you to put yourselves in our shoes," the letter read. "We haven't been able to sleep or eat and our lives are falling apart."
Petito, a 22-year-old YouTuber, was traveling the country with her fiancé, Brian Laundrie, when she disappeared. Laundrie returned to the home he and Petito shared without her on September 1.
Her family reported her missing on September 11. She was last seen in the Yellowstone area of Wyoming, according to her family. The last communication she had with them was on August 30, but the family has said they don't believe she was the one who sent the text message.
Police in Moab, Utah, released a report and bodycam footage of officers responding to an incident involving the couple on August 12. Authorities were responding to a reported domestic assault but found there were no significant injuries. The situation was categorized as a "mental health crisis" and no charges were filed, according to the report.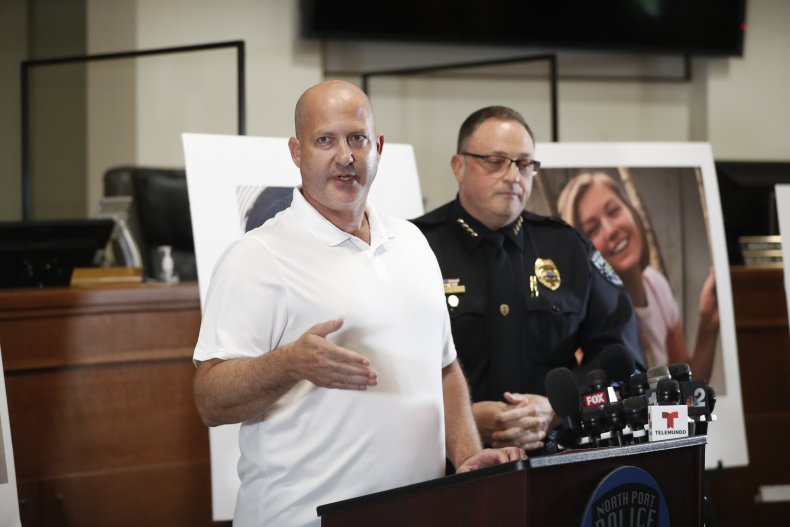 The North Port Police Department in Florida announced this week they were treating Laundrie as a person of interest in their investigation. He's so far refused to speak with law enforcement.
"Two people went on a trip. One person returned," North Port Police Chief Todd Garrison said in a news conference on Thursday. "And that person that returned isn't providing us any information."
Below is the text of the letter from Petito's family, addressed to Laundrie's parents.
Christopher and Roberta Laundrie,
We are writing this letter to ask you to help find our beautiful daughter. We understand you are going through a difficult time and your instinct to protect your son is strong. We ask you to put yourselves in our shoes. We haven't been able to sleep or eat and our lives are falling apart.
We believe you know the location where Brian left Gabby. We beg you to tell us. As a parent how could you let us go through this pain and not help us. As a parent how could you put Gabby's younger brothers and sisters through this.
Gabby lived with you for over a year. She was going to be your daughter in law. How can you keep her location hidden? You were both at Jim and Nichole's house. You were both so happy that Brian and Gabby got engaged and were planning to spend the rest of their lives together. Please, if you or your family has any decency left, please tell us where Gabby is located. Tell us if we are even looking in the right place.
All we want is Gabby to come home. Please help us make that happen.
Jim Schmidt
Nicole Schmidt
Joe Petitio
Tara Petito