Gabby Sidibe: Cover Girl?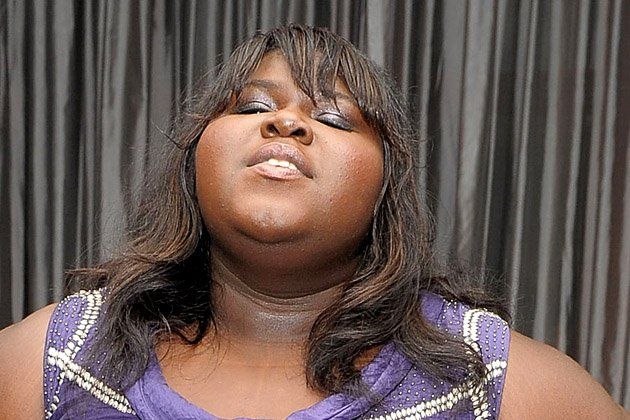 Let me make this point from the very top: Gabourey Sidibe is a wonderful actress. She was pitch-perfect as the abused and ultimately triumphant teenager in Precious and rightly deserved her Oscar nomination for best actress. Watching a smart and talented African-American woman get her due in these racially tense times is something that always makes me cheer.
All of which makes my next observation disturbing, even to me. I hate, hate, hate her new Elle magazine cover, and for many, many reasons. First let's start with the most important fact of all: Sidibe has done just one movie, yet she's received beyond her share of press, photo shoots, show-hosting assignments, and magazine articles. Yes, she was nominated for an Oscar, but so was Taraji Henson just two years ago for The Curious Case of Benjamin Button. The petite, real-life single mother of a teenage son who also appeared in films such as the critically acclaimed Hustle and Flow received her share of love from traditional black magazines such as Ebony and Essence, but white magazines didn't seem to find her particular beauty or story coverworthy. Viola Davis was nominated for an Oscar the same year as Henson, for Doubt. The veteran performer (who recently won her second Tony, playing opposite Denzel Washington in Broadway's Fences) received even less mainstream press than Henson did.
So the complicated question is, why Sidibe? What does Elle see in her that it (or any other beauty magazine) didn't see in the others? There are actually four Elle covers out this month, and it's hard to argue that Sidibe's beauty, however you define it, is of the same type as the three other cover girls: Lauren Conrad, Megan Fox, and Amanda Seyfried. Readers of African-American blogs such as Young, Black and Fabulous and Media Takeout.com, seem to think there's some kind of conspiracy behind it all—a conspiracy to influence what black beauty is and what it means. Some people on the blogs have even suggested the magazine was making fun of Sidibe, whose styling on the cover leaves much to be desired. Just this week, the magazine released a statement defending Sidibe's cover and described the actress as an exuberant young lady changing the world. Really? And exactly how is she doing that, with just one film under her belt?
It's really hard to take Elle seriously on this. In an industry that rarely celebrates the more conventional beauty of black actresses such as Gabrielle Union, Sanaa Lathan, or Kerry Washington on magazine covers, are we really supposed to believe that it's somehow seen the light with Sidibe? Or is it really the fact that Sidibe's plus-size beauty is a nonthreatening beauty? It's a beauty so completely opposite from the white world's ideal of attractive that it feels safe to give her all the kudos in the world. Somehow, after one film, Sidibe has so beguiled the fashion and beauty industry that reportedly even mega-makeup artist Bobbi Brown is in discussions with the actress to develop her own makeup line. It's difficult not to be cynical. Regina King (another wonderful actress who gets little press or fanfare) wrote an article about being mistaken for actress Rutina Wesley from the HBO show True Blood on the Emmys' red carpet. Not exactly progress for women of color.
With the exception of Halle Berry and Beyoncé (women of either mixed heritage or fairer complexions), African-American female beauty is routinely ignored in television, film, and movies. Only one mainstream cable-television show features an African-American actress (Jada Pinkett Smith) in the lead. And it could be argued that Hawthorne is on only because of the power of Jada Pinkett's husband, superstar Will Smith.
So why Sidibe? We all know that mainstream has always had a fascination with the so-called exotic look of very dark skin, fuller lips, and broader noses, and it continues to this day. Sidibe represents a look that's not going to be the big-screen love interest in Ryan Reynolds's next film. She won't be considered for the same juicy, high-paying roles that Megan Fox or Kate Hudson will be. Gabrielle Union probably won't be either, but it won't be because she doesn't have the "look." It will be for the same reasons Regina King gets confused for another black actress on the red carpet and Kerry Washington can't be the lead in the next romantic comedy. It's the reason Sanaa Lathan, Nia Long, and many other black actresses can't find work unless Tyler Perry is making a film. Hollywood and the fashion industry just don't care.
So while I halfheartedly applaud Elle for attempting to diversify its covers—a move that has taken way too long—I will forever question the real reason it chose to highlight a large woman with such a thin résumé and whose styling needs obviously required skill its staff wasn't equipped to handle—hence the loud complaints of skin lightening (which Elle denies) and a very, very bad wig. The one good thing that could come from this controversy is that maybe now beauty magazines will stop their knee-jerk reaction to so-called nontraditional beauty and give respect where respect is long overdue.