Gabrielle Giffords and Democratic Lawmakers Reconfirm Fight Against Guns Under Trump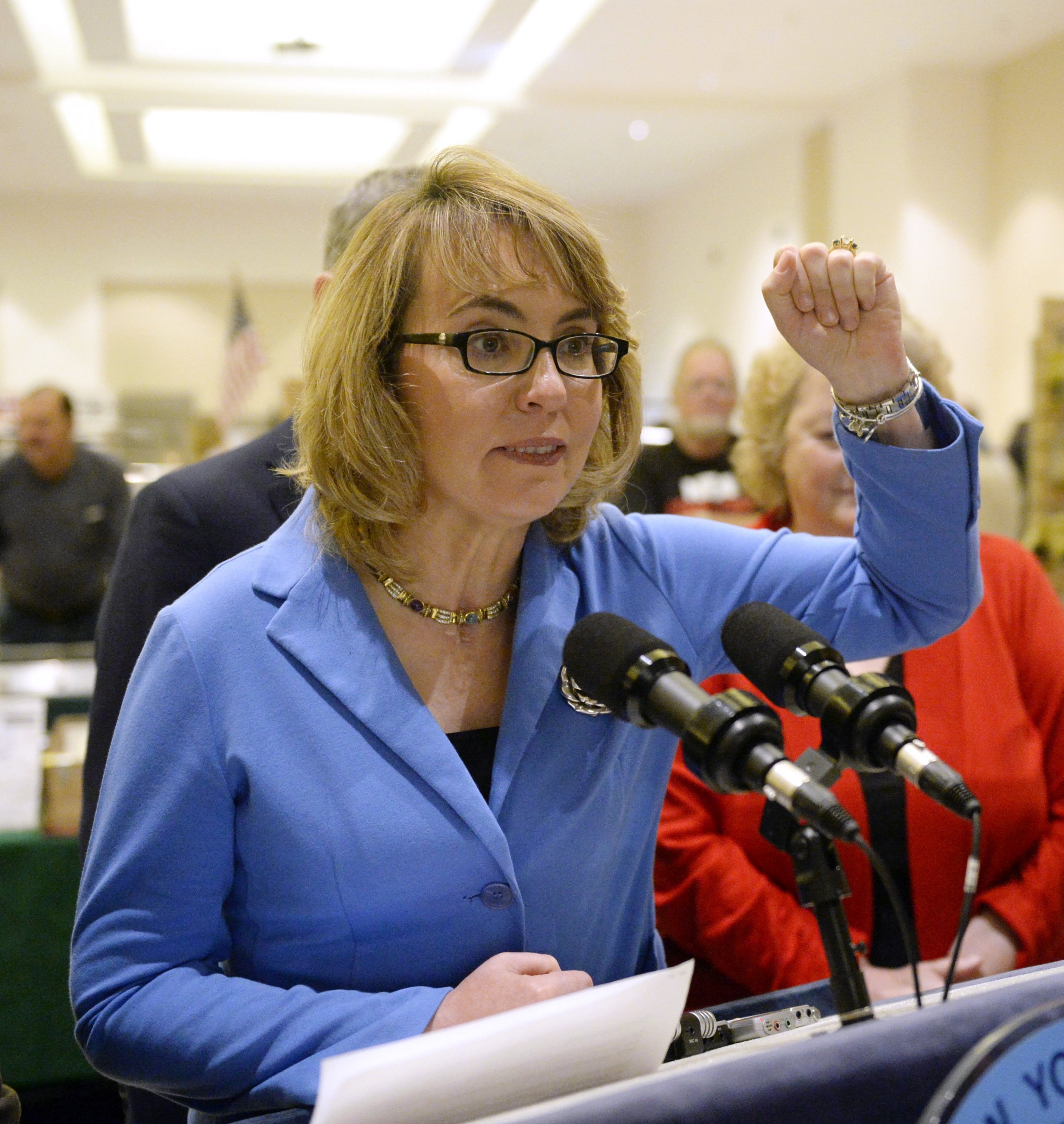 Gabrielle Giffords, the shooting survivor who is a former Democratic U.S. representative from Arizona, joined some of her former colleagues who favor stricter gun laws on Capitol Hill Wednesday to remind Americans they won't stop fighting, even under President Donald Trump. Just five days ago, the Republican president thanked thousands of National Rifle Association members for helping him win the election, and assured them he would support gun rights.
Related: Group vows to defeat NRA-backed national concealed carry reciprocity
In response, Giffords, who became an outspoken supporter of stronger gun legislation after she was shot in the head six years ago in Tucson, criticized Trump for not confronting gun violence in the country. "Stopping gun violence takes courage," she said at a press conference Wednesday. "We must never stop fighting.… The nation's counting on you."
Since being shot, Giffords has repeatedly urged lawmakers and Americans to "fight, fight, fight" to curb gun violence. She joined Democratic lawmakers on the Hill Wednesday to call on Congress to defeat bills that would mandate federal concealed carry (and thus require states to recognize one another's gun permits) and deregulate firearm silencers, both of which are top priorities for the NRA under Trump.
U.S. Senator Chris Murphy (D-Conn.), whose state is home to Newtown and who gained widespread attention last June when he filibustered for almost 15 hours to protest Congress's years-long inaction on stricter gun measures, on Wednesday acknowledged that his Democratic peers will have to play defense to stop certain pieces of legislation, including national concealed carry reciprocity and the legalization of gun silencers.
He added that lawmakers will also be playing offense, pushing for referendums on gun laws in every state capital across the country. "The NRA expects something from their endorsement of Donald Trump," he said. "[But] they are going to be on the offense in this building."
The press conference came in the wake of Trump's address to the NRA on Friday, the day before he marked his 100th day in office. He was the first sitting president to address the gun group in nearly 34 years, since Ronald Reagan did so in 1983.
On Wednesday, U.S. Senator Richard Blumenthal (D-Conn.) said Trump's pandering to the NRA is a mockery of the Americans who continue to die from gun violence. He added: "We will not give up. We are never going away. …We are determined to win this fight."
Everytown for Gun Safety, another major group in the anti-guns movement, also has vowed to defeat the NRA's national concealed carry reciprocity push, as well as any pro-gun candidate running in the 2018 midterm elections.