How Are U.S. Navy Ships Named? Gabrielle Giffords Becomes Third Living Woman Honored With Namesake Warship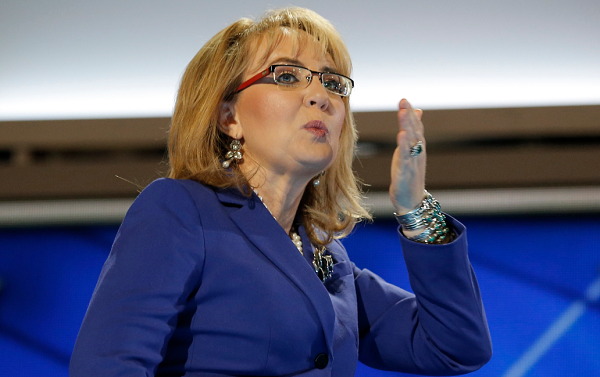 The same day former Representative Gabrielle Giffords resigned her congressional seat in 2012 following the 2011 assassination attempt that left her disabled, she learned that a Navy warship would be named in her honor—making her the first living woman to have a warship titled after her since Martha Washington. And on Saturday, the 418-foot Gabrielle Giffords will finally be commissioned for active duty.
Giffords, an Arizona Democrat who celebrated her 47th birthday Thursday, will attend the commissioning ceremony in Galveston, Texas. Former Secretary of State Hillary Clinton and second lady Jill Biden are also expected to attend.
The Gabrielle Giffords marks the third time a ship has been named after a living woman, and it is the 16th ship to be named after a woman in U.S. history.
"That our Navy chose to give my name to this ship is an incredibly humbling honor—one I would never have imagined, one I will never forget and one for which I always remain grateful," Giffords said in a statement to The New York Times. "When we celebrate the commissioning this weekend, I will be thinking of the thousands of hardworking Americans who built this ship and the brave men and women who will serve aboard her."
In January 2011, Giffords was shot in the head by a gunman, who killed six other people, following a meeting with a few of her constituents. Giffords miraculously survived, but she suffered injuries that left her unable to fulfill her congressional duties, leading her to step down from the position. Following her resignation, Ray Mabus, the secretary of the Navy at that time, declared a Navy warship would be named in Giffords's honor.
Initially, the Gabrielle Giffords warship was supposed to be named the Pentagon and had been christened by Biden, the wife of former Vice President Joseph Biden, in June 2015.
Mabus named several naval ships during his tenure, sometimes after people who acted bravely in the midst of adversity. While it's common for ships to be named after presidents, the former Navy secretary has named ships after various American heroes, including Medgar Evers and Cesar Chavez. Back in 2016, Mabus even honored abolitionist Sojourner Truth with a ship name.
"I have named ships after presidents. I have named ships after members of Congress who have been forceful advocates for the Navy and Marine Corps," Mabus said in a 2016 interview. "But I think you have to represent all the values that we hold as Americans, that we hold as a country. And so that's why I've named ships the Medgar Evers, Cesar Chavez, John Lewis, the Harvey Milk. Because these are American heroes too, just in a different arena."