Gadget Lust: Dream Ice Cream Maker Lets You Churn Out 31,000 Flavors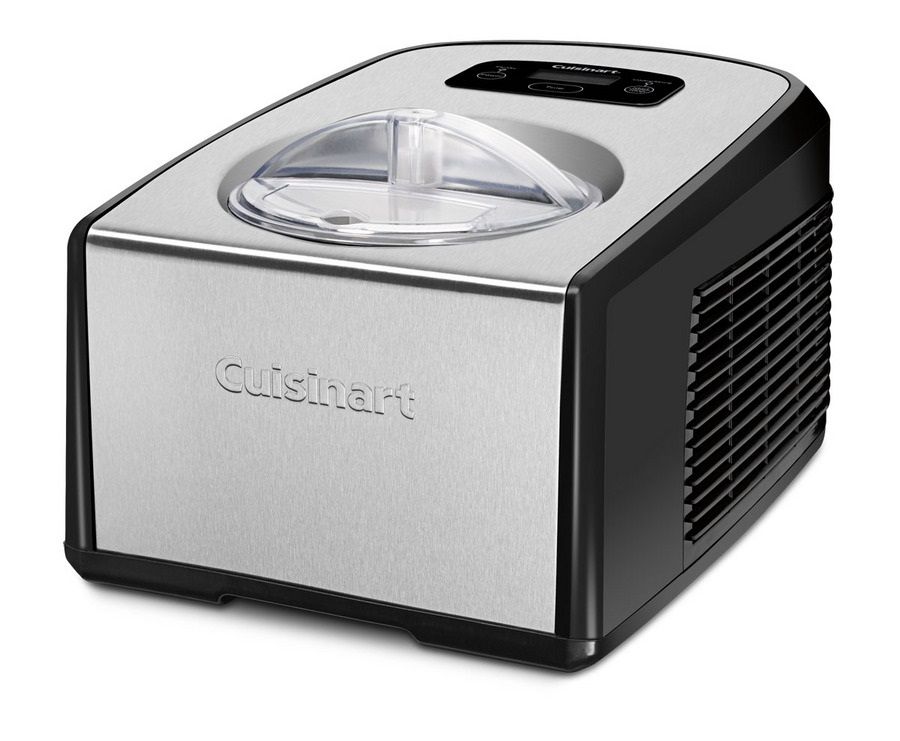 Having a home ice-cream machine is devilry enough, tempting one to arterial assaults in the wee hours when one rightly ought to be counting free-range sheep and firing up the negative ion generator. Night time is supposed to be the right time – the bluesman wailed – to be with the one you love, not inhaling one's object of desire with a ladle, eyes glued to the flat-screen like a carb-drunk zombie.
But traditionally, whipping up a batch of homemade blood orange and basil sorbet (or what you will) took a little strategic planning. Most ice cream appliances require you to freeze the bowl the night before, and thoroughly chill the creamy concoction before slowly churning it into edible gold. Given the muss, fuss and bother, one could easily make do with a handful of Milk Duds or a shot-glass of Bosco, no?
No. With Cuisinart's ICE-100 Ice Cream and Gelato Maker ($299.00), one can let caprice be one's sole guide in life: a fresh batch of sugary goodness can be yours within an hour of a dreaded yet unchecked impulse. Like far more expensive machines, Cuisinart's industrial strength fun factory has its own compressor/freezer inside, meaning it's ready to cold chill at the flip of a switch. Add cream, sugar and blueberries and you're moments away from glyco-narcosis. Godspeed….
Mind you, connoisseurs of the sweet life may say that an hour or so of additional freezing is necessary to achieve the proper texture, but who could resist digging in as soon as the machine's 40-minute countdown timer goes off? There's also a handy, 10-minute "Keep Cool" cycle that keeps the liter of end-product nice and frosty while you prepare the hot fudge and browse your Netflix watch-list.
Mind you, I'm not even a sugar freak – I would prefer death by brisket if I had to choose a culinary mode of self-destruction -- but I have found myself making like a sweet-tooth Frankenstein a couple of times a week now, force-marrying odd ingredients (fig, cayenne, mint and grapefruit) and switching from sorbet to gelato to straight-up ice cream just in the name of weird science.
How, Mr. Wizard, does the machine know the difference between ice cream and gelato? Well, class, it comes with two paddles, one which imparts less air and produces a denser texture (gelato). Better yet, the paddles attach to a motor arm beneath the bowl, which ensures that the plastic oar doesn't break off in the tutti-frutti or stop rotating as the mixture gets properly gooey and firm. Quiet it is not – if Uncle Harry's sleeping one off in the next room, you might want to break out the earplugs, lest he dream that he's trapped in an airplane wheel-well over the Azores.
Such are the small sacrifices one must make in the name of living la vida dulce. But take heart – if one liter doesn't quite get your bad cholesterol numbers into the stent-o-sphere, the trusty old ICE-100 can yield batch after repeated batch, a trick that the cheaper, non-compressor machines can't pull off. After the gluttony, get to the gym and chest-press enough iron to enable you to to hoist this 32-pound, stainless steel behemoth to and fro. Only Ben & Jerry themselves leave a bigger carbo-footprint, but they don't make house-calls.