I am of the school that believes you should be able to prepare and cook an entire three-course meal with just a sauté pan, a good chef's knife, and a glass of decent wine. Any other tools are merely clutter. When I saw the Hamilton Beach Breakfast Sandwich Maker advertised, I shook my world-weary head and sighed: Honestly? If you want a breakfast sandwich, go to your nearest drive-thru. Don't fill your cabinets with another piece of metal and plastic destined for a garage sale.
Then I found myself thinking about the appliance morning after morning as I rushed to cook scrambled eggs, make toast, heat sausages and pour juice - all before the school bus chugged past our stop. I had used two different pans and a toaster, and it wasn't even 7 a.m.
Suddenly I needed an egg sandwich, and I needed it in my house - now. I could practically taste it: My sandwich would have eggs from happy hens, smoky Canadian bacon, and a slice or three of mild English cheddar, and perhaps a squirt of Sriracha to jolt me into a state of wakefulness.
And within 16 minutes of the sandwich maker's arrival in my home, that's exactly what I had: A piping hot parcel of breakfast to call my own.
The process is simple. The machine has two stacked rings. The upper one, on which the egg cooks, has a removable bottom. I placed half an English muffin, bacon, and cheese in the bottom ring. Then I lowered the top ring in position and cracked an egg into it. At this point, I recommend piercing the yolk to keep it from exploding all over the machine when you close the lid. (I also recommend you read the manual, which apparently also recommends piercing the yolk.) I topped the raw egg with the other half of the English muffin, closed the lid, and waited for four minutes, nervously staring at my watch, wondering how this could possibly work. I then slid out the cooking plate beneath the egg, and the magic occurred: The still-runny egg met the melted cheese, and breakfast-sandwich fusion occurred.
The process is well thought-out. When you forget to pierce your egg yolk (as I did) and it oozes all over the machine's hinges, instantly baking on them (as mine did), it takes only a wipe with a paper towel to remove the mess. The rings are also dishwasher-safe, which is a rare feature in the world of household electronics.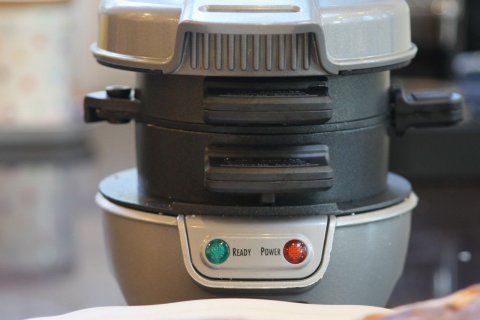 Not everything about the machine is perfect, however. Some advanced planning is needed: Any meat you put on the sandwich has to be cooked first. I fried some Canadian bacon, but precooked sausage patties, which can be quickly heated in the microwave, are another tasty option.
Making breakfast for a crowd is time-consuming, as you have to wait for the machine to reheat between sandwiches. One Saturday morning I attempted to feed four boys under the age of 10. They quickly became restless and whiny, until I had the bright idea to let them help make the sandwiches. In the end, it only took 25 minutes, and the little savages all agreed it was worth it.
To earn a place in my cupboard, this machine, no matter how washable and cute, needed to do more than just make breakfast sandwiches, so I attempted to make a classic Reuben. The rye bread was the wrong shape (oval), so I rounded off the edges to make it fit. I buttered the bread, layered corned beef, Swiss cheese, and sauerkraut, and I added more cheese so the top layer of bread would stick. I then topped it with another piece of buttery rye. The result was worthy of a decent New York deli, even if it was a bit on the petite side.
Whatever kind of sandwich you decide to make, there is one inviolate rule: It must contain cheese. Cheese is key, because it acts like glue - really tasty glue. Sure you could make a sandwich without cheese, but don't try to eat that sandwich while driving and then complain to me that you have egg yolk and bacon all down the front of your sweater.
That's a nugget of advice my husband wishes was in the instruction manual.