Gadget Lust: Shiny New Golf Toys for the New Season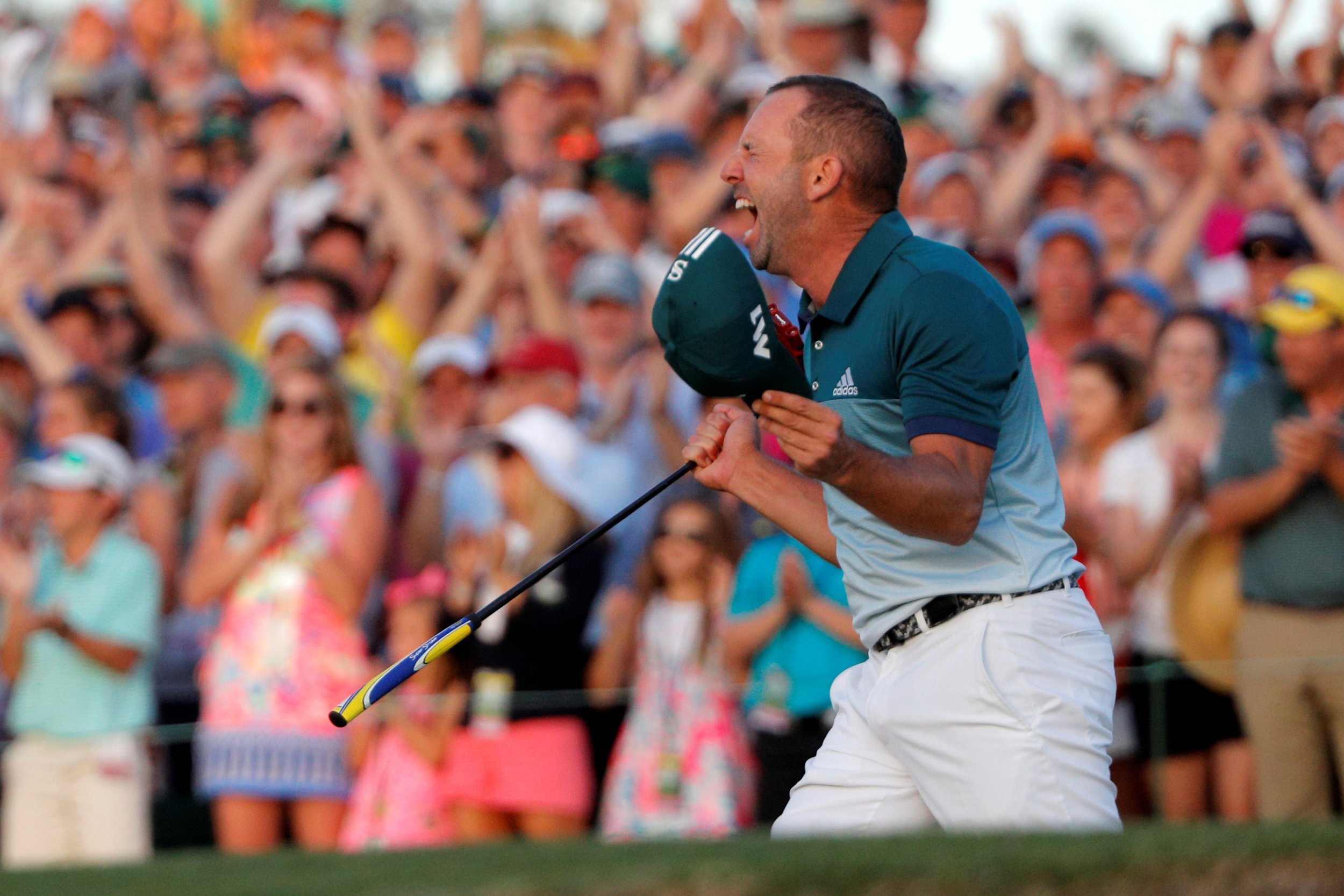 Spring having yet again sprung means lacing up the golf shoes, doing a few perfunctory knee-bends and heading to the local course with one's weapons of grass destruction. I am an unabashed golf gear junkie, with a dusty bin of disused wedges and putters in the garage alongside the Ortho bug killer and boxes of books I fully intend to never read someday. As our eloquent Golfer in Chief says: Sad.
But that doesn't mean I won't get my grubby hands on this season's promised improvements on last year's model, whether they be related to clubs, shoes, digital feedback gizmos or balls that promise to fly straighter and longer than the competition. Like auto-makers, the golf industry serves its addicted minions a new must-have variation every quarter, and I shall attempt to play Virgil to your Dante as you traverse the murky morass of golf gear purgatory. Abandon all hope, indeed – of breaking par!
TaylorMade M2 Irons: I am a case study of a golfer who has forever played with clubs that are better than I am, refusing to try "game improvement" irons — as if I'd be cheating by using equipment that straightened out mishits. No longer. After playing M2 rentals down in Cabo last month, I am an instant convert: these irons might not offer the soft-and-sweet feedback of a forged club, but have plenty of pop, a forgiving perimeter-weighted head and a steampunk design profile that ups the cool factor by 10. Great for mid-handicappers and once-a-weekers like myself. Why make the game any more bedeviling than it is? ($499 to $799)
Titelist ProV1 golf balls: The Cadillac of golf balls turns 17 this year, so it's not a stretch to call it the number one dimpled spheroid of the new millennium. Six out of 10 pros play either the Pro V1 or the Pro V1x— the former is softer and spins less than the latter, but the Pro V1x has higher compression and tends to soar a bit higher than its sister. You might think a ball is a ball, but plenty of R&D and copious consumer testing have resulted in palpable improvements to what is already the premier ball in golf. ($56 a dozen)
Cobra King F7 Driver: One can easily buy a rickety used car for the price of a high-end driver nowadays, but Cobra's F7 is cheaper by a third than the big-ticket sticks, and lacking nothing the average golfer would miss. The loft is adjustable from nine to 12 degrees; three ports hold adjustable weights that can influence ball flight (higher, harder, less spin); and an Arccos sensor in the grip beams data to your smartphone to track the distance and accuracy of every booming (or dribbling) drive. Suggestion? Order the F7 in blue and be the bling king in your foursome. ($349)
Cleveland RTX-3 Wedges: This is where the rubber meets the turf for good golfers and journeymen alike—the short game (from around 100 yards away to green-side). Cleveland Golf has been the standard-bearer for wedges for approximately forever and the RTX-3s add to that legacy bigly, as our Fearless Leader says. Hollowing out and shortening the hosel places the CG (center of gravity) in the middle of the face rather than the heel, resulting in more consistent spin and distance control. Go for the bronze "Tour Raw" finish, which will rust slightly over time and enhance your rep at the local muni as an O.G. (Original Golfer). ($129.99 each)
Odyssey O-Works Putter: With any luck and a soupçon of skill, you've finally reached the bentgrass dance-floor and are ready to roll. Odyssey's new O-Works blade putter feels like a stick of country butter welded to a steel shaft, so softly does the ball kiss the stainless-steel mesh face-insert. Phil Mickelson used a prototype of this flat-stick at last year's Ryder Cup, canning some must-make putts from miles away on Hazeltine's demanding greens. The "Microhinge" insert adds topspin, which reduces skidding and offline hits. Money. ($229)
Sun Mountain Speed Cart GT: This game was made for walking, and that's just what you'll do, with one hand on this ultra-light, three-wheeled push cart. Sun Mountain trail-blazed the "fold-up" cart category back in 1999, and continues to refine the formula. This year's model features a cellphone holder, a pair of bungee cords to secure your sticks, and ports for an umbrella and a stool. The GT sets up and breaks down in a flash, and is compact enough to stash in the trunk. ($209.99)
Ecco Golf Cage Pro Shoes: The average round of golf involves a nearly four-mile walk, a good reason to sheathe your soles in Ecco's Cage Pro, white leather shoes that seem to massage your feet as you trudge through the heather en route to the gorse. The Spydr-Grip soles grip the ground for dear life as you "load and explode" (heard that phrase from a golf pro once), and perforated sides and mesh linings make for a cooler than usual feel. Comfort and stability for days, and pretty fly for a white shoe. ($210)
Bollé Bolt Sunglasses: As with baseball and boxing, so it is with golf: you can't hit what you can't see, which is a good reason to don a pair of Bollé's Bolt sunglasses. The photochromatic NXT Photo V3 lenses (whew!) were designed with golfers in mind— they repel dirt and debris if you happen to hit more earth than ball, and the ultra-light vented frames ensure a secure and comfortable fit. Interchangeable lenses are available so you can adapt the view to the available light. ($169)