Gadget Lust: The Best and Must Have Loot for Summer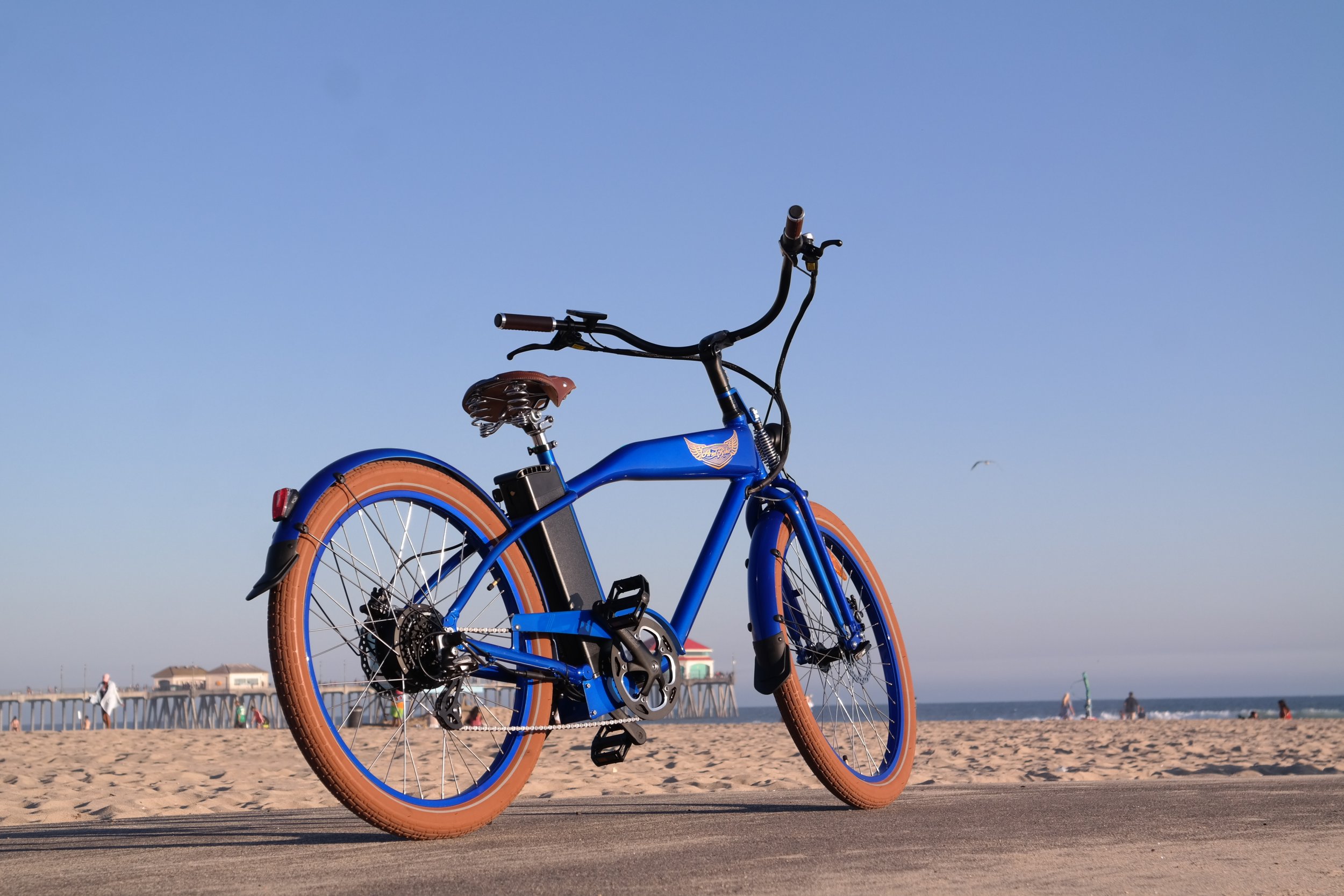 Summer is for sybarites, a fine excuse for terminal lounging, swilling of fermented fruit drinks and worshipping the almighty sun-god Ra above all other daemons. It's a time for guiltless indolence and excess, when the battle-cry ought to be kill it and grill it, cold-chill like your boy George Will and by all means don't ever sit still—all while wielding a few of the choice weapons of max diversion below. From campground to man-cave, the proper tools of the trade are mandatory.
Ariel Rider W-Class Electric Bike: Ariel Rider is the latest and best in the pedal-assisted, battery-powered bicycle category, a sleek beach cruiser that will send you flying with a twist of the wrist when your leg-power runs a little low. The brainchild of two genial brothers from Ankara whose day-jobs as engineers grew boring, Ariel Rider's four models are ideal for serious commuters and fun-seekers alike. AR's Power-On-Demand (POD) system detects the level of force exerted on the pedals and helps out automatically when the terrain starts to climb. With a fast-charging battery, a plush saddle and vintage aesthetics, this is the current class of the e-bike field–and a great Turkish Horatio Alger story to boot! ($1,899)
QOD Electric Golf Caddy: Here's another nod to the miracle of lithium-ion batteries, an electric golf push cart that operates hands-free – you don't even have to hold a remote control to glide it down the fairway to your next shot. Aircraft-grade aluminum keeps the weight down, a quiet 180-watt motor tackles the gnarliest hills and the entire unit folds down into a tidy, 11" x 12" x 17" package. Nine speed options ensure that the cart goes at the pace you walk, and of course you can shut down the power and actually push the old caddy should the need arise. But fear not–one four-hour charge will last a full 36 holes, and there's even a USB port for juicing your smartphone so you can appear to be working while shirking your duties. ($1,199)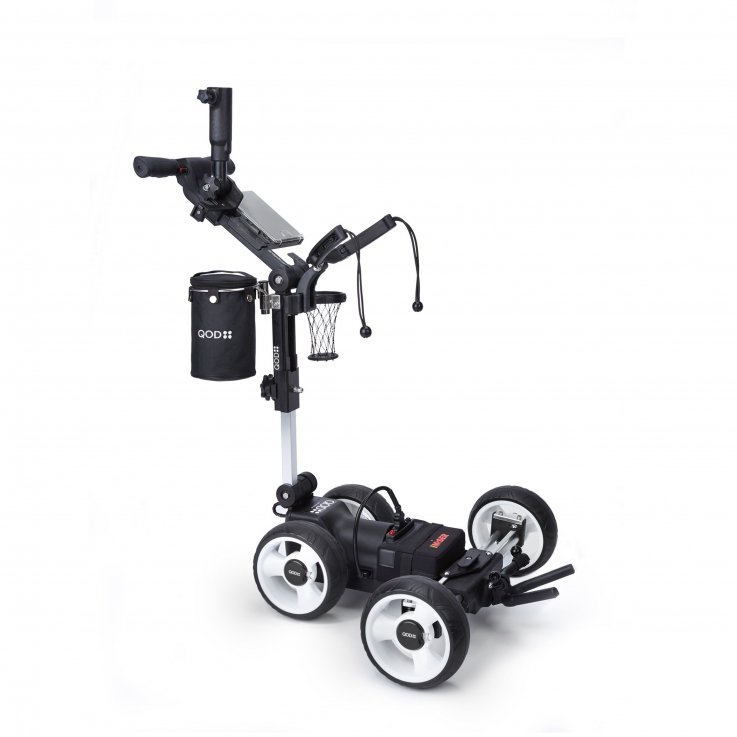 Lotus Belle Air Beam Bud: Talk about old-school–this family-run business is the talk of the glamping world–Lotus Belle sells bell-shaped tents that eschew the customary use of nylon for sturdier, more breathable canvas. But the company has one-upped itself with the Air Bud, a no-poles, inflatable tent that is ready for wilderness action in less than five minutes! At 10 x 10 feet in diameter and weighing a scant 40 pounds, the Bud can accommodate a queen-size bed and, since it doesn't have a center pole, all of the floor-space space is usable. All that and style for miles–T.E. Lawrence would have looked right at home in one of these chic redoubts. ($1,200)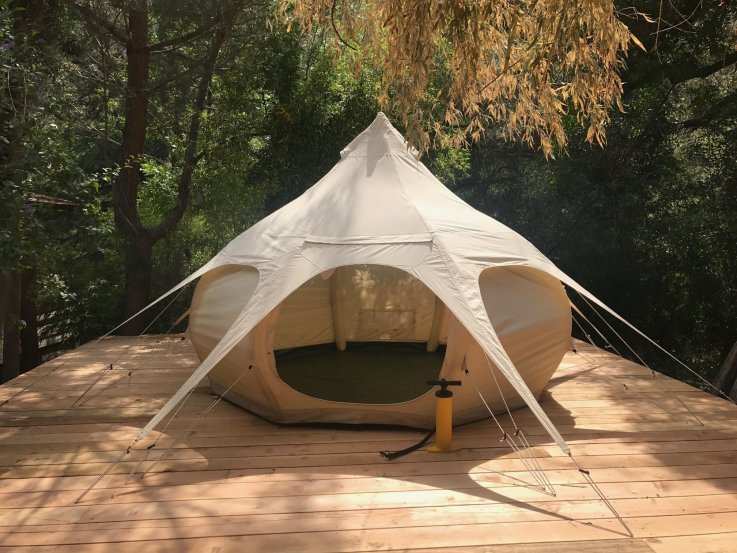 Coleman Roadtrip LXE Grill: It's one thing to look good while camping, and quite another to eat well. I hew to the cliché that anything cooked and consumed outdoors tastes better, and the Roadtrip propane-powered grill is more than equal to the task. Boasting 285 sq.in. of porcelain-coated, cast-iron grills, and up to 20,000 BTUs of steak-searing power, this compact cooktop ignites with the push of a button and wheels from trunk to campground sans strain. Optional grill, griddle and stove plates are available, and the whole rig cleans up nicely with mild, soapy water and a soft cloth. And for the record, this one's for tailgaters, not player-haters. ($189.99)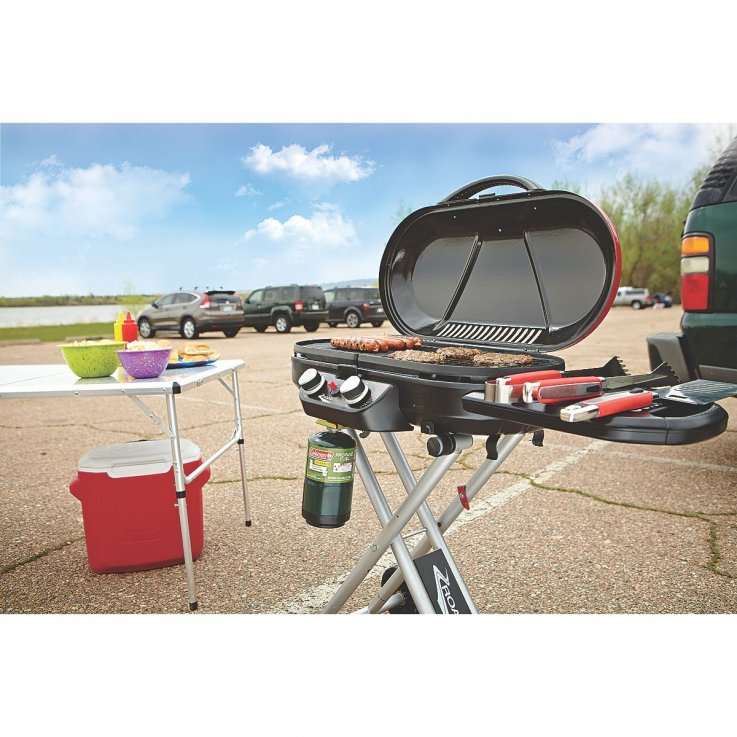 Hisense Portable AC with Wi-Fi: What doesn't communicate with your smartphone nowadays except friends and family, who are too busy taking snapshots of their pork belly frittatas to say hello? But who needs love when you can lock yourself in your bedroom, crank up the Hisense AC and binge-watch vintage Soupy Sales episodes? Your smartphone will fire up the unit 20 minutes from home, which will cool a bedroom down some 15 degrees by the time you begin your residency. Best of all, it's easy to install and relocate, quiet as a tranquilized lab rat and kicks out a lot of cooling power for the money. ($369)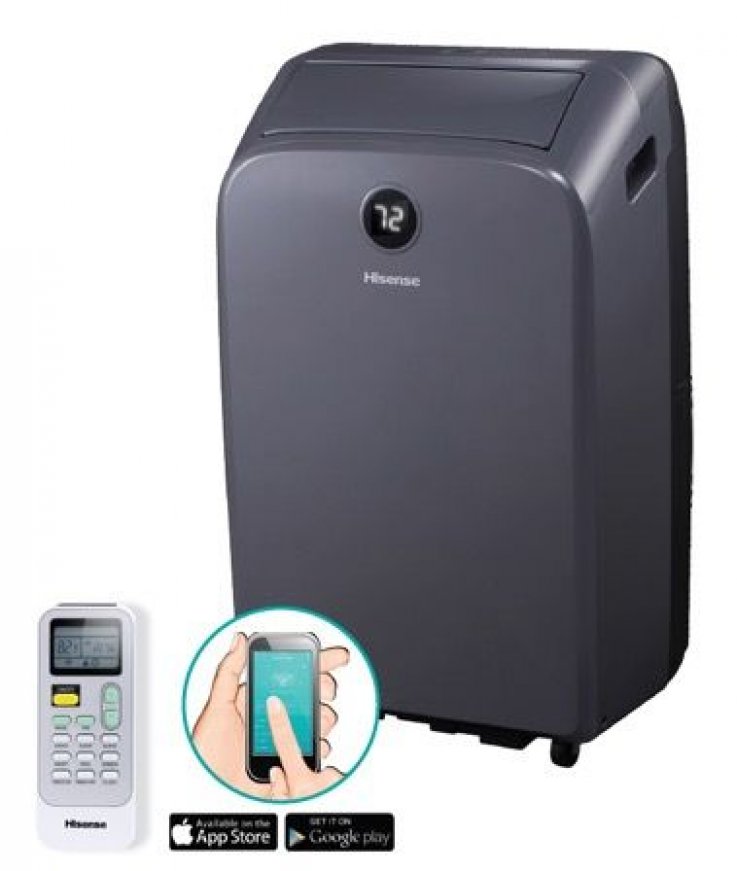 Callaway GBB Epic Driver: Every summer, one big-stick stands out in the crowded field of drivers–and this year everyone is talking about Callaway's GBB Epic, a straight-shooting, blinged-out club that looks as good as it sounds. Yep, the muted "click" doesn't tip off your opponents that you're using a lethally long weapon, nor one that launches high and rolls out handsomely. An adjustable hosel alters the degree of loft and lie, and a 17-gram weight slides back and forth should you prefer to draw or fade the ball off the tee. If you tend to drive for show, you and the Epic are ready for your close-up. ($499)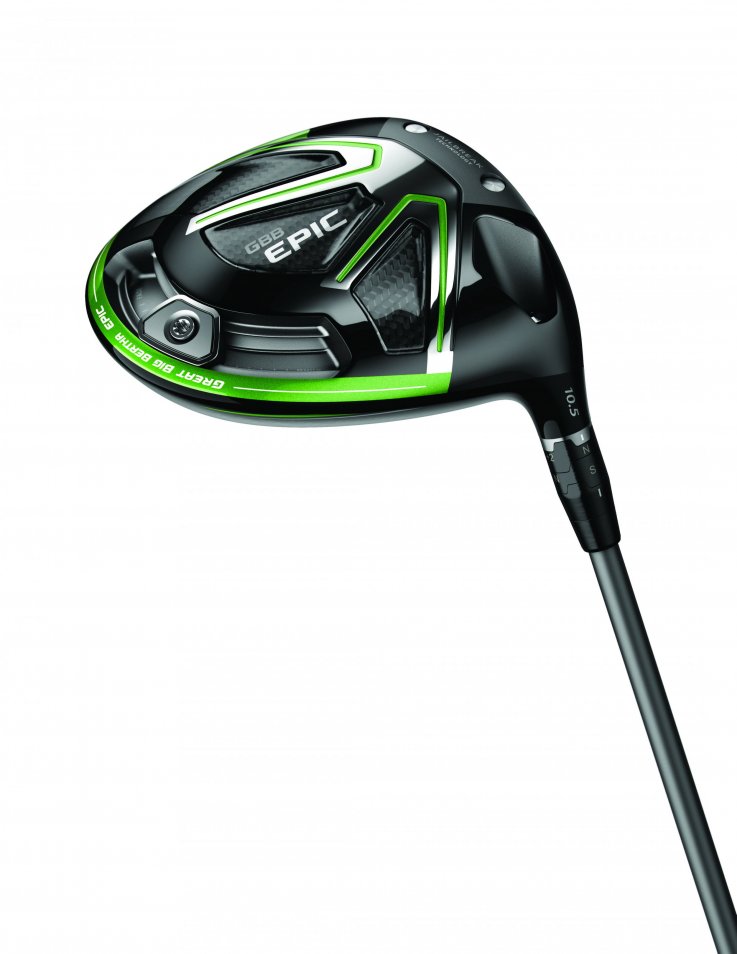 Shwood Prescott Titanium Sunglasses: With a curious name like Shwood, these shades had better be good–and that they certainly are. Handcrafted in Portland (where else?) using handsome wood veneers and precision lens-cutting, founder Eric Singer is an old soul with a modern vision: creating objets d'art with a practical purpose. The Prescott Titanium number balances the lightweight strength and sheen of titanium with the organic look and feel of highly polished dark walnut. People will stare in envy and question why they are wearing Prada like Kourtney Kardashian instead of these one-of-a-kind wonders. ($189)

Wilson Staff FG Tour V6 Irons: If looks were everything, these new forged irons from Wilson would walk off with the beauty pageant crown, hands down. But skin-deep features like gleaming 8620 carbon steel and tungsten weights on the toe and heel do double-duty in the function department as well. Fitted with True Temper's Dynamic Gold AMT shafts, these sticks are for the better than average player, able to shape shots (draw/fade, higher/lower) but in need of a little perimeter-weighting forgiveness—the best of both worlds in one iron. ($999)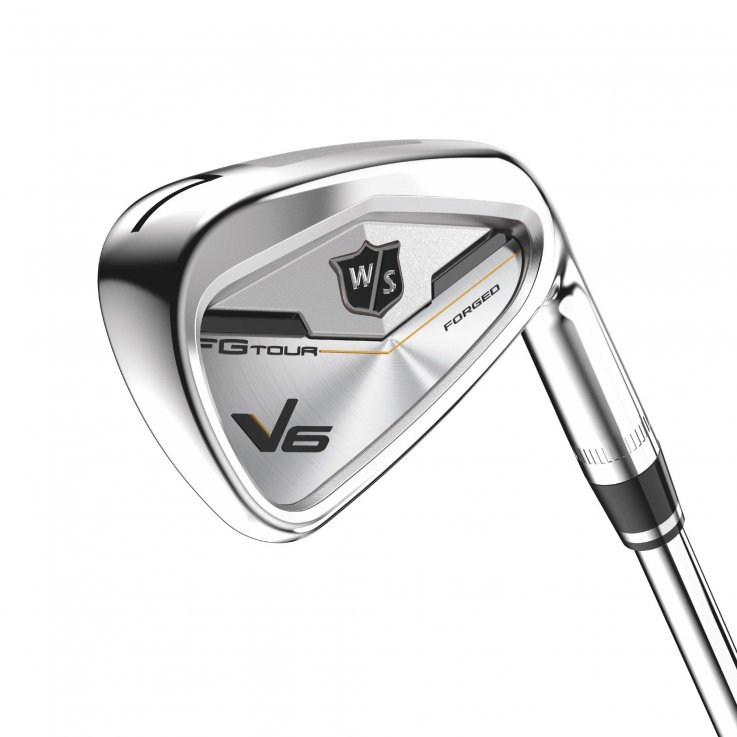 Here One Wireless Smart Earbuds: Most Bluetooth earbuds do just one thing: funnel audio to your brain via invisible radio waves. Doppler Labs Here One earbuds do a trio of high-tech tricks that enable you to virtually tune your aural environment to your needs. Noise cancellation is not uncommon in buds, but the ability to enhance speech with a series of filters (using the smartphone-installed app) is. A "crowd" filter reduces background clatter; the "city" setting cuts out wind noise while cycling or running; and a directional parameter allows one to focus on sounds either in front or in back of you. Other filters and effects let you remix the world with the swipe of a finger on your no-headphone-jack iPhone! ($299)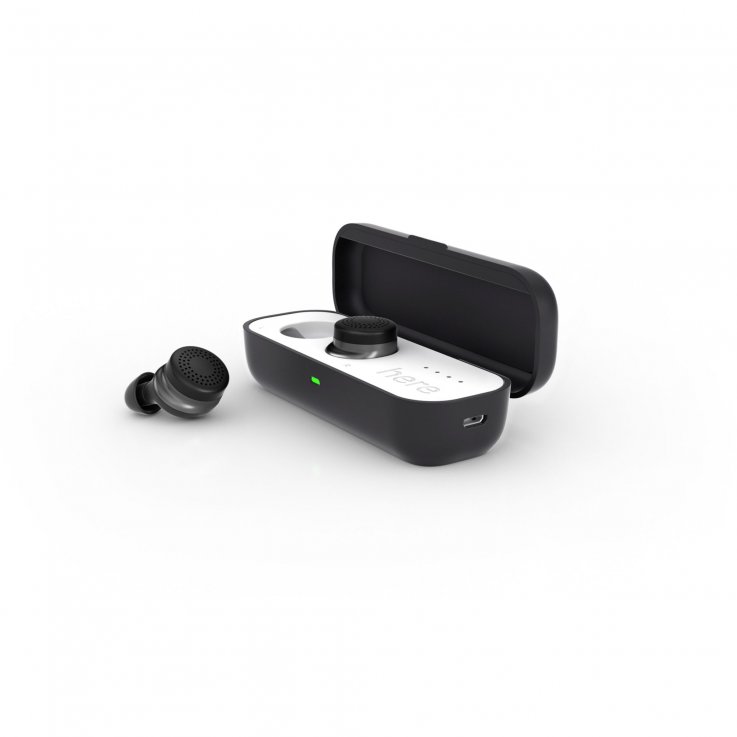 Gadget Lust: The Best and Must Have Loot for Summer | U.S.