Gaetz, Boebert, 25 Other Republicans Demand Army Investigate Milley After Controversial Calls
A group of 27 House Republicans are calling on the U.S. Department of Defense to investigate Joint Chiefs of Staff Genernal Mark Milley, following a report alleging that the general made two calls to his Chinese counterpart to reassure him that the U.S. was not going to attack China.
According to an upcoming book by Bob Woodward and Robert Costa, Peril, Milley contacted his Chinese General Li Zuocheng—once days before the 2020 election and the other days after the January 6 insurrection at the Capitol—amid concerns about former President Donald Trump.
The general assured his counterpart if the U.S. was going to attack China that he would warn the general ahead of time, the Washington Post, which reviewed the book, reported Tuesday.
On Thursday, the group of House GOP members wrote a letter to U.S. Defense Secretary Lloyd Austin, requesting a formal investigation into the allegations, the Daily Caller first reported.
"To conspire with a communist, malfeasant, hostile and genocidal government regarding our intentions-or lack thereof- with utter disregard to the implications of said 'promise' on our national security or our Service Members, is nothing short of craven (at best) and treasonous," stated the letter, which was posted online by the Daily Caller.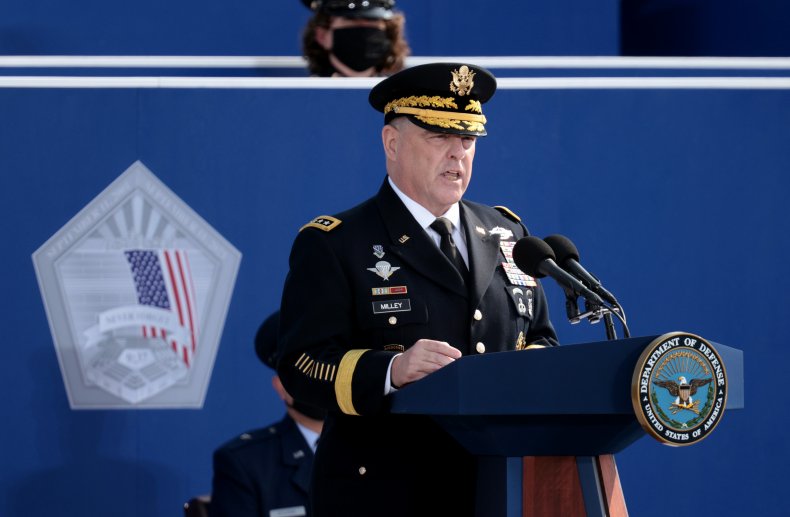 "Mainstream media reports this story as if America were rendered a great service by GEN Milley, as if he simply were trying to ward off the supposedly unpredictable behavior of the elected President of the United States, Donald J. Trump. To be clear however, if Mr. Woodward's account is true, GEN Milley's pledge to China is nothing less than outright treason," it continued.
The letter was signed by 27 Republicans, including Represenatatives Marjorie Taylor Greene, of Georgia, Mo Brooks, of Alabama, Lauren Boebert,of Colorado, and Matt Gaetz, of Florida. It requests that the Department of Defense immediately launch a formal "AR-15-6 investigation" to determine the veracity of the allegations. An AR-15-6 investigation is the Army's "primary tool for gathering information in a variety of situations," the Daily Caller reported. The Republicans also said Milley's security clearance "must be suspended pending the outcome of this investigation."
In a statement responding to the letter, Pentagon Press Secretary John Kirby said: "We are aware of the letter from the members of Congress. The Department will respond to the members directly."
"General Milley retains the trust and confidence of Secretary Austin," Kirby added.
Republicans have sharply criticized Milley, after the alleged phone calls were revealed. Senator Marco Rubio, a Florida Republican, sent a letter to President Joe Biden on Tuesday, asking him to fire the general for working to "actively undermine" Trump. Retired Lieutenant Colonel Alexander Vindman also called on Milley to resign, if the reports are true.
Biden said Thursday that he has "great confidence" in Milley, following the reports about the calls. Joint Staff spokesperson Colonel Dave Butler said Wednesday that Milley was operating under standard procedures.
"The Chairman of the Joint Chiefs regularly communicates with Chiefs of Defense across the world, including with China and Russia," Butler said. "These conversations remain vital to improving mutual understanding of U.S. national security interests, reducing tensions, providing clarity and avoiding unintended consequences or conflict."
Updated 09/16/2021, 6:49 p.m. ET: This story has been updated with a statement from Pentagon Press Secretary John Kirby.