Gaetz Says Democrats Want to Cast Biden as 'Extra' in 'Horror Film'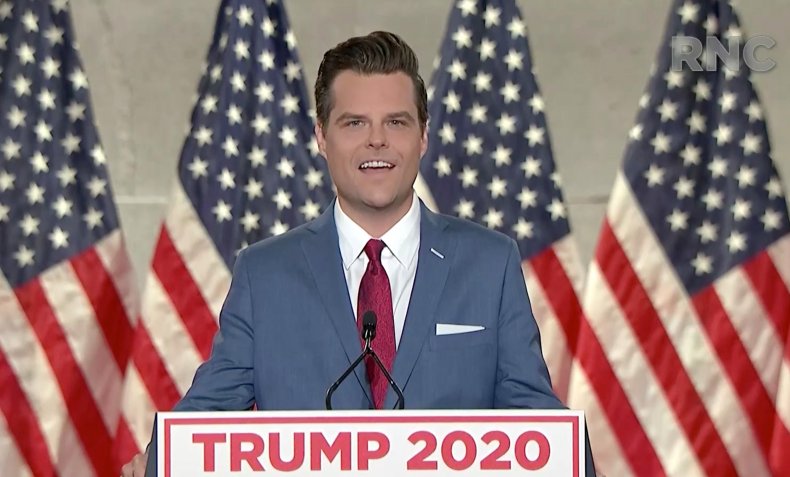 Rep. Matt Gaetz (R-Fla.) said Monday that Democrats secretly plan to cast former Vice President Joe Biden in their "horror film" if he wins November's election.
Gaetz accused Biden of "basement dwelling" while praising President Donald Trump as a "visionary" during his speech on the first night of the virtual Republican National Convention (RNC). He claimed that "socialist" Democrats were hoping for a Biden win because his presidency would enable an assortment of dystopian scenarios including an invitation for the violent gang MS-13 to "live next door."
"Settle for Biden, that's the hashtag promoted by AOC [Rep. Alexandria Ocasio-Cortez] and the socialists," Gaetz said. "The woketopians will settle for Biden because they will make him an extra in a movie written, produced and directed by others. It's a horror film, really."
"They'll disarm you, empty the prisons, lock you in your home and invite MS-13 to live next door," added Gaetz. "And the police aren't coming when you call. In Democrat-run cities, they're already being defunded and disbanded."
A report from the New York Post claimed that Gaetz included a comparison between a Biden presidency and the 1989 comedy film Weekend at Bernie's, which was about two employees desperately attempting to make the corpse of their deceased boss appear to still be alive. Earlier prepared remarks from the RNC speech did include the comparison, although the reference was omitted in the version Gaetz actually delivered.
Gaetz began his approximately three-and-a-half minute speech at the virtual convention by remarking that he was speaking "from an auditorium emptier than Joe Biden's daily schedule." He denounced Hollywood for "blaming our best and allowing society's worst" before suggesting that recent power shortages in California meant that the state should not have allowed Sen. Kamala Harris to become Biden's running mate.
Gaetz also spoke against "cancel culture," insisting that "you cannot cancel a culture that loves its heroes." One of the more memorable moments of the speech came when he suggested that his experience as a "Florida man" had given him the opportunity to witness attempts to spread American patriotism beyond the bounds of the earth.
"My great-grandfather was a railroad man," Gaetz said. "As a Florida man, I watch our rockets routinely send the brightest beyond the heavens with our flag and our hope. America is the greatest country that has ever existed. Don't let any celebrity, athlete or politician tell you otherwise."
Gaetz ended the speech by saying that although Trump "sometimes raises his voice and a ruckus," he only does it because "that's what it takes raise an army of patriots," while also praising the president for his daily display of "unbreakable American strength."
Newsweek reached out to the Biden campaign for comment.