Lady Gaga's Dog Walker Recalls 'Close Call With Death' in First Remarks After Shooting
Lady Gaga's dog walker Ryan Fischer, who was shot once in the chest during the recent robbery of two of the singer's beloved dogs, released a statement on Monday recalling the harrowing incident. In his first remarks since the shooting and robbery, he said he is "still in recovery from a very close call with death" and thanked people for their support.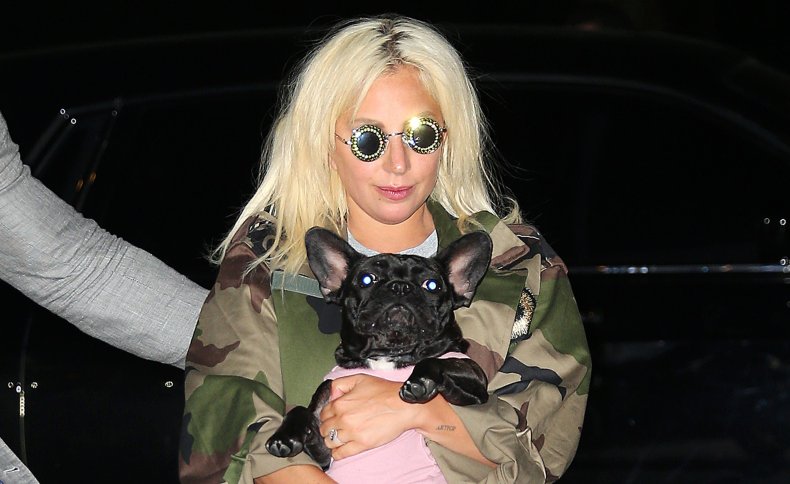 Fischer posted the message on the Instagram account for his dog-walking company, Valley of the Dogs.
"The gratitude for all the love I feel from around this planet is immense and intense," his statement reads. He also notes that he is "humbled and grateful that attention and focus from police were enough to get Koji and Gustav back to safety, and I know they are committed to bringing these criminals and attempted murderers to justice."
Koji and Gustav are the names of the two French bulldogs taken during the incident. The Los Angeles Police Department reported that the dogs were returned safely on Friday by an unnamed woman. A third dog, Asia, was not taken during the Wednesday night robbery, which left Fischer in the hospital with a gunshot wound.
Fischer's post begins with him talking about how Asia comforted him in the terrifying moments after he was shot. He wrote, "4 days ago, while a car sped away and blood poured from my gun shot wound, an angel trotted over and laid next to me. My panicked screams calmed as I looked at her, even though it registered that the blood pooling around her tiny body was my own."
He then held Asia to the best of his abilities, according to his statement, and thanked her for all the times they had together while also apologizing for not doing better to defend her and the other dogs from the criminals. At the end of his note, Fischer thanks Lady Gaga and her family for their support. He concludes by writing, "A lot of healing still needs to happen, but I look forward to the future and the moment when I get bombarded with kisses and licks (and maybe even and excitement pee?) from Asia, Koji, and Gustav."
Though Fischer was critically wounded, he is expected to make a full recovery. Following the shooting, Lady Gaga posted on her Instagram account, "I continue to love you Ryan Fischer, you risked your life to fight for our family. You're forever a hero."
Police are still searching for the two suspects involved in the shooting and robbery.