Is 'SNL' on Tonight? Watch Host Gal Gadot on 'Saturday Night Live' With Sam Smith
If you missed Wonder Woman on her Saturday Night Live debut last fall, you're in luck. The SNL episode hosted by Gal Gadot is slated to air again on the NBC network on Saturday.
With SNL on hiatus before it returns later this year, NBC is airing reruns of Season 43 so viewers can catch up on everything that they missed during the primetime TV season. Gadot, who starred in the DC comic adaptation, appeared on the sketch comedy show's second episode of the season back in September 2017, marking her first time hosting SNL.
Gadot already won fans over when she saved the people of earth from destruction in the Wonder Woman movie, but she really stole their hearts when she flexed her comedic chops in dozens of SNL skits like "First Date," in which she played the role of a woman unknowingly on a date with O.J. Simpson (portrayed by Kennan Thompson), and in the storybook classic "The Maiden and the Mice"—SNL's spin on Cinderella.
While Gadot was on hosting duties, Sam Smith was the musical guest of the episode. The British singer performed two songs from his second album The Thrill of It All including, "Too Good at Goodbyes" and "Pray." Country sensation Jason Aldean gave a tribute performance for the 58 people killed during the Las Vegas festival shooting in September 2017. He sang Tom Petty and The Heartbreakers classic hit, "I Won't Back Down," during the episode's cold open.
NBC has yet to release the premiere date for SNL Season 44. In the meantime though, fans can at least try to score tickets to the show. The network announced the opening of its annual lottery, allowing viewers to try and win tickets to the 2018-2019 season of SNL.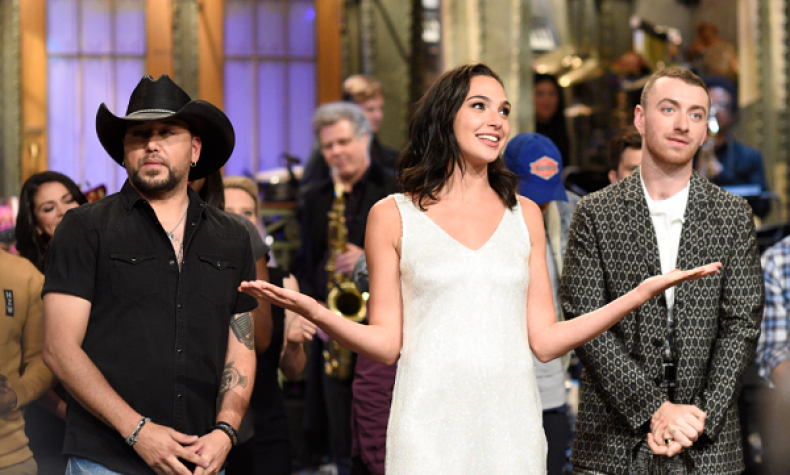 Between now and August 31, fans can send an email to SNLtickets@nbcuni.com with an explanation of why they'd like to be a member of the SNL studio audience. Winners will receive a pair of tickets to a random show date and time, however, only one email may be sent per household. All applicants must be 16 or older.
Of course, entering the lottery doesn't guarantee fans will win tickets, but their chances are a little higher than venturing to New York City's Rockefeller Center and waiting for standby tickets on the morning of the show.
For more info on how to win tickets to SNL Season 44, check HERE.