'Saturday Night Live' Season 43 With Host Gal Gadot—Everything You Need to Know Before Show Airs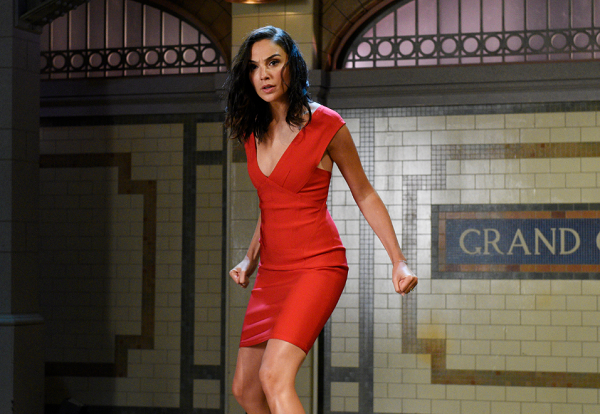 How can one ever know what to expect to see on Saturday Night Live when there's just so much that goes on during the week in America?
Perhaps we'll get to see Michael Che and Colin Jost give a "Weekend Update" on North Korea, or maybe the cast and crew will tackle the Harvey Weinstein scandal that's rocked Hollywood earlier this week. Will 'SNL' take down the NRA, with gun rights dominating the news after the mass shooting in Las Vegas?
New York Comic Con started on Wednesday; maybe viewers will see Leslie Jones, Heidi Gardner and Chris Redd geek out over their favorite superheroes. That potential scene could be really fitting for the second episode of SNL's 43rd season, given this week's guest host.
Who's hosting? Gal Gadot will bring her Wonder Woman superpowers to the stage. Rumor has it that Gadot will be suiting up in her red boots and saving the day with a few mock Justice League characters played by Kenan Thomspon, Kyle Mooney, Pete Davidson and Kate McKinnon.
Who's performing? Sam Smith is bringing his soulful sound to the main stage.
Will Alec Baldwin be there? Unclear, but our fingers are crossed that we'll get to see the President Donald Trump imitator heinously throwing rolls of paper towel at the people of Puerto Rico, which is something the actual president did this week during his visit to the hurricane-devastated country.
Where? You'll likely be watching live on NBC while chilling on your couch or a friend's couch.
When? Show time starts at 11:30 p.m.
Can it be live-streamed? SNL certainly can be live-streamed. Those without access to cable or TV can still tune in on mobile devices, computers, laptops and tablets on NBC's website. Or if you stream your TV content on Hulu, you can watch it live from there. Per usual, there will be plenty of highlights and clips of the second episode available on SNL's YouTube shortly after the show. And you can also tune into the conversation by following the hashtag #SNL on social media.