Former Chicago Bears running back Gale Sayers died at 77 early Wednesday morning, following a battle with dementia. Soon after the news broke on Wednesday, figures around the NFL shared their thoughts on Sayers, who was nicknamed the "Kansas Comet."
Pro Football Hall of Fame CEO and president David Baker mourned the halfback's death in a statement. "He was the very essence of a team player – quiet, unassuming and always ready to compliment a teammate for a key block. Gale was an extraordinary man who overcame a great deal of adversity during his NFL career and life," he said.
NFL commissioner Roger Goodell also offered his condolences. "Gale was an electrifying and elusive runner who thrilled fans every time he touched the ball," Goodell said in a statement. "We will also forever remember Gale for his inspiration and kindness. Gale's quiet unassuming demeanor belied his determination, competitiveness and compassion."
Beginning his career in 1965, Sayers played nearly every regular season game for the first five years of his career. The only exceptions being 1967 and 1968, when he played 13 and nine games, respectively, rather than the typical 14. For both the 1970 and 1971 seasons he only played two games each season, according to his stats on the NFL website.
Throughout his seven-year career, Sayers scored a total of 39 touchdowns, most of them happening in his rookie season, when he scored 14. He still did very well in other seasons, notably scoring eight touchdowns in both 1966 and 1969. In 1967, he scored seven touchdowns.
He also moved an impressive number of yards throughout his career, getting 1,231 in 1966 and 1,032 in 1969. He had over 800 yards in the 1965, 1967 and 1968 seasons.
For his career accomplishments, he was inducted into the Pro Football Hall of Fame at 34 in 1977, making him the youngest person to be inducted.
According to the Hall of Fame, Sayers received a number of honors during his time playing for the Bears. He was named Rookie of the Year in 1965. He was also selected as part of the NFL's 1960s All Decades Team. In 2000, he was recognized as part of the All-Time NFL Team. He also played in four Pro Bowls in 1966, 1967, 1968 and 1970.
Sayers was also noted for his close friendship with his Bears teammate running back Brian Piccolo. In the announcement of Sayers' death, the Hall of Fame noted that the pair were the first interracial roommates in NFL history. Piccolo's own death, from embryonal cell carcinoma in 1970, inspired the movie Brian's Song the following year, which chronicled his friendship with Sayers.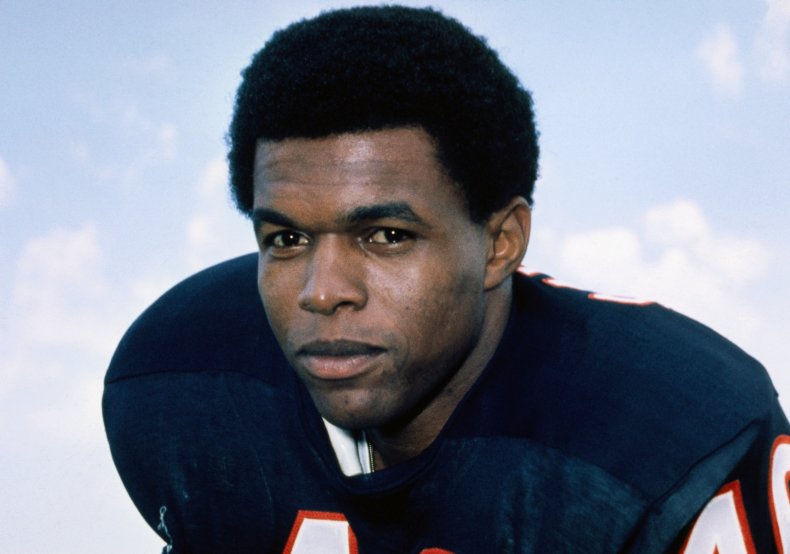 Uncommon Knowledge
Newsweek is committed to challenging conventional wisdom and finding connections in the search for common ground.
Newsweek is committed to challenging conventional wisdom and finding connections in the search for common ground.