No American Has Won the Boston Marathon Since 1985, But This Year There Was a Glimmer of Hope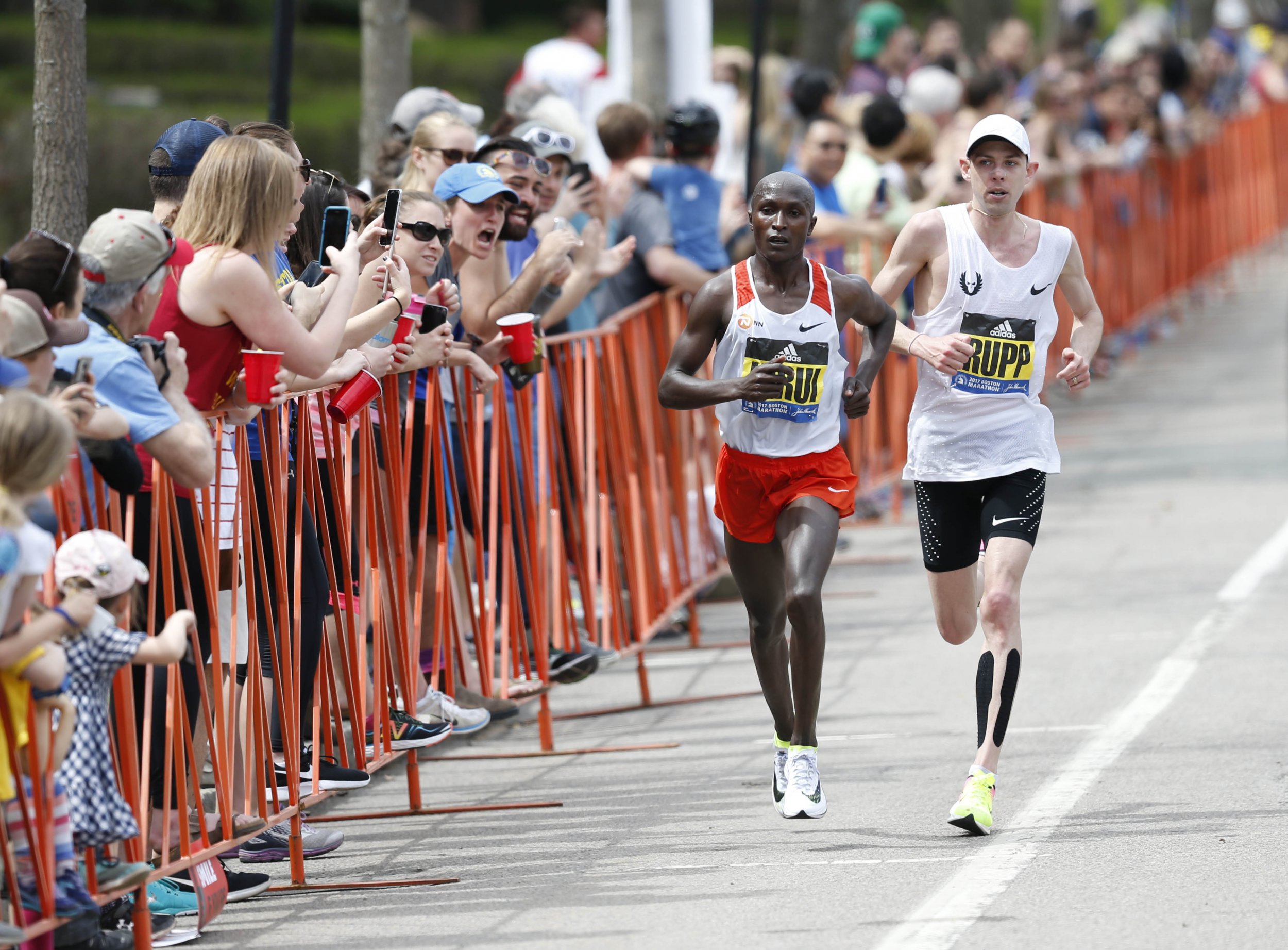 For the 32nd year in a row, the Boston Marathon was won by someone not born in the U.S. For the first time in decades, however, there is reason for fans of American track to be hopeful, as Galen Rupp finished second in the men's race and Jordan Hasay, making her marathon debut, finished third in the women's event.
Rupp and Hasay, both University of Oregon alums and both coached by 1983 Boston champ Alberto Salazar, ran smart races in their Boston debuts. Rupp, the 2016 Olympic marathon bronze medalist—who only took up the distance last year—remained on the shoulder of eventual winner Geoffrey Kirui of Kenya until the 23rd mile. Kirui broke the tape in 2:09:37 and Rupp finished in 2:09:58.
Hasay's third-place finish at 2:23:00 is the fastest marathon debut for an American woman in history and by nearly three full minutes. The time by the elfin 25-year-old, who finished 13th in the 5,000 meters at last July's Olympic Trials, would have won all but five Bostons since legendary New Englander and Olympic gold medalist Joan Benoit won the race in 1983.
Get your unlimited Newsweek trial >
The annual 26.2-mile jaunt from Hopkinton to Copley Square has long drawn the interest of Yanks from outside the 617 area code, yet with the exception of Eritrean-born Meb Keflezighi, who broke the tape on Boylston Street in 2014, no American of either sex has won Boston since the mid-'80s. In 1985, Lisa Weidenbach (now Rainsberger) of Battle Creek, Michigan, became the last U.S. female to win Boston, crossing the finish line in a sluggish 2:34.06. Two years earlier, Grand Rapids, Michigan native Greg Meyer won the men's race in 2:09:00. Like Rupp and Hasay, Weidenbach and Meyer attended the same school: the University of Michigan.
When Rainsberger won in '85, Boston native Bill Rodgers, whose four victories between 1975-1980 helped spark the running boom, finished fourth. That first-fourth combination was the best finish by an American male and female until Monday, when Hasay and Rupp combined to finish third and second, respectively. Can these two marathon neophhytes go lower? Why not?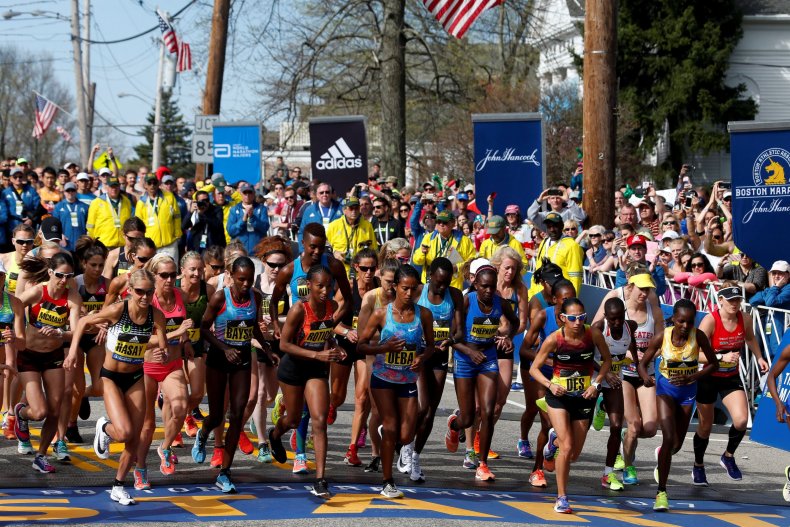 Marathoning at the elite level is lucrative. On Monday both the male and female winner (Edna Kiplagat in the women's race) earned $100,000. Rupp took home $75,000 for his second-place finish while Hasay earned $40,000 for third (Boston has a gender-equity prize money system).
Get your unlimited Newsweek trial >
There is clearly good money in marathoning at the elite level, but more than that, this is a highly popular participatory sport in the States in search of a contemporary icon. In 2014 there were a record 550,600 finishers in domestic marathons. Last November 51,338 runners crossed the finish line of the New York City Marathon in Central Park, making it the largest marathon ever. And yet all of them remain anonymous. After Kirui's win in Boston on Monday, the Kenyan actually approached Rupp and asked him his name.
There may have once been a Michael Jordan of marathoning (Rodgers or the Cuban-born Salazar or Frank Shorter, the '72 Olympic gold medalist), but there is not yet a LeBron James of marathoning, male or female. Rupp, a Portland, Oregon, native, possesses some of the bona fides—he also won a silver in the 10,000 meters at the 2012 Olympics— while Hasay won a national high school cross-country championship as a freshman. The Arroyo Grande, California, native is already the next Jordan in name.
The dearth of a true contemporary American running icon could end with a victory by a native-born American in Boston. While Rupp is only the 39th-ranked marathoner in the world, he is the second-highest ranked non-African. And because most of the world's top marathoners prefer to run the London Marathon, which is held one week after Boston, neither Rupp nor Hasay nor other American hopefuls such as Desi Linden, who finished fourth in the the women's race on Monday, will have to contend with a field that is loaded.
In the city of Boston, where the refrain of "Wait 'til next year" was once all too painful and familiar to long-suffering Red Sox fans, locals know that anything is possible in sports. A native-born American will one day break the tape at the Boston Marathon again. Monday's performances by Rupp and Hasay augur a day in the not-too-distant future.
No American Has Won the Boston Marathon Since 1985, But This Year There Was a Glimmer of Hope | Sports