Man Dies After Being Attacked by Swarm of Wasps
A 66-year-old man has died after being swarmed and stung by a nest of wasps. Eduardo Martínez, a retired farmer from the northwestern Spanish region of Galicia, was clearing farmland in the town of Ferreira de Panton when the attack occured.
La Voz de Galicia reported he had been removing bushes and brambles with bush cutters, but once the home of the wasps came under Martínez's blade, the insects decided to protect their turf.
Seeing the swarming wasps approaching rapidly, Martinez fled to a nearby tractor and tried to get away, but the flying insects did not allow the man to escape. He then abandoned the tractor and tried to continue his getaway on foot, but the cloud that swarmed around him quickly became too much for the man.
He was later found on the asphalt with countless stings all over his body. Paramedics and first responders descended onto the farmland in emergency service vehicles and helicopters, but officials said he could not be saved.
Newsweek subscription offers >
The man reportedly died at around 6 p.m. on Friday.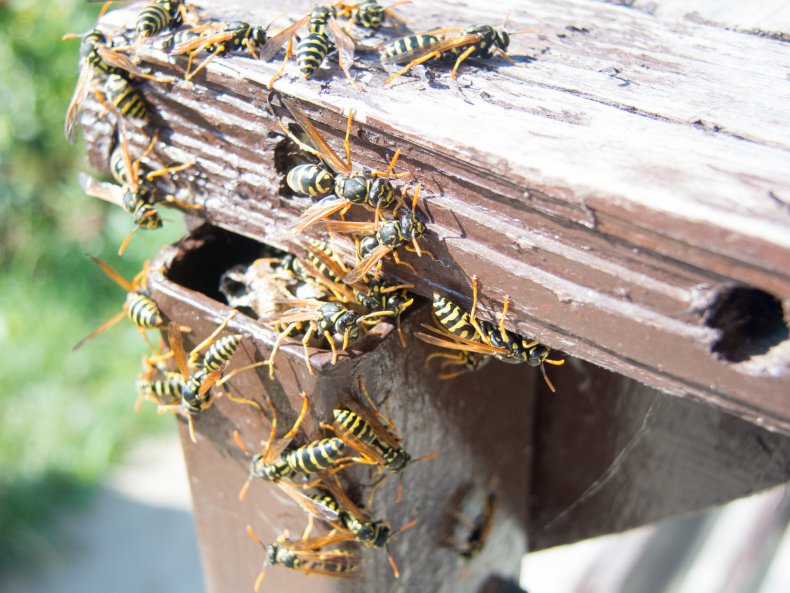 Following the death, a spokesman for the City Council of Panton said that a buildup of poison from the wasps was responsible, but it was not yet immediately clear whether it was from an indigenous population or the invasive vespa velutina, also known as the Asian hornet.
Samples of the man's blood were sent to the National Institute of Toxicology and Forensic Sciences of Madrid to determine which breed of wasp it was.
Newsweek subscription offers >
The mayor of the town, José Luis Álvarez, told La Vanguardia that the Panton region was experiencing a plague from the non-indigenous species of wasps and that the local council has hired two specialist operators to try and rid the area of their presence. He said over 200 nests have been removed in the last few weeks.
"We have removed more than 200 nests of these wasps with our own resources but we can't cope with it," he said.
"I want to tell them [the Ministry of Rural Affairs] that we are overwhelmed, that we need help, and that I don't want the neighbors to live scared because of these wasps."
Asian hornets are known for causing extensive disruption to the environments they invade, hunting a range of insects and flies, typically capturing them by pursuit. They are most damaging to existing bee populations, however, as Asian hornets prey on their colonies as hunting grounds.
Asian hornets are also known to be formidable stingers and will defend their nests mercilessly.
Following Martínez's death, a city council contractor visited the site of the nest in question and reportedly disposed of it. He also turned off the engine in the victim's tractor as it was left running while Martínez fled.
The day prior to his death, Paton City Council required its contractors to carry special injections for Asian hornets, in case they were stung by the breed.
Man Dies After Being Attacked by Swarm of Wasps | World