Republicans 10 Times More Likely to Think Coronavirus Death Toll Is Overstated Than Democrats Says Poll
GOP supporters are far more likely to believe that the death toll from the coronavirus is exaggerated. That's the main finding from a poll carried out over a month ago, which has highlighted how partisan divisions and news consumption determine Americans' view of the pandemic.
The Gallup/Knight Foundation survey, carried out between March 17 and March 29 and then from April 14 to April 20, found that knowledge of the basic facts of the disease is relatively high. Some 88 percent of Americans correctly understood that the disease is spread by touching surfaces where virus droplets have landed, and that these drops could pass on the disease.
Regarding facts on how the coronavirus spreads, there was little difference among Republicans (87 percent) Democrats (88 percent) and independents (87 percent).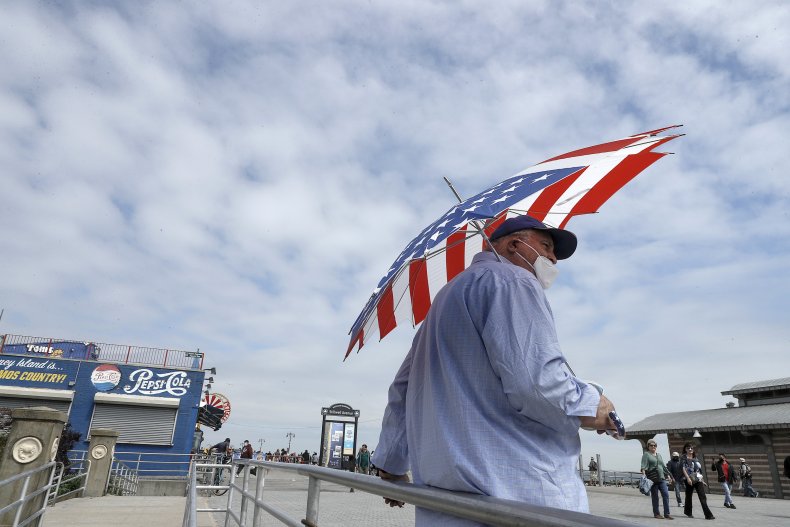 However, the numbers changed rapidly "when scientific knowledge is politicized," the poll concluded. It pointed to how 87 percent of Democrats thought that the mortality rate was higher than seasonal flu, while only 40 percent of Republicans did.
Meanwhile, the biggest difference in coronavirus opinions between supporters of the main political parties appeared when considering the official death count, with Republicans (50 percent) 10 times more likely to believe that it has been overstated than Democrats.
Nearly three quarters of Democrats (72 percent) believe that the death toll has been understated. Across the political spectrum, nearly half (48 percent) of American adults believe the death count is understated while a quarter (25 percent) believe it is accurate.
The poll also showed how coverage by different news outlets shaped the way Americans understood the coronavirus. Those who mostly consumed news from conservative outlets (42 percent) were far more likely to say that the death toll was exaggerated than those who had a liberal news diet (12 percent).
"The consequences of engaging in partisan battles over coronavirus-related issues are high because Americans appear primed to engage in partisan-motivated reasoning," Gallup researcher Zacc Ritter wrote.
"Fortunately, a remedy is available. Political leaders and news organizations can push back against false information that poses health risks to Americans' lives. Yet, given the extent of polarization in the country, not any messenger will do," he added.
The survey was conducted as part of Knight Foundation's Trust, Media and Democracy initiative and had a margin of error of three percent. Newsweek has contacted Gallup for further comment.
Other polls have shown that political affiliation shapes Americans' view of the pandemic.
One survey earlier in May by Axios-Ipsos found that a majority of Democrats (63 percent) around half of independents (45 percent) and one in four Republicans (24 percent) said they thought virus-related deaths were underestimated.
How partisan differences impact the way that Americans viewed the pandemic was outlined in a working paper this month by a team from New York, Stanford and Harvard Universities.
It said that "prominent officials have sent conflicting messages about the crisis" with Republicans "sometimes saying it was less severe" while Democrats were more likely to give "more emphasis to its dangers."
"This could cause differences between people on the right and left in the extent of risk reduction measures such as social distancing, with potentially important effects on human health and the economy," the paper, by the economist Hunt Allcott and colleagues, said.
The infographic below, provided by Statista, shows the U.S. states with the most confirmed COVID-19 cases across the U.S. as of May 25.