Gambia's President-Elect: 'I Won't Prosecute Yahya Jammeh'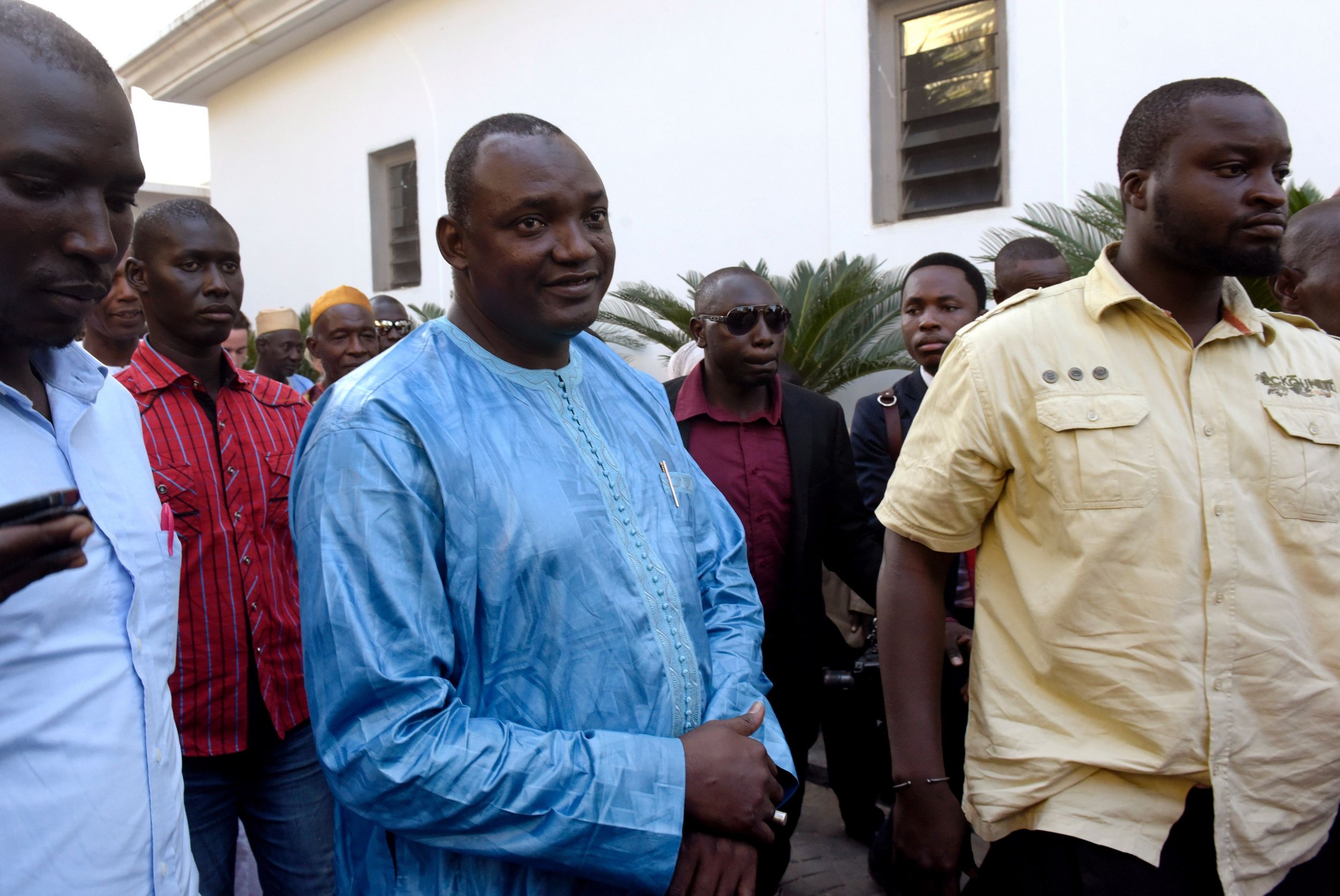 Gambia's President-elect Adama Barrow has extended an olive branch to incumbent Yahya Jammeh, telling Newsweek that he will not prosecute the outgoing leader.
In an interview with Newsweek, Barrow says he is happy for Jammeh to remain in Gambia once he relinquishes power, despite allegations by members of the president-elect's coalition that Jammeh could attempt a coup.
Barrow, 51, triumphed in the tiny West African country's presidential election on December 1. Jammeh, who has ruled Gambia for 22 years, initially accepted the result, but on Friday performed a U-turn and called for a fresh election, citing "serious and unacceptable abnormalities" in the vote.
A delegation of four West African heads of state, led by Liberian President Ellen Johnson Sirleaf, visited the country on Tuesday but failed to convince Jammeh to concede. The former army officer's party submitted an appeal against the election result to Gambia's Supreme Court, which has not sat in over a year. Gambia's military also seized control of the electoral commission's offices on Tuesday.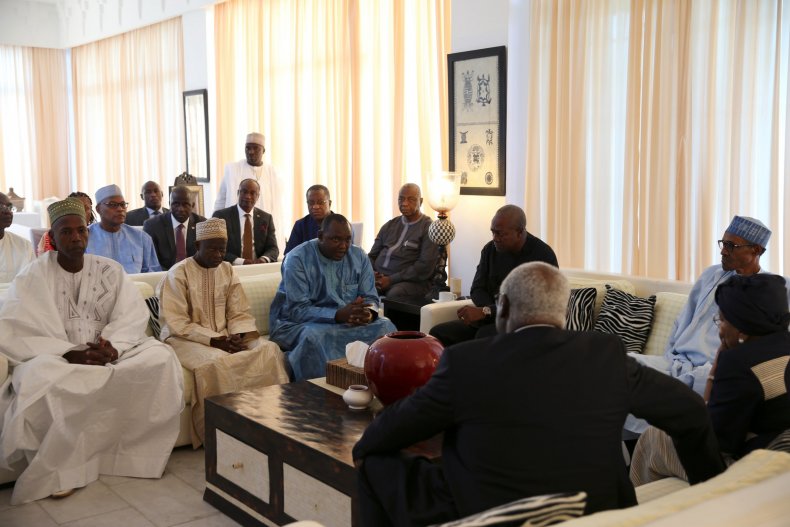 Speaking via telephone from Banjul, Barrow says that Jammeh's petition is an "act of desperation" motivated by "selfish interests." But he maintained that the outgoing president—whose tenure has been littered with allegations of human rights abuses—could remain in his home country without fear of prosecution after handing over power.
"We conducted the election on principle, not on personal things. I'm sure if we can reconcile...I see no reason why Gambians cannot do the same," says Barrow.
Fatoumata Jallow-Tambajang, a senior member of the seven-party coalition headed up by Barrow, told The Guardian on December 7 that Jammeh would be prosecuted for alleged abuses committed during his tenure within a year of Barrow's government taking office. Jammeh's mandate expires on January 18.
Jallow-Tambajang also said that Jammeh had "bunkers and treasure" at his farm in Kanilai near the Senegalese border, and was capable of launching an "insurgency" against the government-elect.
But Barrow says that the outgoing president is welcome to remain in Gambia. He points out that Gambia's first post-independence president, Sir Dawda Jawara, has continued to live in the country after being overthrown in a military coup by Jammeh in 1994.
"I think he [Jammeh] can also stay in this country. He belongs here and he's a citizen of this nation. He has been [leading] Gambia for 22 years and I think he has the spirit of Gambia," says Barrow.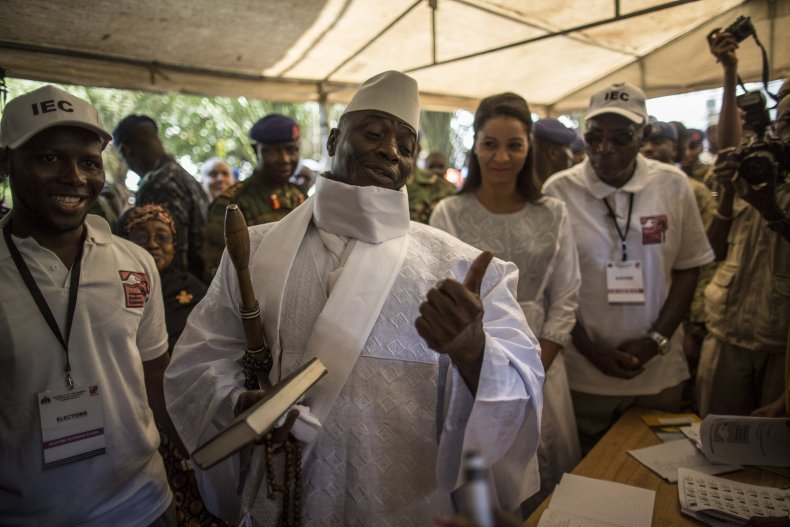 Jammeh's petition to the Supreme Court means that the country's immediate future remains unclear. The outgoing president would have to appoint several judges to the Supreme Court in order to hear the petition, an idea rejected by the government-elect and the Gambian Bar Association, which represents all lawyers in the country.
Leaders of the Economic Community of West African States (ECOWAS) are holding a meeting on Saturday, at which a resolution on the situation is expected. ECOWAS President Marcel de Souza told Radio France Internationale that a military intervention in Gambia was "conceivable" if Jammeh refused to step down, but Barrow says he does not think such action will be necessary.
"We are in a very strong position," he says. "The statements from international bodies, the U.N. and America, make it very clear, and in Gambia, the institutions are giving us very strong support...that will convince him to step down peacefully."
The U.S. State Department condemned Jammeh's rejection of the election result as "an egregious attempt" to stay in power. The U.N. envoy for West Africa, Mohammed Ibn Chambas, told Reuters that Jammeh would be "strongly sanctioned" if he attempted to remain in power beyond the end of his mandate.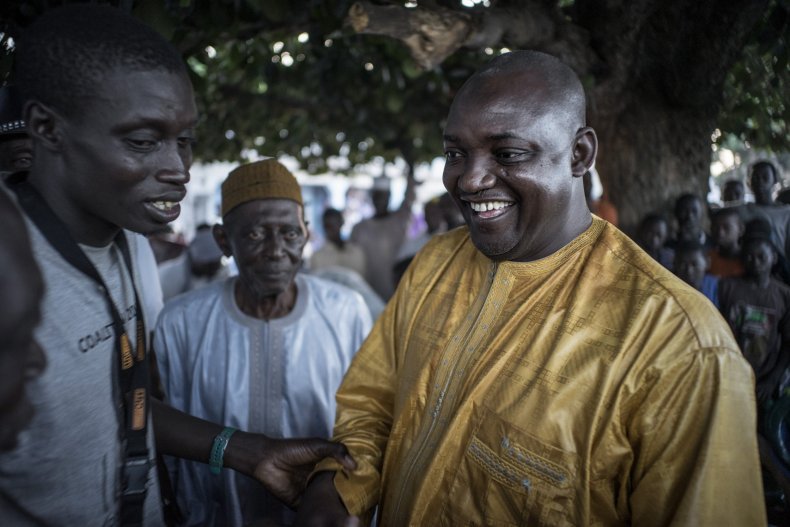 A property developer who studied in the U.K., Barrow has little political experience and was relatively unknown before the election. Seven opposition parties chose him as a coalition presidential candidate in September after various leading opposition figures—including Ousainou Darboe, the leader of the United Democratic Party to which Barrow belongs—were imprisoned earlier in 2016.
Barrow invigorated Gambians on the campaign trail, promising to overturn some of Jammeh's key decisions—such as starting the withdrawal of Gambia from the International Criminal Court, and pledging to reform the country's economy. The lack of economic opportunities in the country has seen thousands of Gambians illegally attempting to migrate to Europe; despite its population of just 2 million, Gambia has been the fifth biggest contributor of migrants entering Italy in 2016, according to the International Organization of Migration.
While admitting that he fears for his security, Barrow says he has received messages of congratulations from across the world—including the U.S., European Union, Russia and China—and he is sure that this support will see Gambia through the current period of uncertainty.
"The international community has made itself very clear on this issue and that has put my coalition in a very strong position," he says. "Believe me, I am the next president of Gambia."