Gambia's President Yahya Jammeh Files for Injunction to Block Successor's Inauguration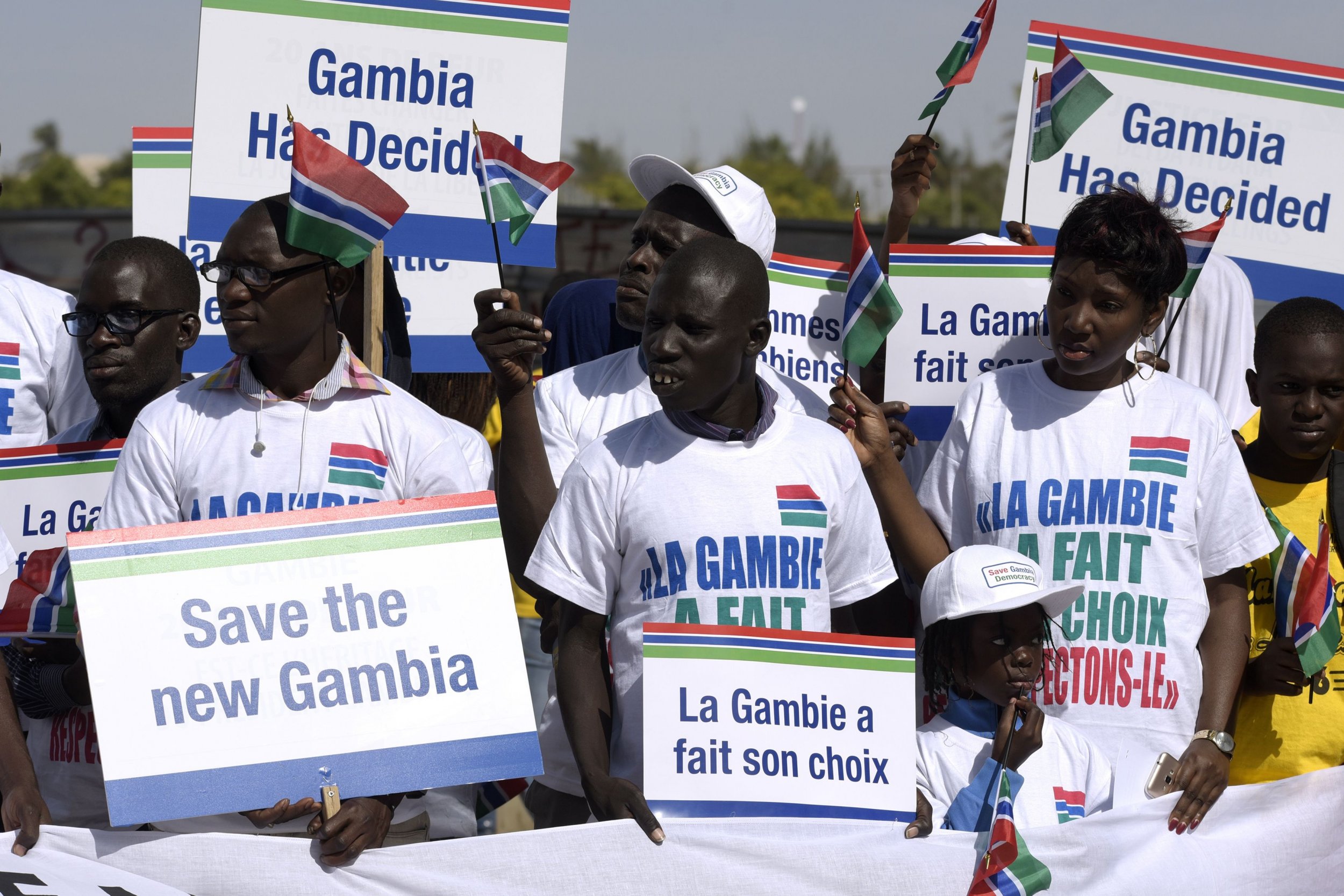 Gambia's outgoing leader Yahya Jammeh has filed an injunction seeking to block the inauguration of his successor, Adama Barrow, due to take place Thursday.
Jammeh has dug in his heels following a shock election defeat in the December 2016 vote. After initially accepting Barrow's victory, Jammeh later performed a U-turn and has filed a Supreme Court appeal against the election result.
Gambia's Supreme Court does not have enough judges to hear the case before May.
The 51-year-old president, who has ruled Gambia since seizing power in 1994, said Sunday that he had applied for an injunction to prevent the country's chief justice, or any other authority, from swearing in Barrow on Thursday.
Jammeh said in a statement that the end of his term is not "carved in stone" and said his appeal must be heard by the Supreme Court before a presidential transition could occur, the BBC reported.
Gambia's Chief Justice said Monday that he would not rule either way on the motion since he was the subject of it, according to a BBC reporter in the Gambian capital Banjul.
Barrow attended the Africa-France summit in the Malian capital Bamako over the weekend, where regional leaders expressed their support for his authority and called upon Jammeh to step down. The president-elect, also 51, is reportedly now in Senegal, where he will remain until the inauguration on Thursday, according to the BBC.
Barrow told Newsweek in December 2016 that he would not seek to prosecute Jammeh over alleged human rights abuses committed during the outgoing president's 22-year reign. Human rights organizations have consistently accused Jammeh of cracking down on political opposition and freedom of speech in Gambia. Jammeh has also made violent threats against LGBT persons in Gambia, previously pledging to "slit the throat" of gay men living in the country.
Nigerian President Muhammadu Buhari and Liberian leader Ellen Johnson Sirleaf traveled to Gambia on Saturday in a last-ditch attempt to mediate a transition, but Jammeh continued to refuse all calls to step down.
Regional body the Economic Community of West African States (ECOWAS) has threatened a military intervention in Gambia should Jammeh fail to recognize the legitimacy of the vote by Thursday, while Nigerian parliamentarians have voted to offer Jammeh asylum in a bid to convince him to leave power.
During Jammeh's rule, Gambia has become one of the main contributors of African migrants traveling to Europe, despite the country having a population of less than 2 million. Between January and November 2016, Gambians made up the fifth-highest nationality arriving in Italy, mostly after crossing the Central Mediterranean.
The U.N. Refugee Agency said Friday that several thousand Gambians, mostly children, have crossed into Senegal—which completely surrounds Gambia apart from the latter's short Atlantic coastline—in the past few weeks as tensions mount ahead of Barrow's inauguration.