Astros vs. Yankees: Will Game 4 Go Ahead on Wednesday Night Despite Major Rainfall?
Dark clouds hang over Game 4 of the American League Championship Series, and not just metaphorically.
The fourth instalment of the series between the New York Yankees and the Houston Astros is scheduled for 8 p.m. ET on Wednesday night at Yankee Stadium, but it may not go ahead due to adverse weather conditions.
According to the National Weather Service, heavy showers are expected to hit the Bronx on Wednesday afternoon from about 2 p.m. ET.
There is a 100 percent chance of heavy rain on Wednesday night, while precipitation amounts are expected to be between one to three inches.
The rain will be accompanied by sustained south-easterly winds of between seven to 14 mph, with gusts as high as 29 mph.
While the MLB is yet to formally announce the game has been postponed, it is understood rescheduling Game 4 as opposed to hoping for a window of benign weather is its preferred option.
Since Games 3 and 5 of the 2008 World Series were delayed by rain storms in Philadelphia, the MLB has normally opted towards rescheduling games instead of simply postponing them by a few hours.
If, as seems inevitable, Game 4 is postponed, it will be rescheduled for Thursday night, when Game 5 was originally due to take place.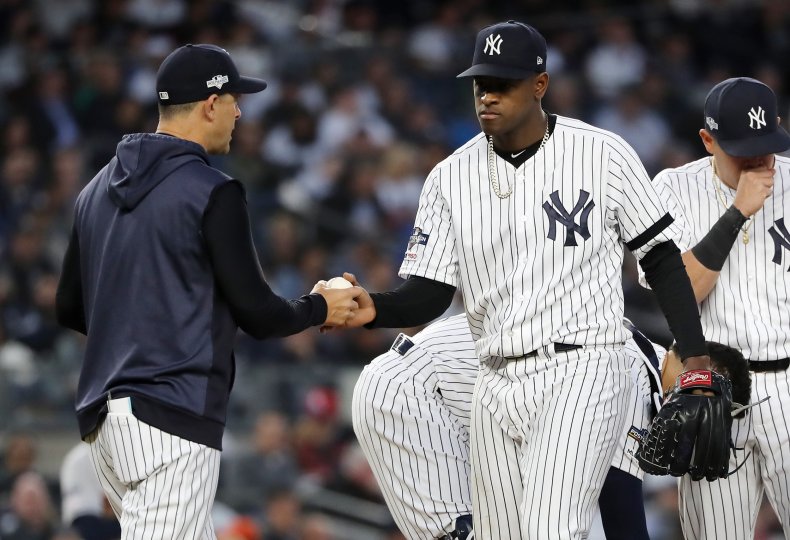 Game 5 would then be moved to Friday, which was scheduled to be a day off for both teams ahead of a possible return to Houston for the eventual Game 6.
With the two teams potentially traveling to Texas on Saturday, Game 5 would in all likelihood have to be scheduled for Friday afternoon as opposed to primetime.
Should it be needed, the series will switch to Texas as planned, with Game 6 and Game 7 scheduled for Saturday and Sunday.
A potential rescheduling would have a huge impact on both teams' rotation, as it would give both teams the chance to bring their Game 1 starters—Zack Greinke for the Astros and Masahiro Tanaka for the Yankees—back for Game 4 fully rested.
Conversely, playing four games in four consecutive days—provided the series stretches that far—would have a major impact on both teams' bullpens.
"I think if weather becomes an issue where the game were to get wiped out Wednesday, that kind of impacts what you do moving forward from there," Yankees manager Aaron Boone was quoted as saying by CBS.
Astros manager A.J. Hinch, meanwhile, is yet to announce who would take the mound in Game 4.
After losing the opening game at home, Houston regained home field advantage and took a 2-1 lead in the series after winning 4-1 at Yankee Stadium on Tuesday night.
The Astros took an 2-0 lead in the first two innings as Jose Altuve and Josh Reddick homered off Luis Severino, before Gerrit Cole kept the Yankees scoreless.
Houston extended its lead to 4-0 in the seventh, before the Yankees pulled one back in the eighth inning.
Astros vs. Yankees: Will Game 4 Go Ahead on Wednesday Night Despite Major Rainfall? | Sports