Game Awards 2018 Trailers: New 'Dragon Age,' 'Anthem' and More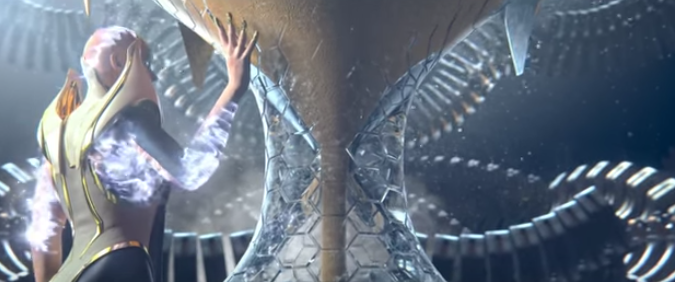 The Game Awards have become a landing spot for gaming companies to announce or show off new footage of upcoming games.
Last year's award show revealed some high-profile titles like Soul Calibur VI and Bayonetta 3, while showing off upcoming DLC/updates for games like The Legend of Zelda: Breath of the Wild and Fortnite.
Many studios have announced or teased they'd be at the Game Awards this year, and fans were not disappointed with the stacked lineup of reveals from Nintendo, Ubisoft, Activision, Epic Games and more.
So what was shown at the Game Awards 2018? Here's a round up of every game reveal at this year's show.
SAYONARA WILD HEARTS
From Annapurna Interactive, Sayonara Wild Hearts is "a euphoric music video dream about being awesome, riding motorcycles, skateboarding, dance battling, shooting lasers, wielding swords and breaking hearts at 200mph."
The game features a custom-written vocal pop soundtrack and a cast of stylish characters based on tarot cards, while synthesizing electric pop, dance, fashion, anime, arcade games and subcultures, and much more.
JOURNEY TO THE SAVAGE PLANET
From Montreal-based Typhoon Studios and 505 Games - helped by Epic Games, the studio behind Fortnite. More gameplay won't be shown until 2019, but you can enjoy the trailer below.
AMONG TREES
Among Trees is coming to Steam early access in 2019 and you can watch the first trailer below.
MARVEL ULTIMATE ALLIANCE 3
Marvel Games is partnering with Nintendo to bring the Ultimate Alliance franchise back exclusively on Switch. Check out the trailer below, and read more about the new game, here.
FAR CRY: NEW DAWN
After the events of Far Cry 5, a new post-apocalyptic world has emerged from the rubble. Check out the new trailer below and read more about Far Cry: New Dawn here.
HADES
Check out the trailer for this quirky new game below.
SCAVENGERS
ANCESTORS: THE HUMANKIND ODYSSEY
ANTHEM
Bioware's next triple-A game, Anthem is coming out in early 2019 and the studio released its second trailer showing off more details of this new title. Check out the trailer below.
CRASH TEAM RACING NITRO FUELED
Crash is back….in kart form. The classic PlayStation game, Crash Team Racing is getting a remaster in the same vein as the N'Sane Trilogy. You can read up on the upcoming title, here.
THE OUTER WORLD
THE LAST CAMPFIRE
Hello Games, the studio behind No Man's Sky, is coming back with a new game. Check out the world premiere of The Last Campfire below.
PUBG NEW MAP
A brand new map is coming to PUBG, and it takes place primarily in the snow. You can read more about the latest update, here. And check out the trailer below.
ATLAS
Wild Card Studios' new game, Atlas, is coming out next week. It's a massive open-world MMO that can have support 40000 players at once. Build an armada and empire to dominate the world.
DRAGON AGE 4
Bioware's beloved Dragon Age series is returning, but there isn't any gameplay to show but a teaser. But don't forget, the Dread Wolf rises.
THE PATHLESS
The Pathless is a game about an archer and an eagle on a mythic quest in a vast forest. Players take the role of the Hunter, a master of archery who travels to a mystical island to dispel a curse of darkness that grips the world.
It's an open-world game set to release in 2019.
MORTAL KOMBAT 11
The next installment of the long-running fighting game franchise, Mortal Kombat 11 brings back the bloody violence fans of the series loves.
You can read more about the game, here.
RAGE 2
The second trailer for Bethesda's Rage 2 was released. You can check it out below.
SUPER SMASH BROS ULTIMATE
Joker from Persona 5 joins the fight in Super Smash Bros. Ultimate as its first DLC. Check out his trailer below and read more about it, here.