One of China's top drone engineers says the country's military drone program has entered a new phase of development as China attempts to close the gap in America's dominance of the unmanned aerial vehicle (UAV) sphere.
Shi Wen, chief engineer and designer of China's Caihong (CH) drone platform, said at a Beijing press conference that the country is now working on carrier-based drones and systems to allow synchronized operations between UAVs and military aircraft, Global Times reported.
Enabling manned aircraft to co-pilot UAVs would immediately multiply a warplane's impact and flexibility, with the same pilot directing multiple drones. Shi said China is therefore "making efforts to promote artificial intelligence for UAVs to allow manned aircraft to co-pilot UAVs."
Shi's team has already developed five combat and surveillance iterations of the Caihong platform. The latest, CH-5, conducted its first flight in 2015. It can carry up to 24 missiles at a time and has a range of just over 4,000 miles, though future upgrades may extend this to over 6,000 miles. Shi said the newest generation Caihong, the CH-X, would be displayed at the Airshow China 2018 event in November.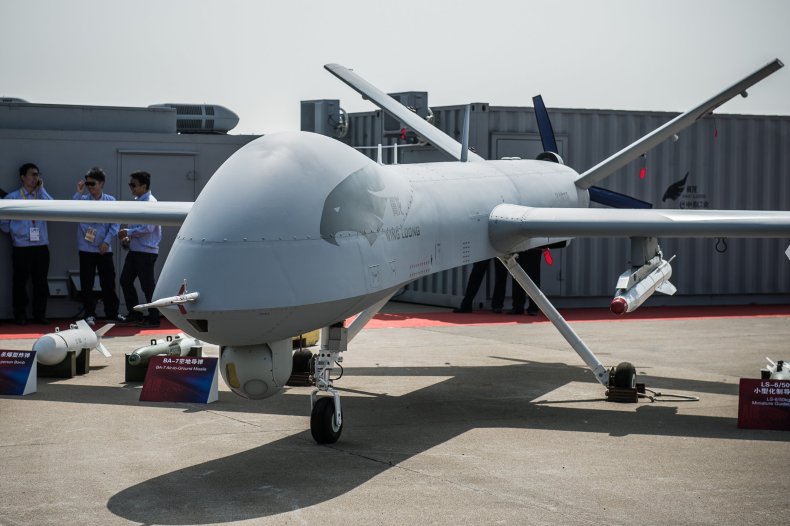 Paul Scharre, a senior fellow and director of the technology and national security program at the Center for a New American Security, told Newsweek that the synchronization of operations between manned and unmanned planes is "a very compelling concept."
He said that although China has traditionally lagged behind the U.S. in terms of actual technology, "they are very aggressive in experiments of how they want to use it."
While the U.S. Air Force has been hesitant to give too much autonomy to drones in combat and offensive roles, other nations may not be so tentative. "It's not surprising to see [China] lean into this, and I wouldn't be surprised to see them actually doing some of the implementation sooner than some Western countries," Scharre said.
He also noted that China has at least partially closed the technology gap, both through legitimate research and through theft of American intellectual property.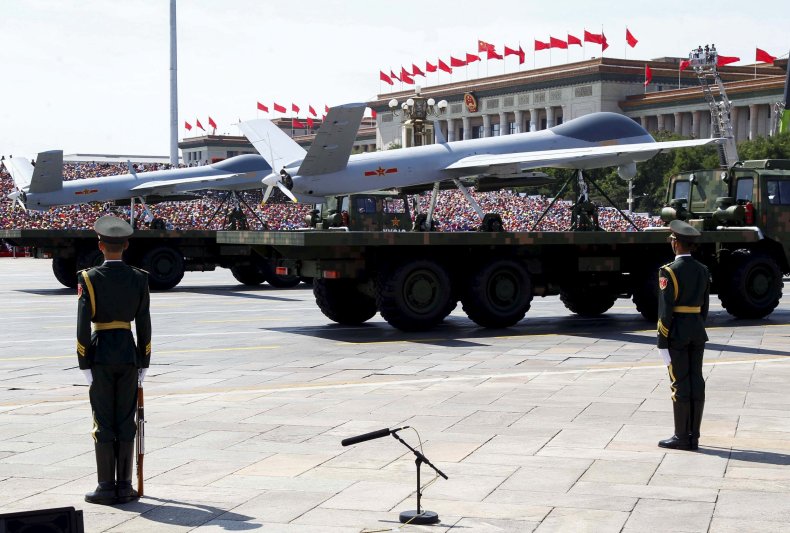 A key element of China's ongoing military modernization is the People's Liberation Army Navy. The country is working hard—and investing big—to develop a blue-water force that can guard and advance its interests in the Asia-Pacific region, particularly in the hotly contested South China Sea.
In 2012, China launched its first ever aircraft carrier, the Liaoning, after purchasing it from Russia. The Liaoning is an ex-Soviet Kuznetsov-class ship and was procured mostly for training purposes. China's first domestically built aircraft carrier, currently known as the Type 001A, is in port preparing for sea trials, and development of the larger and more advanced Type 002 is already underway.
A modern navy will need modern weapons, and development of carrier-based UAVs is already underway in the U.S. China knows it will need to match, or at least challenge, such technology if it is to be able to contest regional hegemony.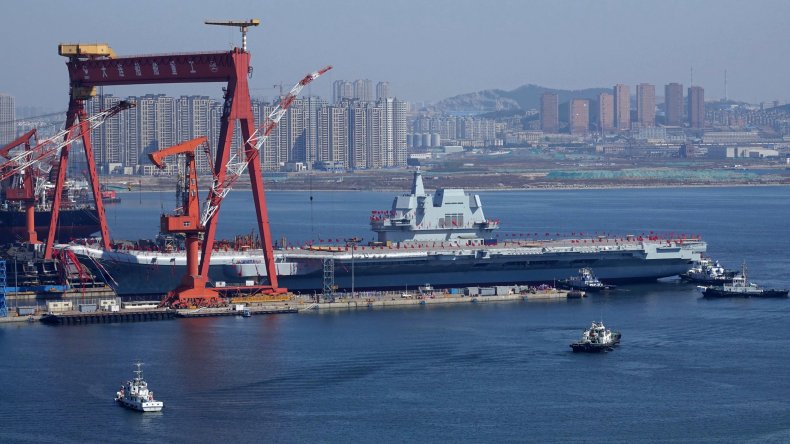 "Although the military has not released any information, research into carrier-based UAVs started long ago," Li Jie, a Beijing-based naval expert, told the Global Times, noting that "ship-based UAVs on destroyers and frigates have already been used in training." Li said that "considerable resources are needed" to conduct successful carrier-based UAV research programs.
Though they are not the main focus, Shi noted the civilian benefits of China's ongoing drone programs. "Companies from China, the U.S. and Europe are major competitors in the UAV market, and the civilian uses of UAVs are a larger share than military," he said. He suggested that forest protection, exploration of underground resources and ocean monitoring could all see a boost from the proliferation of drone technology in China.