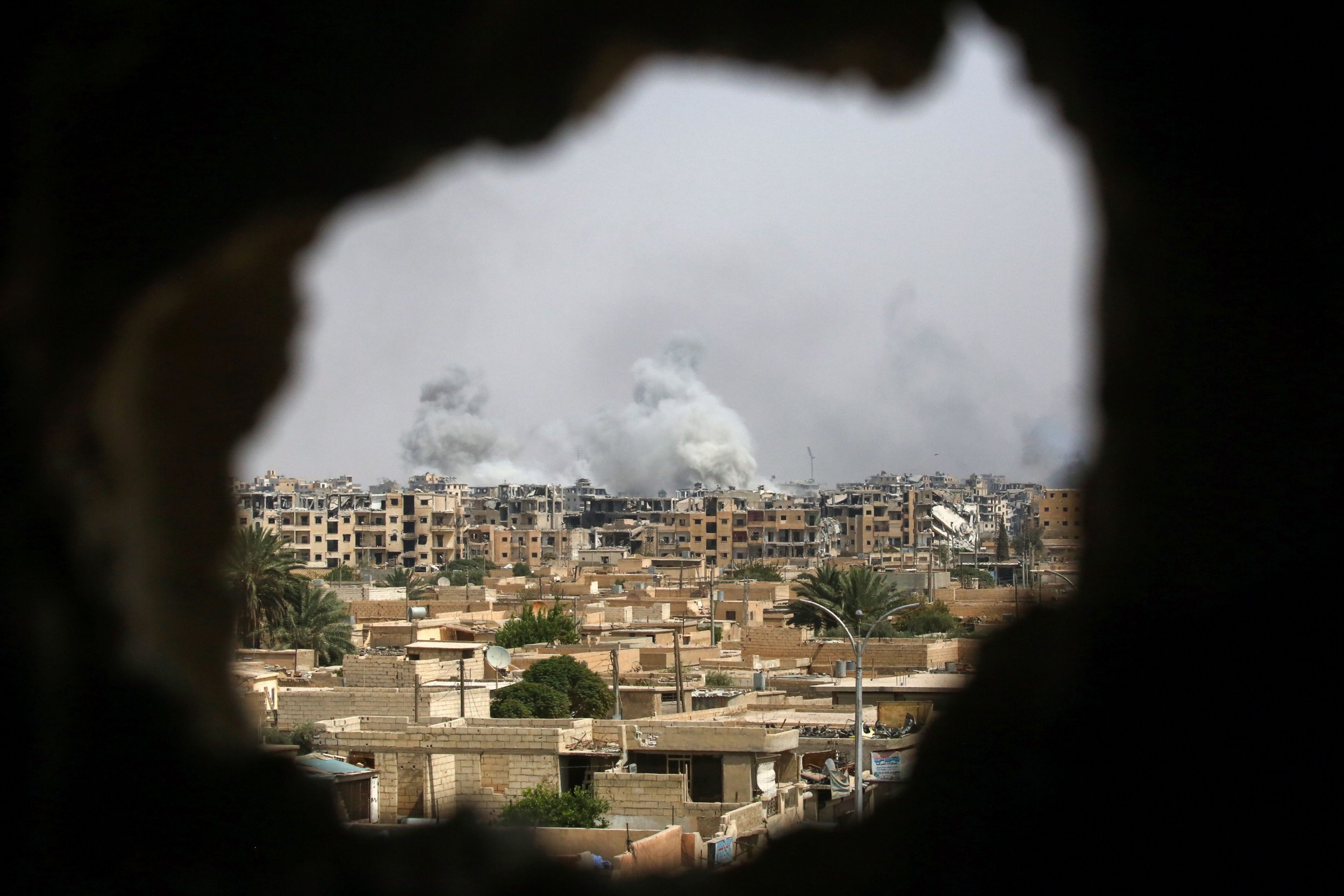 U.S.-backed forces are close to liberating the eastern Syrian city of Raqqa from the Islamic State militant group (ISIS) after a mass withdrawal, meaning it is "game over" for the jihadi capital of the self-styled caliphate, a Syrian monitoring group told Newsweek on Wednesday.
Rami Abdelrahman, director of the Syrian Observatory for Human Rights (SOHR), a U.K.-based monitoring group that has an extensive network of rebel and activist sources in Syria, said that the Kurdish-Arab coalition known as the Syrian Democratic Forces, or SDF, now controls "over 90 percent" of the city's neighborhoods.
He said that just a small number of ISIS militants remain in the city center, where they are encircled, after many of the group's ranks inside the city withdrew from five neighborhoods while under siege from the U.S.-led coalition's airstrikes.
"Only a few, dozens of fighters from ISIS, are still in the center of the city," he says. "The rest are killed. That's it. Finished. Game over."
With the battle, now in its fourth month, nearing an end, Abdelrahman says that Washington could order the liberation of the city within hours, if not days.
"If they want to take, they can take it today," he said. "If they want to leave it some more we don't know."
Read more: U.S.-backed forces seize Raqqa Old City from ISIS
The ground forces have encircled the city and breached its historic Old City in what has been a far-quicker advance than that in the northern Iraqi city of Mosul, which took nine months and concluded in July.
ISIS seized Raqqa from Syrian rebels in January 2014, turning it into the de facto capital of the caliphate that its leader Abu Bakr al-Baghdadi announced six months later from Mosul. Raqqa was the site of several filmed beheadings of Western journalists.
ISIS implemented its ultra-conservative brand of Islam and Sharia law in the areas under its control, taxing citizens and handing down capital punishments to anyone deemed in contravention of their laws or declared a disbeliever.
The group's control over the city gave rise to a group of activists now famous for their dispatches from within the enclave: Raqqa Is Being Slaughtered Silently. The danger of operating inside the city forced many of its members to flee to neighboring Turkey, where suspected radical Islamists killed several of activists.
Rights groups and monitors have expressed concern about mounting civilian casualties in and around Raqqa. According to SOHR, the total number of civilians dead since the start of SDF's operation in June is more than 300.
President Donald Trump has given his commanders a greater remit to authorize airstrikes on densely populated civilian areas in ISIS-held territory. The United States-led coalition dropped more than 5,000 bombs on the group's positions in August, the most of any month in the three-year campaign to defeat ISIS from the skies.
This number surpassed the previous monthly high for the campaign known as Operation Inherent Resolve, which was 4,848 in June, and double the 2,244 strikes in 2016.
Ahead of the operation to retake Raqqa, which began in June, Trump's Defense Secretary James Mattis said Washington had changed its strategy and was beginning to use "annihilation tactics," instead of attrition, to defeat the jihadist group.
"Our intention is that the foreign fighters do not survive the fight to return home to North Africa, to Europe, to America, to Asia, to Africa, we are not going to allow them to do so," Mattis said in May. "We are going to stop them there and take apart the caliphate."