Game Releases 2019: Every PS4, Switch, Xbox One Game Coming to Stores in January
January historically has never been the biggest month for new game releases, and 2019 won't change this trend. While the line-up of new games for January 2019 isn't overwhelmingly amazing, there are still a few interesting new titles and remakes coming out that will keep your fingers busy until February's monster list of highly-anticipated releases.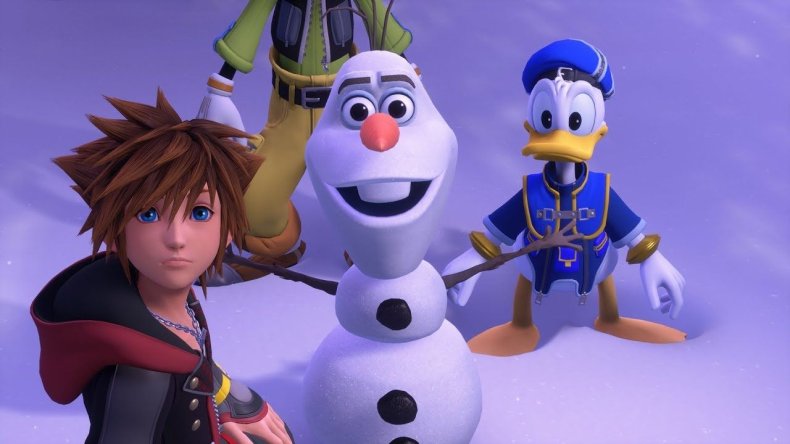 The January release with the most hype surrounding it is, without a doubt, Kingdom Hearts 3. Fans have been waiting years (and even an entire console generation) to play the next main installment in the franchise, and all those dreams are finally about to come true.
Beyond Kingdom Hearts 3, the most common releases for January are ports and remakes. Some, like Resident Evil 2, have fans incredibly excited, with the port winning "Best of Show" at E3 from the Game Critics Awards.
January 2019 Video Game Release Dates
The full list of games releasing in January 2019 is as follows. This information is accurate as of the publication time, but dates may be shifted by publishers before release.
Fitness Boxing - Jan. 4 (Switch)
Mario + Luigi: Bowser's Inside Story + Bowser Jr.'s Journey - Jan. 11 (3DS)
New Super Mario Bros. U Deluxe - Jan. 11 (Switch)
Tales of Vesperia: Definitive Edition - Jan. 11 (Switch, PC, PS4, Xbox One)
Onimusha: Warlords - Jan. 15 (Switch, PC, PS4, Xbox One)
The Walking Dead: The Final Season - Episode 3: Broken Toys - Jan. 15 (Switch, PC, PS4, Xbox One)
YIIK: A Postmodern RPG - Jan. 17 (PC, Mac, PS4, Switch, Wii U)
Ace Combat 7: Skies Unknown - Jan. 18 (PS4, Xbox One)
Travis Strikes Again: No More Heroes - Jan. 18 (Switch)
Life is Strange 2 - Episode 2: Rules - Jan. 24 (PS4, Xbox One, PC)
Resident Evil 2 - Jan. 25 (PS4, Xbox One, PC)
Tropico 6 - Jan. 25 (PS4, Xbox One, PC)
Kingdom Hearts 3 - Jan. 29 (PS4, Xbox One)
Robotics;Notes DaSH - Jan. 31 (Switch, PS4)
While there might not be a ton of big names here, Kingdom Hearts 3 definitely has gamers hyped. The Switch is also having a stand-out month compared to the competition, with the new No More Heroes game. It's also a big month for Bowsette fans (if the character was real) with the release of New Super Mario Bros. U Deluxe.
So what do you think? Are you excited for any of the games coming out this month? What are you looking forward to in February? Let us know your thoughts in the comments section below.
Newsweek writers independently curate their picks. We have affiliate partnerships so if you make a purchase using our links, we may earn a share of the sale.