'Game of Thrones' Actor Gemma Whelan on Theon Greyjoy 'Betraying' Sister Yara and What's Next for Her Character
Last Sunday's incredible Game of Thrones episode "Stormborn" concluded with Euron Greyjoy (Pilou Asbæk) gaining an early advantage for Team Cersei in the war for Westeros. The rock star pirate ambushed his renegade niece and nephew Yara (Gemma Whelan) and Theon Greyjoy's (Alfie Allen) Iron Fleet and gave us Season 7's first epic battle scene.
By the end of the episode, Euron had killed two of the Sand Snakes and taken his niece captive. But viewers across the globe collectively gasped when, instead of trying to save his sister, Theon jumped into the Narrow Sea and fled the scene.
Gemma Whelan, who plays the first lady of the Iron Islands, Yara, tells Newsweek that her character feels "betrayed" by her brother's actions. However, the actor believes Theon is suffering from post-traumatic stress disorder following his time in captivity under Ramsay Bolton.
Bolton enslaved Theon, renamed him "Reek," and castrated him during the height of his tyranny.
Related: How 'Game of Thrones' created that incredible Balerion skull in Season 7 'Stormborn' episode
"She feels betrayed, but I think she gets it," Whelan tells Newsweek by phone. "The one thing about Yara is that she loves her brother. She's really upset at this point that they're defeated, and she sees that he gets spooked and has no choice [but to save himself]."
"I think she feels utterly defeated in every way. This isn't what they set out to do, and now the wheels have come off. She has a lot of fury and anger toward Euron. And she was about to get some below deck—so she's pissed off about that as well."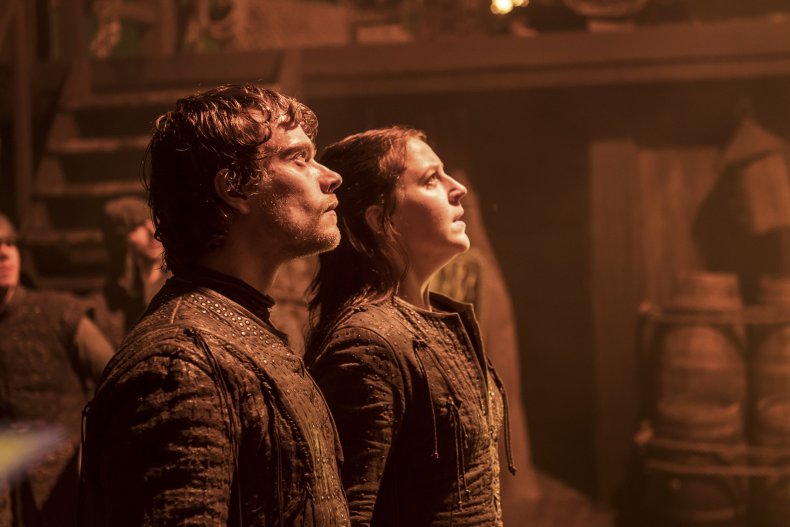 Theon's latest act of cowardice has sparked memes, including a Finding Dory parody, on social media, but fans have also deduced that the character must be experiencing psychosomatic trauma from his harrowing experience as Reek.
"I think people have made some really good points on social media. I follow what people say.... It's true: He has PTSD. He gets spooked. He can't do anything to help her at that stage," says Whelan.
"I don't know if he has the thought, 'If I quit now, I can save her.' I think he does have PTSD, and afterwards he will be pissed [off] at himself. He might do something about it.... You never know."
By the end of "Stormborn," Euron killed both Obara and Nymeria Sand, two-thirds of the Sand Snakes, and captured Yara, Ellaria Sand (Indira Varma) and Tyene Sand (Rosabell Laurenti Sellers).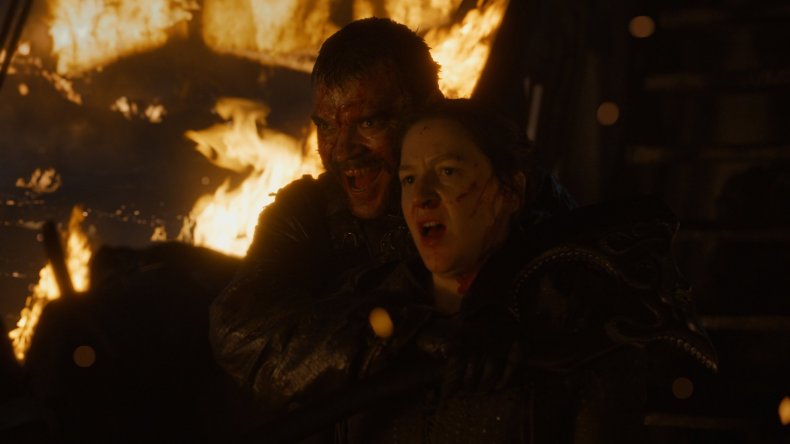 That gives him incredible leverage in the war between Daenerys Targaryen and Cersei Lannister for the Iron Throne. Euron is trying to ingratiate himself to Cersei, with a view to marrying her to consolidate his power. What better way to win her over than by delivering to her two of the women—Ellaria and Tyene—who had a hand in her daughter Myrcella's death?
Whelan can't say much about what will happen next on GoT. But she says things are going to get a lot worse for Yara now that she's being held by her evil uncle Euron.
"It's not looking good, is it? But we'll see," Whelan says coyly.
Game of Thrones airs Sundays at 9 p.m. on HBO.
Read Newsweek's deep-dive of Episode 2, "Stormborn," here. For more Game of Thrones coverage on Newsweek, click here.