'Game of Thrones' Season 8's Arya and Gendry Scene Sets Twitter and Winterfell Ablaze
It's (possibly) the end of the world as we know it on this week's episode of Game of Thrones, titled "A Knight of the Seven Kingdoms." One of the show's longstanding "will they or won't they pairings" seized the opportunity to get on the express train to Pleasure Town, sparking a deluge of social media reactions. Some fans were delighted, others uncomfortable, but the common thread between all these reactions was surprise.
In last week's premiere episode, "Winterfell" it was hard not to notice that Arya and Gendry were rather pleased to see one another, even if he was a bit awkward at first. She complemented his skill at forging a dragonglass axe head for The Hound, telling him "you've gotten better." But it doesn't take long for them to get back to their old banterous habits from the time they spent together in Seasons 2 and 3. He's still calling her "m'lady," and she's still pretending not to like it, but it's clear she does. Only this time around, it doesn't feel like an older brother teasing his kid sister anymore.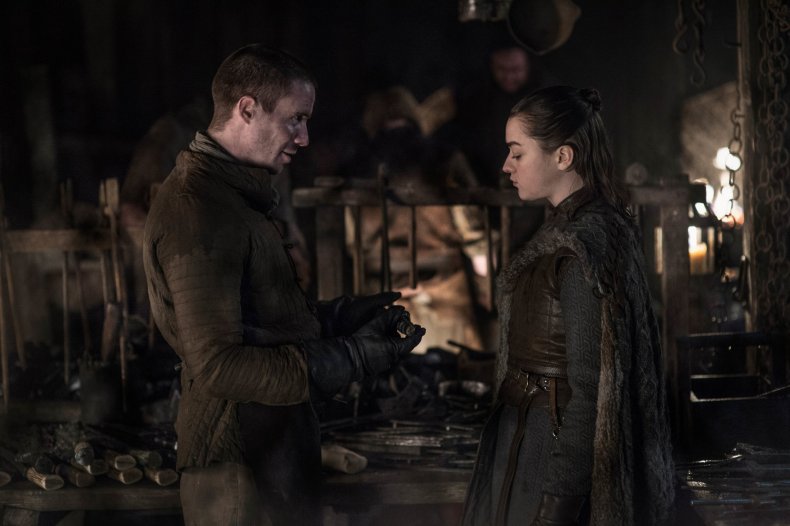 Fast-forward to this week, Arya pops by the forge to check on the progress of her spear, and she's annoyed that Gendry hasn't finished it yet. She asks him about the White Walkers, and gets frustrated by his generic response. "You want to know what they're like? Death. That's what they're like," he tells her, exasperated because he wants her to hide from the battle in the crypts. She rapidly flings three daggers into the same wooden beam, her aim unnervingly precise, and he promises to get right to work on that weapon.
Later in the episode, she's on the ramparts with Beric and The Hound. They chat for a while, then she declares, "I'm not spending my final hours with you two miserable old shits." She heads outside to practice her bow, with Gendry watching her from the shadows. He hands her the new weapon. "Last time you saw me, you wanted me to come to Winterfell. I took the long road, but…"
Gendry tells her about his weird encounter with Melisandre back in Season 3, and that she wanted his blood because he's Robert Baratheon's bastard. Her eyes widen when he drops that bombshell, and then she cuts straight to the chase. She starts quizzing him about his sexual history.
"Were you with other girls, before that in Kings Landing? Or after?" she asks.
He pretends not to know, then admits to being with three women. That's good enough for Arya, who declares, "we're probably going to die soon. I want to know what it's like before that happens." She kisses him passionately and pushes him backwards. They start pulling at each other's clothes and she tells him, "I'm not the Red Woman. Take your own bloody pants off."
You can pretty much guess what happened from there. Later, we see the two of them under the covers, Gendry sleeping, Arya preoccupied with thought.
Seeing these two childhood chums finally own up to their attraction to one another and do the dirty deed prompted a torrent of reactions online from fans of the show. Just 30 minutes after the episode ended, "Arya" was a trending topic on Twitter, inspiring nearly 300,000 tweets.
The notion of Arya and Gendry getting busy has long been a fan-fiction staple amongst Game of Thrones' Gendrya shippers. While it's not clear if the showrunners were aware of this as they developed the scene, it's not outside the realm of possibility that they picked up this scenario from the fan community. When Davos sought out Gendry in King's Landing during Season 7, he tells the blacksmith "I thought you might still be rowing." This tidbit of banter was widely acknowledged as a tip of the hat to die-hard GoT fans, who had long joked that the Baratheon bastard had spent his three-season hiatus stuck in the rowboat he used to escape from Stannis and Melisandre at Dragonstone.
While it's nice to see some of our characters enjoy a roll in the hay, even the slightest hint of romance might make Game of Thrones fans a little worried. After all, as Varys said in last week's episode, "nothing lasts." That's particularly true in Westeros, with the Army of the Dead on House Stark's doorstep. Will Gendrya survive the Long Night? We'll have to wait and see.
Game of Thrones airs Sunday nights at 9 p.m. ET on HBO.