Game of Thrones Author George R.R. Martin Called Trump Adult King Joffrey Way Before 'Sanctions Are Coming' Tweet
President Donald Trump might've co-opted the über-popular book series/TV show Game of Thrones with a meme on Friday, but the person who wrote the books—George R.R. Martin—once used his own creation to insult the commander-in-chief.
In an Esquire profile of Game of Thrones actor Kit Harrington last year, Martin was briefly quoted talking about how much he appreciated his famous work getting used as reference point for pretty much everything in popular culture. And, speaking with Esquire, he compared Trump to King Joffrey, a villainous, petulant child who killed for sport and, presented with a decision, typically chose the cruelest path.
"I think Joffrey is now the king in America," Martin told the magazine. "And he's grown up just as petulant and irrational as he was when he was thirteen in the books."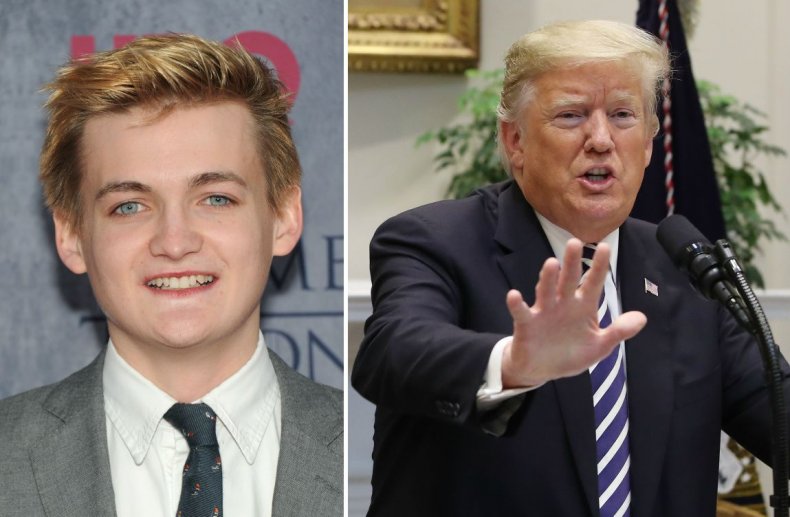 The Thrones author was actually not the only person to make that comparison. Jimmy Fallon joked at the Golden Globes shortly before Trump's inauguration: "What would it be like if King Joffrey had lived? ... Well, in 12 days we're going to find out."
The Trump-Game of Thrones comparisons are apropos today because the president himself made a reference on Twitter. He posted an image that read "Sanctions Are Coming"—a reference to the Thrones saying, "Winter is Coming"—and used imagery and typeface similar to that of the HBO show.
The sanctions Trump mentioned in the tweet are seemingly in reference to sanctions against Iran that take effect on November 5.
For what it's worth, the actor who played Joffrey—Jack Gleeson—seems to be quite unlike the character and has even spoken up about certain characters' gratuitous misogyny in the HBO show.
"It's a tricky thing when you are representing misogyny in that way because I wouldn't say the show ever implicitly condones misogyny or any kind of violence towards women," he told the Daily Beast in 2015. "But, perhaps, it's still unfair or unjust to represent it even if the gloss on the representation is a negative one."