How 'Game of Thrones' Kills People by Dragon Fire Without Actual Dragons, Explained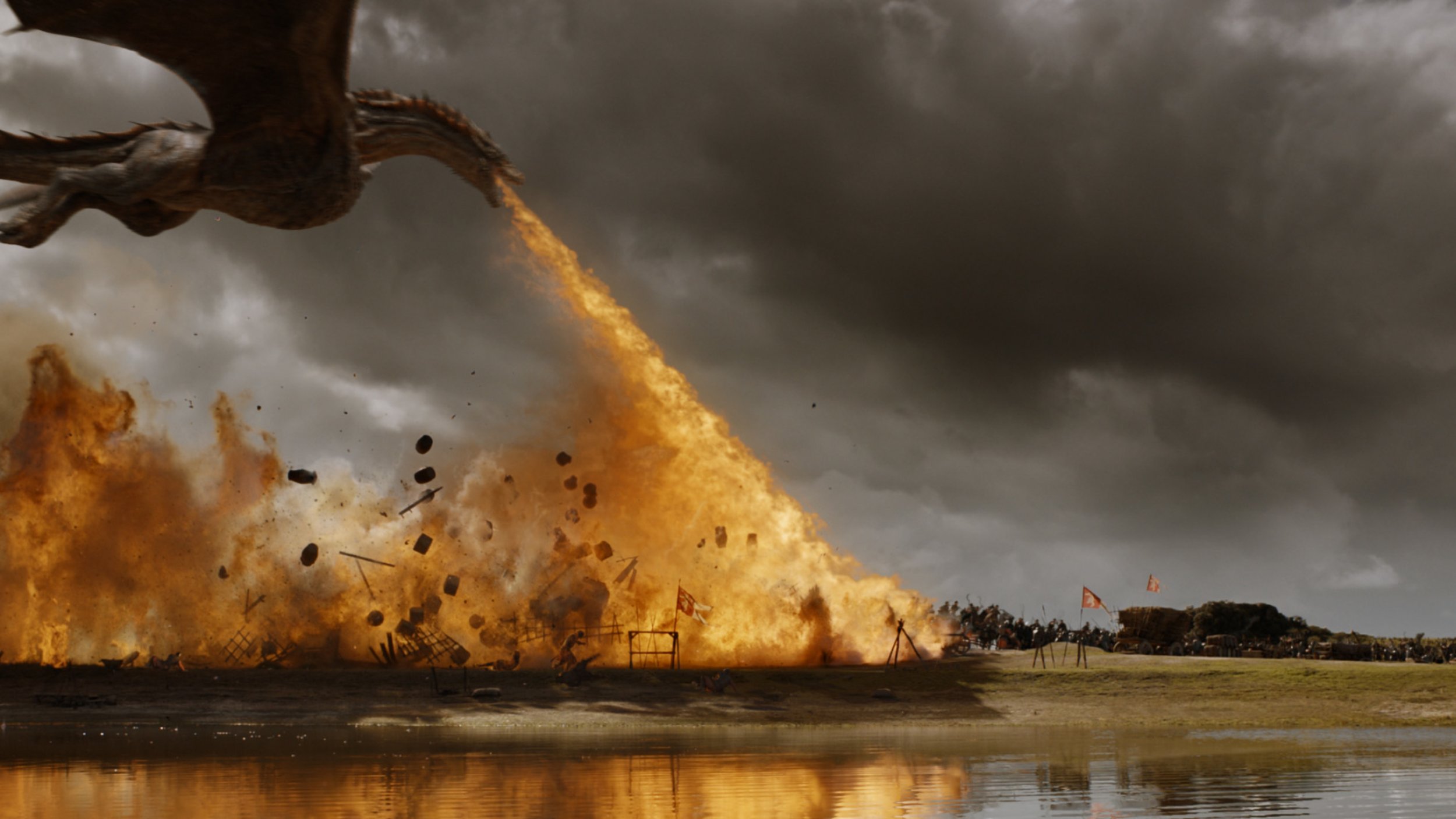 Game of Thrones' big battle scenes are becoming more reliant on Daenerys Targaryen's (Emilia Clarke) dragons as the series winds down. Case in point, last week's "Loot Train Attack" in "The Spoils of War," in which one-dragon army Drogon incinerated a good portion of the Lannister army.
Drogon's fury took up a large portion of the climactic battle scene, and it was pretty spectacular to watch on screen. But filming these fiery sequences is understandably a challenge for the show's creative team, because, well, dragons are not real.
So how do they do it? On set, a stick with a ball on the end stands in for Drogon, according to cinematographer Robert McLachlan, who was director of photography on both "The Spoils of War" and last Sunday's episode, "Eastwatch."
"What we have [on set] is a very, very tall stick with a ball on the end for everyone to look at," McLachlan tells Newsweek.
"What we do is, the visual effects team have a whole survey team, and they come in and stake out the footprint of the dragon, so we can visualize and frame accordingly.
"[That means] we'll end up with a nice composition—even though on the day you're filming a great deal of negative space that gets filled up by [the dragon] later [using computer-generated imagery]."
Related: Things you missed in "Eastwatch"
After taking out most of the Lannister troops in Episode 4, Drogon set alight two more people—Randyll and Dickon Tarly—in Sunday's "Eastwatch," on Dany's orders.
McLachlan says that to film scenes that contain fire breathing, the creative team has to schedule production during sundown to properly capture the glow of Drogon's fiery exhalation.
The cinematographer explains, "You have to create the effect of the radiant light [from the fire] on the surrounding area. That requires some very large, warm-colored lighting units. The problem is that during daytime they don't have much effect, because the sun's out.
"Whenever we are doing firework, we have to schedule those at the end of the day so that our lights have maximum effect. If we don't have that, when they do the visual effects, if they try to create it artificially, it ends up looking bad and animated. And this show prides itself on the quality of its visual effects."
Game of Thrones airs Sundays at 9 p.m. on HBO.
For more Game of Thrones coverage on Newsweek, click here.