'Game of Thrones': Ser Davos Seaworth Actor on Surviving Season 7 and His Hilarious Reaction to Jon Snow and Daenerys' Incest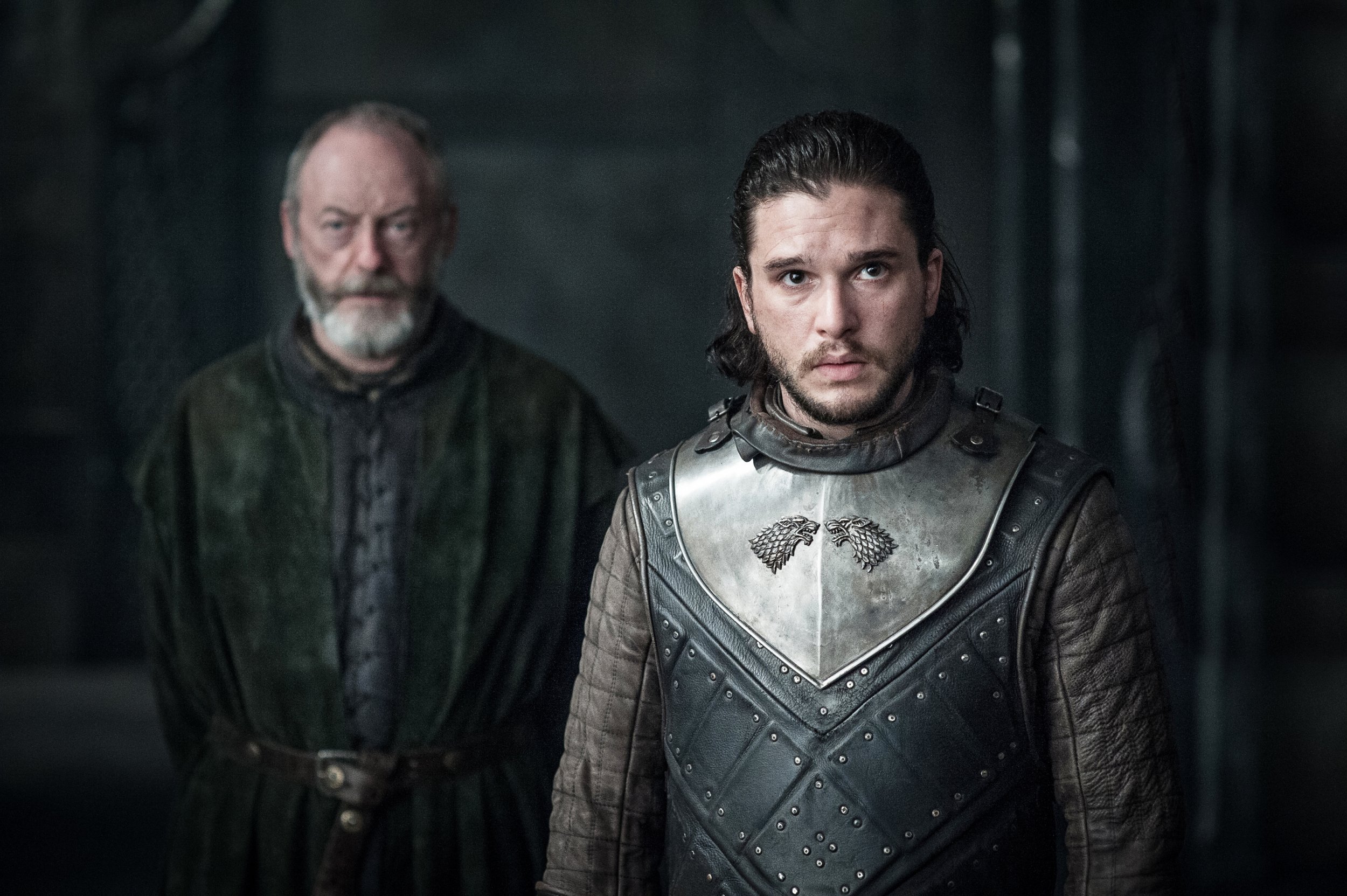 This story contains spoilers about "The Dragon and the Wolf," the final episode of Game of Thrones Season 7. If you don't want plotlines spoiled, click away now.
A bucket of fermented crab for all. Ser Davos Seaworth has made it through Game of Thrones Season 7 alive and unscathed—and no one is happier than Liam Cunningham, who plays Jon Snow's right-hand man.
"It's unbelievable," Cunningham tells Newsweek of surviving a season that has killed off more than its fair share of characters, including viper-tongued Lady Olenna Tyrell and, in Sunday's finale "The Dragon and the Wolf," scheming Littlefinger.
Davos has been in the thick of the political intrigue for the Iron Throne. As Jon's (Kit Harington) most trusted counsel, he helped broker an alliance between the King in the North and the dragon queen, Daenerys Targaryen (Emilia Clarke), which ended up leading to a romantic alliance. Yeesh. Like the rest of us, Cunningham is itching to see what happens when Jon and Dany find out they're related.
Here, Cunningham reflects on GoT 's blockbuster seventh season and his new goal after surviving the penultimate run of episodes.
Congratulations on surviving Season 7.
That was my ambition earlier on—"I'd love to get to the last season." But, of course, being a typical actor, now I'm in the last season, I want to get to the last episode. I don't know whether that will happen or not, but I live in hope.
Do you worry every season then that it's going to be Davos's last?
Of course. Something like Game of Thrones, for an actor, comes once in a lifetime. In fact, it's unrepeatable. We will get beautiful, beautiful television...so to be part of it is fantastic. From a professional point of view, it's the one job [in which] I've had a bit of security for the last few years, which is virtually unheard of for actors, unless you're in a soap [opera]. It's been incredibly gratifying.
And then to get to play this extraordinary character that I love playing, I'll be very, very sad that particular luxury is ripped from my screaming hands. I do not want that to happen. I'd love to get to the last episode. That's not a clue, because I haven't seen one word of the new season—nobody has, except [the production team].
Davos has not only been Jon's adviser this season, but a pretty fantastic wingman with Daenerys…
[Laughs] That term "wingman" is usually used when you're going out in search of beautiful ladies, which Mr. Jon Snow has been very successful with this season.
Do you think Davos deserves the credit for them hooking up? He really bigged up Jon in "The Queen's Justice."
No, he wouldn't, no. He wouldn't take credit for any of that. But it will be a bit of a shock when Jon Snow and his wingman find out that [Dany] is his aunt. That's going to be an interesting cup of coffee.
Davos doesn't hold his tongue. What do you think he'll say to Jon when that reveal happens? Will he be against the relationship?
I know what Liam would say to Jon Snow. Liam would say: "Well, at least it's not your sister."
But it's going to be interesting from Daenerys's point of view. Not only is she going to find out that she's fallen in love with her nephew, but she's also going to find out—I presume—that she's no longer entitled to be queen of the Seven Kingdoms. Her lover is her boss, basically. That's going to be interesting.
Related: Why It's OK To Be OK With Dany And Jon's Incestuous Relationship
Speaking of love. There's been a couple of scenes with Davos and Missandei (Nathalie Emmanuel) that have struck me as him being a little bit smitten with her.
Well, who wouldn't be? It's Nathalie Emmanuel, for God's sake. Nathalie is a delight both on and off screen, she is very much like that character—very laid-back and enormously sweet.
There's a devilish aspect to the guys who write here. [Executive producers David Benioff and D.B. Weiss] know my character better than I do. And he has an innocent attraction… I mean, look at him with Shireen [Baratheon]. I think, since his son died at the end of Season 2, there's a family man in this guy. He had it with Shireen and then immediately with Lyanna Mormont. He loves this strength of character. It's the same with Missandei—she's very sure of herself, very comfortable in her skin, and there's an innocence to her as well. These ladies that he's come across, they don't have this addiction to power or that need to lead, and neither does he.
The fella travels with them, and Ms. Emmanuel is very easy on the eyes...it's a win-win for Davos.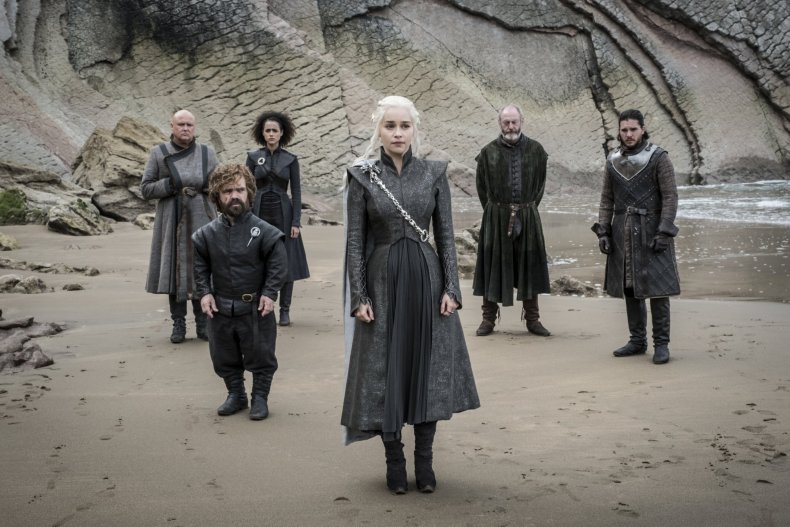 What was it like filming the Dragonpit scene in "The Dragon and the Wolf"? This was the largest collection of actors in the show's history—around 15 in total—and it was shot in such an iconic location: the old Roman Italica amphitheatre in Seville, Spain.
As far as I know, that was the largest coliseum outside the Roman coliseum, to the best of my knowledge.
We built that platform that you saw [in the episode] in that area where hundreds, if not thousands, of people lost their lives. We were kind of aware of that. There was something extraordinary about being in [there]. There were a lot of "ghosts" in that building, in that ruin. To be there, it's an extraordinary place.
And to have that bunch [of actors] for the first time. That scene was 30 minutes. That was just that scene—the approach, the discussion, the wight being delivered. It was all on that platform. It was a stage within a stage. The brilliant direction and writing of this...we were being moved around like chess pieces, and it was incredibly interesting.
The finale really moves things into place for an incredible final season. Cersei has made this false promise of troops to Jon and Dany, and the Night King has burned down the wall using Viserion. Where do you think this goes next?
This is the interesting thing. The fact you're asking that question, it shows how good the writing is and how good the rollout of the drama is on this [show]. It's impossible to say where it goes. We don't have one word of the scripts coming in yet. We won't get them for another two or three weeks, and I cannot wait—my nails are bitten down to the quick to see what will arrive.
But that is a compliment to where this is going. Anything can happen. I mean, the fact that Jaime rode off into the distance and left the woman he loves, she's left on her own, and he's heading North. And the Night King riding in on a—well, you can't call it a White Walker, it's a white flyer. Anything can happen. It's impossible to predict.
For more Game of Thrones coverage on Newsweek, click here.