'Game of Thrones' Drinking Game: Pour a Glass to Drink and Know Things For the Season 8 Premiere
Game of Thrones Season 8 returns on Sunday, and we'll drink to that. The ending to the eight seasons of death, deceit and die-hard fandom is just around the corner. What better way to celebrate the final season than with a relevant and challenging drinking game? Raise a glass for your favorite house, cross your fingers your favorites stay alive and follow these rules for the best, booziest viewing experience. Sure, you have to go to work Monday morning, but in the words of Tyrion Lannister, "It's only wine."
For this drinking game, have a glass of your favorite drink on hand. Wine, ale or anything else will do.
Take A Sip When:
Any Lannister has a glass of wine
Anyone says "A Lannister always pays their debts"
Bran has a vision
A dragon burns someone to a crisp
Samwell Tarly speaks about Gilly or her baby
Anyone says "There's only one war we need to focus on"
A dragon gives major attitude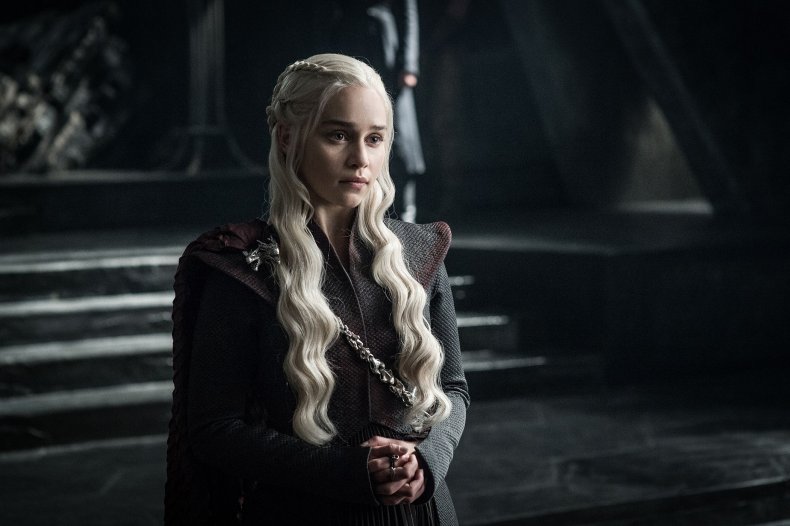 Take Three Sips When:
Any character says "Seven Blessings"
Any time Daenerys demands that another characters "bend the knee"
New white walkers rise from the dead
Tormund looks longingly at Brienne
Brienne looks longingly at Jaime
Arya mentions her kill list
Tyrion tells a joke
Finish Your Drink When:
Anyone says "winter is coming" or "winter is here"
Arya crosses someone off of her kill list
A major character dies
Someone takes over the Iron Throne
Hosting a Game of Thrones party, or just want to feel appropriately festive? Spice up your drinks with some Westeros inspiration. Try making the White Walker from A Heaping Spoonful. All you'll need is white chocolate liqueur, vanilla cream soda and blue curacao.
Or, try out The Price That Was Promised by A Tipsy Giraffe. To make your own syrup, you'll need sugar, red currants, and vodka or gin. For the rest of the drink, make sure you have honey bourbon, a lime and ginger beer. For garnish, A Tipsy Giraffe used a hollow lime half, mezcal, brown sugar and citrus essential oils (food grade.)