'Game of Thrones' Ellaria Sand Actor Indira Varma on Her Heartbreaking Final Scene: 'I Was Irritated I Had No Dialogue'
Last Sunday's Game of Thrones marked the end of the road for Ellaria Sand, the loose cannon Dornish matriarch who dared challenge Queen Cersei (Lena Headey), as well as her daughters, the Sand Snakes: Tyene, Obara and Nymeria.
Actor Indira Varma, who joined the HBO fantasy drama in Season 4 as the lover of Prince Oberyn Martell (Pedro Pascal)—may he rest in peace, or, well, what's left of him anyway—has now wrapped her arc on the series.
In "The Queen's Justice," Ellaria was chained in the cells below the Red Keep to live out her final days. That marks Varma's final scene.
Of course, Ellaria's punishment for killing Cersei's daughter Myrcella was not without some of GoT 's signature brutality. Chained opposite Ellaria was her last surviving daughter, Tyene (Rosabell Laurenti Sellers), who received a kiss laced with poison from Cersei. That is the exact manner in which Ellaria robbed Cersei of her only daughter in Season 5. Cersei told Ellaria that instead of killing her, she would let her rot in the cell, watching her daughter's body decompose, until she, too, dies.
In an episode that also featured Diana Rigg's loquacious Lady Olenna Tyrell performing an almighty mic drop in her own death scene, Varma's nonverbal performance in last Sunday's episode was powerful television in its own right.
Here, Varma, 43, reflects on Ellaria's heartbreaking final scene and her GoT legacy:
You gave such a wonderful performance in the scene in the cells—there was a palpable heartbreak and pain on your face. What was going through your mind filming that scene?
Thank you very much. I haven't seen it yet but look forward to reliving my final GoT moments. We filmed that scene [on] day one of the whole of the Season 7 shoot so everyone was warming up into the idea of working again. I had to keep focused and keep my concentration as sustaining that level of emotion over a full day is a toughie. I put myself imaginatively in Ellaria's place and listened.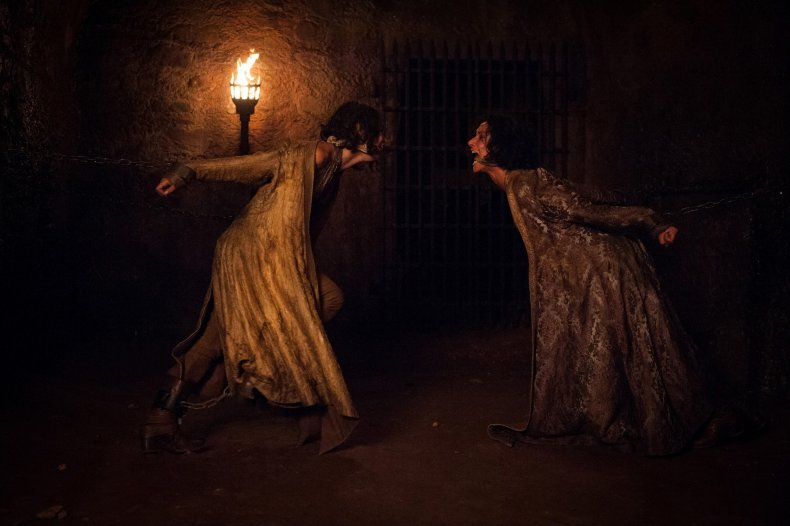 There's of course a poeticism to the death, echoing how Ellaria killed Myrcella. What did you think when you read the script?
When I first read the scene I was irritated that I had no dialogue. But I couldn't second guess where Cersei was taking it which was compelling. And, by the end, I thought what a genius bit of revenge and writing.
I feel like Cersei and Ellaria share much more in common than they realize, especially as fiercely protective mothers.
I agree that as two fierce mothers willing to do anything to protect their loved ones, they have a lot on common. I think Ellaria was trying, through her gag, to appeal to her with this.
Related: The big reunion being teased for Episode 4 of Game of Thrones
This seems to be the end of Ellaria and the Sand Snakes. Is this really your final scene?
I still live in hope that somehow Ellaria will be saved, either by a repentant Cersei who needs her on side or by [Daenerys Targaryen's] team...but I doubt they've even given her a second thought. She's too much of a loose cannon.
If this is the end for you and Ellaria, what memories will you take with you from your GoT experience?
There are so many vivid flashes I have of being involved in GoT . The enormity of the production behind the scenes. The extraordinary locations I got to film in—in Dubrovnik and Split in Croatia and Seville in Spain—not like some of the poor Night's Watch freezing on night shoots in Belfast. The camaraderie of the cast and crew...I shall miss it very much. And, of course, the amazing support and appreciation from the fans.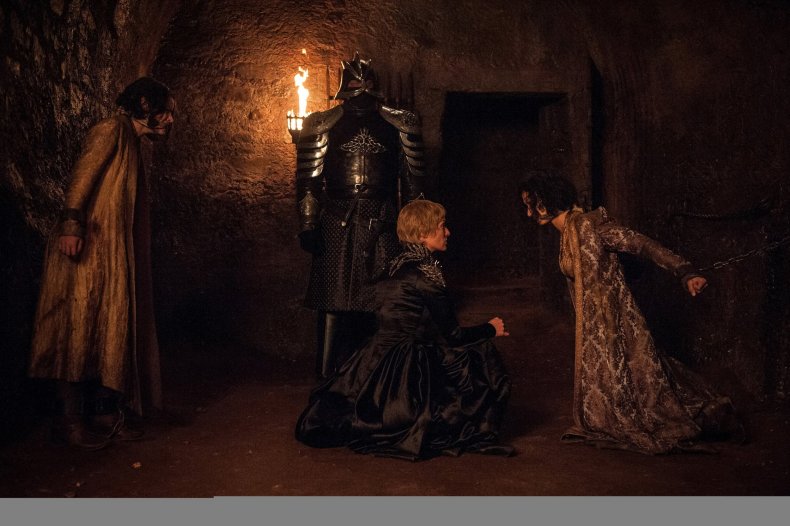 Cersei's revenge is Ellaria living out her days watching Tyene decompose. What, if you can imagine, will she be thinking and feeling if that really happens?
I imagine Ellaria will go insane and then have lucid moments where she tries to find a way out for her and Tyene—clutching wildly at any false hope of freedom which will send her more mad. How gruesome.
As a fan, who are you personally rooting for to win the Iron Throne now that we're in the homestretch?
Well, it has to be a woman. And as much as I love Cersei it would have to be Dany. That does seem too on the nose though for Dan [Weiss] and David [Benioff, executive producers]—so I can't wait for the surprise.
Game of Thrones airs Sunday at 9 p.m. on HBO.
For more Game of Thrones coverage click here.