'Game of Thrones' Emilia Clarke Is the Latest Celebrity to Call Out Unrealistic Body Standards Inflicted by Photoshop Apps
Emilia Clarke said apps like Facetune should be illegal in a new interview with U.K. Vogue. The Game of Thrones star is just one of numerous celebrities speaking out against unrealistic beauty standards furthered by social media.
In the conversation, Clarke spoke of girls on every walk of life feeling a pressure to look perfect. "I struggle with the girl next door also editing their pictures," Clarke explained. "It's not right. Where is that human interaction? I think that the apps that make people airbrush themselves and look thinner or look clearer skinned should be banned. I don't think this s*** should be on the phone for young people. I do not agree with it, I do not like it, it doesn't make me feel good."
Clarke also explained she doesn't airbrush or retouch her own photos on social media, but does think a filter can be fun. "I don't do it on my Instagram. I filter, sure, everybody's got to filter! But ain't no way that I'm going to retouch that stuff."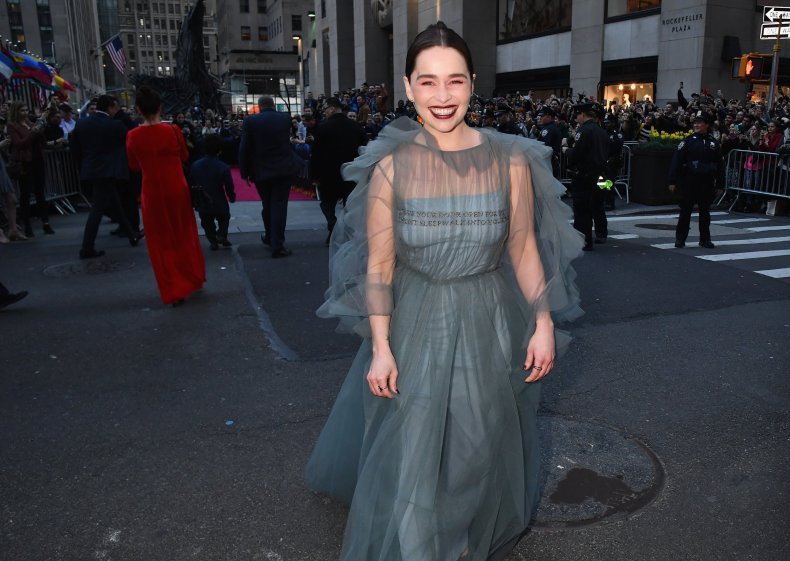 Newsweek subscription offers >
Clarke's comments resonate with Jameela Jamil's recent critiicsm of the negative effects of weight loss diets and skinny tea sponsorships on Instagram. Clarke also told Vogue celebrities are able to trick the public into thinking their expensive routines are accessible. "Celebrities get professionals to work with them on their diet, exercise, hair and make-up, even Spanx—all of it," Clarke explained. "It's not real. It's all fake."
Clarke recently went public with an essay revealing she underwent two brain aneurysms while filming Game of Thrones in 2011. In the emotional essay, the actor unpacked what it meant to have a severe health issue just as her career was taking off. "I could see my life ahead, and it wasn't worth living," she said of the first time she couldn't remember her name post-surgery. "I am an actor; I need to remember my lines. Now I couldn't recall my name."
To Clarke, beauty and public perception isn't everything. "My heart bleeds, because I struggled as a kid," she told Vogue. "I thought that what the girls looked like in magazines, on TV, in film, were real. And they're not real. Lean into your body type. There's nothing wrong with being tall and skinny, there's nothing wrong with being an absolutely bone normal size 12 or being anything bigger than that. Nothing wrong with it."
'Game of Thrones' Emilia Clarke Is the Latest Celebrity to Call Out Unrealistic Body Standards Inflicted by Photoshop Apps | Culture