'Game of Thrones': Everything You Need to Know Before Episode 2 'Stormborn' Tonight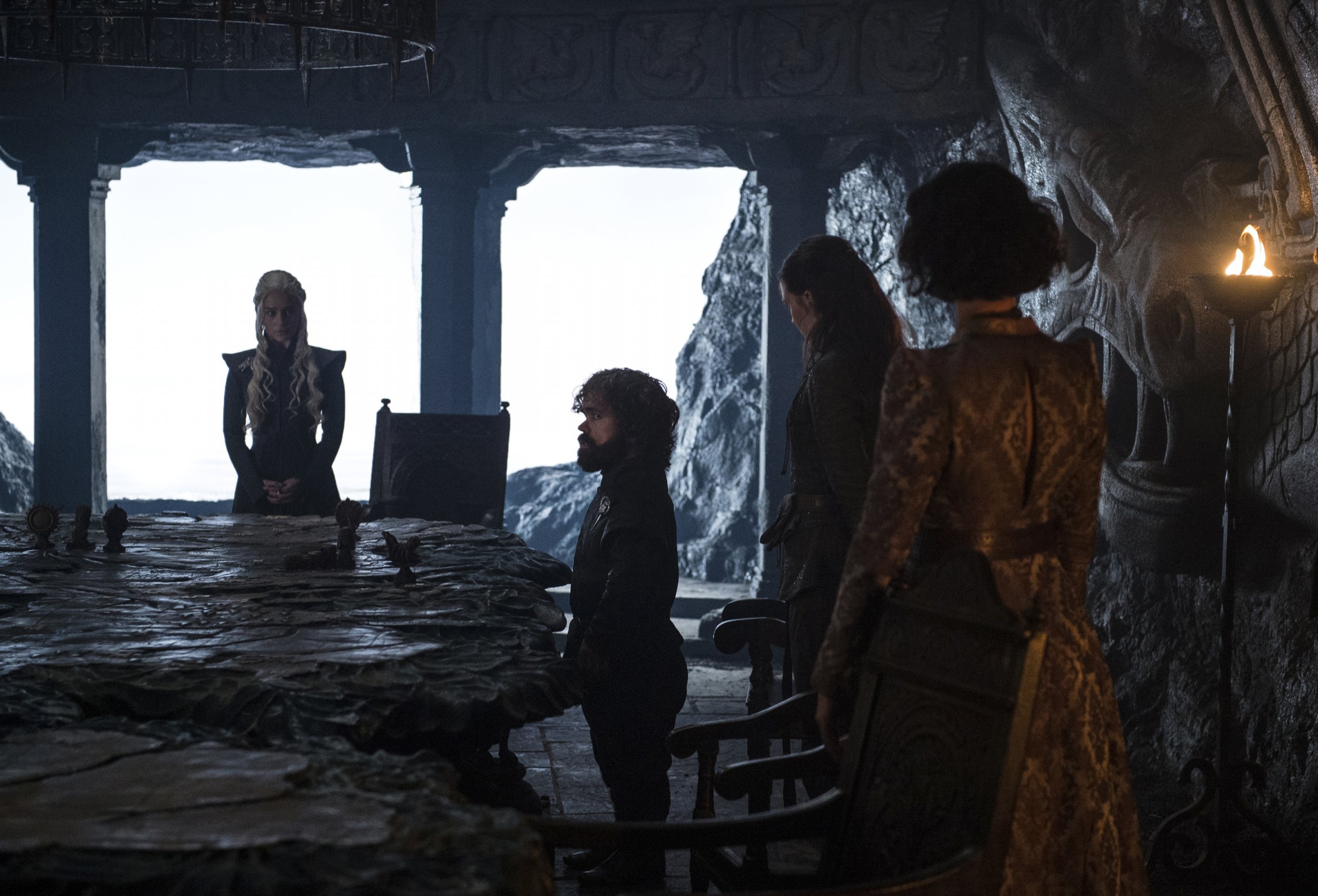 Happy Game of Thrones Sunday.
It's been a long week since our visit to "Dragonstone" last week, but Daenerys, Jon and Cersei are back on our screens tonight at 9 p.m. on HBO for the second episode of Season 7, "Stormborn."
In tonight's episode, according to HBO, "Daenerys receives an unexpected visitor. Jon faces a revolt. Tyrion plans the conquest of Westeros."
To ready you for the next instalment of GoT , here is all of Newsweek 's essential reading published over the last week, rounded up for your convenience:
Things you missed in "Dragonstone"...
Daenerys Targaryen (Emilia Clarke) finally returned to Westeros—landing in Dragonstone, her family's old stronghold, to be exact. Samwell Tarly (John Bradley) discovered that there's a mountain of dragonglass under Dragonstone during his maester training in the Citadel. And Arya Stark (Maisie Williams) continued to be a total badass by killing off the entire family of Frey men. That's what we saw, but there's a lot of nuggets you may have missed. Read more…
Episode 2 teaser trailer
In the teaser for Episode 2, strategizing is well underway at Dragonstone. "We could take King's Landing now," says Yara Greyjoy (Gemma Whelan). True, Dany has the most formidable army of our three suitors for the Iron Throne: Not only does she have her Unsullied army, but her Dothraki army, the Greyjoys and their fleet and support from the Martell-Sand clan and the Tyrells. Oh, and she also has three fire-breathing dragons ready to strike at her will. Read more…
"Stormborn" theories and spoilers
As you might have deduced from the episode's title, Sunday's new installment of GoT will revolve heavily around Daenerys Stormborn of the House Targaryen (Emilia Clarke), first of her name, Queen of the Andals, Breaker of Chains, Mother of Dragons—among her many other monikers. Read more...
Ed Sheeran deleted his Twitter. Was it because of GoT backlash?
Look, I'm just going to come out with it: Ed Sheeran's cameo appearance in Sunday's seventh season premiere of Game of Thrones was not good. It felt like a shamelessly shoehorned scene with more than a touch of camp frivolity to it. But, come on, Ed, there's no need to delete your Twitter over it. Read more…
Ed Sheeran was great, says GoT director
Ed Sheeran's cameo as a singing member of the Lannister army in Sunday's Season 7 premiere prompted negative reaction on social media and from critics—which may or may not have prompted the music superstar to delete his Twitter account Monday (it has since been reactivated). But the singer is receiving a morale boost from his director, Jeremy Podeswa, who helmed the episode "Dragonstone." Read more…
Does GoT have enough diversity?
Bravo (or should that be Braavos?), John Boyega, for saying what so few are willing to say: Game of Thrones has a diversity problem. That pains me to write because, in my opinion, Game of Thrones is the greatest television show on the planet. Read more…
What is greyscale?
Pay close attention, Game of Thrones fans, because greyscale is going to play a big role in Season 7. The fictional medical condition is currently afflicting Ser Jorah Mormont (Iain Glen), the devoted adviser to Daenerys Targaryen (Emilia Clarke), and was also the condition that troubled young Princess Shireen Baratheon in her short lifetime. Read more…
Prepare for a big finale
Game of Thrones inspires a lot of fan discussion about its characters and stories, as do many other shows. But none of those other series have fans fervently discussing and dissecting the length of each episode. As reported in June, GoT will air its longest-ever episodes in Season 7. The finale will log 81-82 minutes—which is basically the length of a movie. Read more…
Game of Thrones airs Sundays at 9 p.m. on HBO.
For more Game of Thrones coverage on Newsweek, click here.