'Game of Thrones' Fans Spot Water Bottle in 'The Iron Throne' Finale, But Was There a Second One?
The series finale of Game of Thrones marked the end of a divisive season season with fans noticing a water bottle in one of the scenes. However, it may not have been the only thirst quencher to make it into the final cut.
Game of Thrones had become most popular show worldwide after its first seven seasons. Unfortunately, the final season, which took two years to make, has been met with criticism for several filming gaffes. As Season 8 aired, fans complained some scenes were too dark to see on their televisions, and even noticed what appeared to be a Starbucks cup in one of the episodes.
Then, on Sunday's series finale, Grey Worm brought Tyrion Lannister in front of the "most powerful people in Westeros," fans noticed something was amiss. Resting behind the legs of Samwell Tarly, a character portrayed by John Bradley, was a water bottle.
After all the battles and fighting, it's understandable the Game of Thrones characters would be parched, however, the water bottle wasn't exactly in line with the theme for the medieval-esque drama.
While most fans focused on the water bottle at Tarly's feet, one fan noticed a second water bottle appeared on screen, albeit even more inconspicuous than the first.
Shortly after the first water bottle made a cameo on screen, at about the 49:18-minute mark, what appears to be a second water bottle is briefly visible just behind Ser Davos Seaworth's foot.
Since no one noticed the water bottles on set, several fans expressed the sentiment that it proved the production was rushed and proper attention wasn't being paid. Others pointed the blame toward Game of Thrones showrunners D.B. Weiss and David Benioff. Some even speculated it was the actors' act of defiance toward what fans thought was less-than-impressive script writing.
"Game of Thrones leaving a plastic water bottle sitting there in the finale is such perfect symbolism for a show that spent the last two seasons rushing to get done and ignoring the important little details that made it great in the first place," CBS Sports writer Will Brinson wrote on Twitter.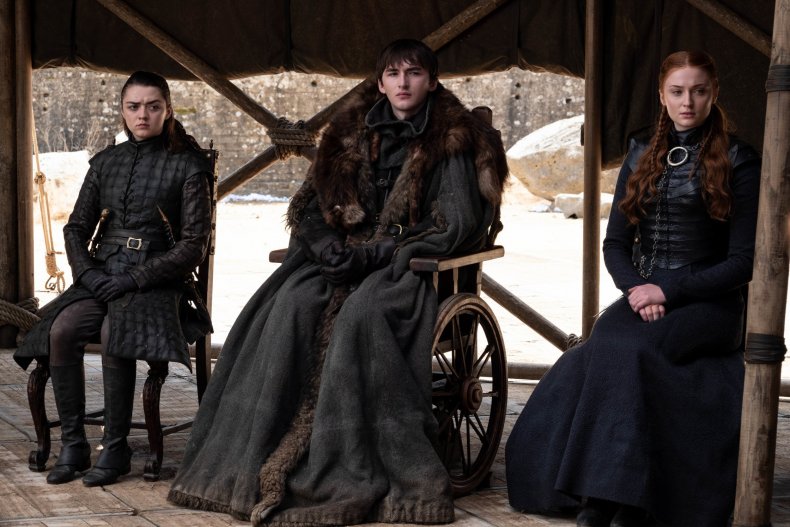 However, Kit Harington, who portrayed Jon Snow on the show, told Esquire back in April that critics and those with negative judgments can "go f*** themselves," because he saw the hard work that went into making Game of Thrones.
"I know how much people cared about this. I know how much pressure people put on themselves and I know how many sleepless nights working or otherwise people had on this show," Harrington said. "Because they cared about it so much. Because they cared about the characters. Because they cared about the story. Because they cared about not letting people down."
He added that there are no bigger fans than the people working on the show, adding that everyone "tried their hardest."